It is fascinating to watch the digital automobile designers letting their imagination run wild. That is when we stumble upon such beautiful and innovative mashups.
This is arguably the most innovative modified mashup between a Tata Nexon and a Range Rover Evoque. Nexon is a widely popular compact SUV that has been posting consistent sales. Its 5-star GNCAP safety reason was the reason for the commencement of its fame. With modern features, powerful engines and bold styling, it continues to rule the hearts of Indian car buyers. The Evoque, on the other hand, represents a lifestyle befitting the celebrities in India. That is the reason why so many crickets and Bollywood stars have a Range Rover in their garages. But what happens when these two products are merged together?
You may also like: Ford Endeavour X Expedition Mashup – Looks Great, No?
You may also like: How About This Amazing Ford EcoSport and Mustang Mashup?
Tata Nexon Modified Into A Range Rover Evoque
This mashup has been conceptualized by SRK Designs who is famous for being a talented digital automobile designer. For this rendering, he captures the iconic fascia of the Evoque and slaps it on the front of the Nexon. This translates to the Nexon receiving a black grille flanked by sleek LED headlamps that retain the LED DRLs of the Nexon. The bumper of the Nexon has been completely replaced by the sporty bumper of the Evoque with beautifully crafted fog lamp housing and a massive skid plate. The bonnet gets an upright stance reminiscent of the larger SUV. The overall dimensions and body shape have been enhanced to match the premium styling.
You may also like: This Old Endeavour is a WANNABE Ford Bronco! Yay or Nay?
The side profile features flush-fitting door handles that were made mainstream by Range Rover itself. The alloy wheels are massive with black paint. The door panels host black side body cladding to accentuate the overall profile. The side pillars are blacked out and the floating roof effect has been neatly implemented in the design. This Nexon features the functional roof rails and the third quarter has been stretched out to match the dimensions of the Evoque. The TATA lettering on the bonnet is quite creative too.
You may also like: Check Out The Swanky Car Collection of KL Rahul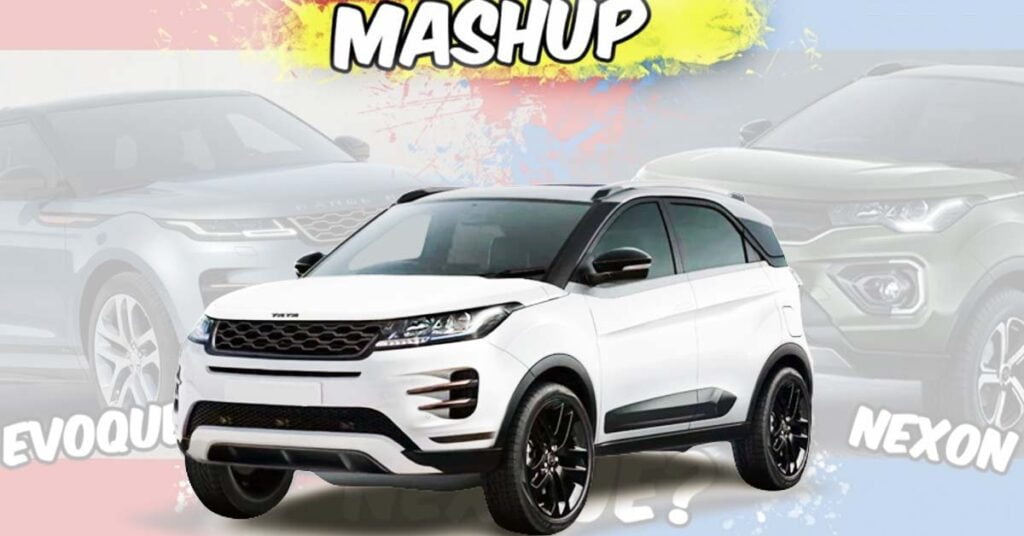 This brilliant mashup of a Tata Nexon modified into a Range Rover Evoque is indicative of the talent of SRK Designs. Make sure to check out their social media handles to experience some unique digital concepts.
Join our official telegram channel for free latest updates and follow us on Google News here.