Here is yet another unfortunate instance of Tata Motors service personnel involved in a careless scenario. Tata Motors has been in the news multiple times for poor service quality and experience as reported by many Tata cars owners. The level of satisfaction from the service centre of Tata Motors is not up to the mark, as per the customers. Careless attitude and lack of empathy for customers' cars are some of the main highlights. There have also been cases of fraud in the name of Tata Motors which we had reported some time ago. This is another such case where the customer is left wondering how could the service of the third-largest carmaker in the country be so poor. Here are the details of this incident.
Also read: BEWARE of Tata 150th Anniversary Scam With Tata Nexon Bumper Prize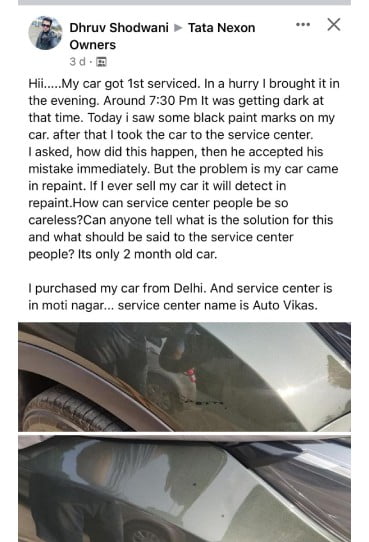 Tata Motors Careless Service Personnel
The Nexon owner took to social media to express his disappointment as well as ask for a further course of action. He explains that he had given his car for the 1st service. At the time of delivery, it was dark and he didn't have the time to inspect the car. He took it home but found that there were black paint marks on the body of the compact SUV. He inquired at the service station and the workers there reluctantly accepted that it was their fault. This is surprising that they didn't mention this to the owner at the time of handing over the car after servicing. This reflects a complete lack of transparency and professionalism on the part of Tata Motors employees.
Also read: Tata Punch in White Paint Shade Detailed on Tape – Interior Showcase
The car owner is stressed about how he should go about it. The marks on the body are very prominent. The car came in repaint as told by the owner. This could pose challenges if he decides to sell the car in the future. On top of that, the exterior design of the car is ruined for good. The service centre has to take the blame for it and repair the paint free of cost. There is no fault of the owner in this case and he should not suffer because of the unprofessional attitude of Tata Motors personnel. This incident is a perfect example of the careless and unprofessional attitude of the service personnel at Tata Motors. If they want to stay at the third spot and challenge Hyundai for the second spot, they have to work really hard on their customer service aspect.
Also read: Tata Nexon Owner Accuses Dealership of Theft and Mishandling of SUV
Join us for FREE NEWS Updates on our Whatsapp Community or our official telegram channel.