The 5-star safety rated micro SUV from Tata has been performing quite impressively in the unfortunate incidents thus far. But how well does it handle an electric pole?
Tata Punch collides with an electric pole and the results are quite impressive. Tata is the indigenous carmaker that is quite popular among the new-age car buyers who consider safety as the top criterion before buying a car. The Indian carmaker focuses on building safe cars that could survive any reasonable predicament keeping the safety of the occupants as the priority. In this latest incident, the Punch manages to fulfil that promise of Tata quite well.
You may also like: Tata Punch TOTALLED in Crash – Deformed to Look Like Coupe-SUV
You may also like: Tata Punch vs Tata Altroz Tug Of War
Tata Punch Uproots An Electric Pole
This incident has been reported from Assam where a Tata Punch, allegedly at high speed, collides into an electric pole, face first. The video has been uploaded by Nikhil Rana who posts such content with the aim of raising awareness regarding popular cars in critical situations. This certainly qualifies as the speeding Punch breaks the pole into pieces. The images reflect the damage sustained by the micro SUV still managing to keep the occupants inside the car safe. The impact has been absorbed well by the body shell including the A-pillars at the front and the roof. At the rear, the body holds well not to let the consequences of the impact of a falling electric pole affect the passengers. The airbags are seen to have deployed and there are no injuries reported to anyone.
You may also like: Tata Punch Struggling on Snow Highlights Limitations of FWD Crossovers
Now, while this may be great news for the Tata Punch owners but the issue of people overspeeding on roads needs to be addressed. Most of such cases take place under high-speed scenarios. We must always follow traffic regulations and not drive over the speed limit. The simple reason is that even if you are not at fault, you could control the situation created by the other driver on the road if you are driving slowly. Hence, it is not only great for you and your family, but also for other drivers on the road.
You may also like: Tata Punch Black Edition Illustrated – VIDEO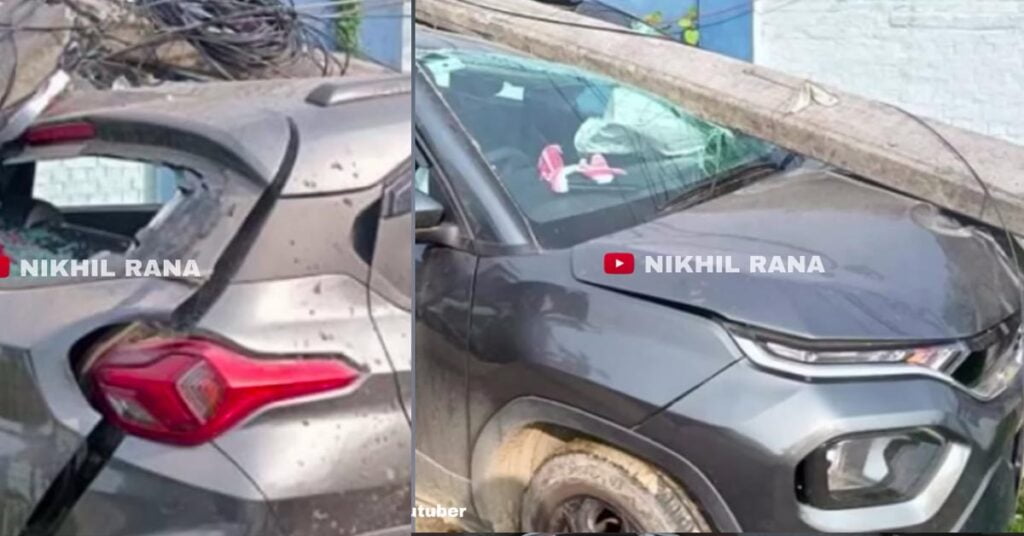 We also recommend that you report reckless drivers to the concerned authorities. We need to take this affirmative action voluntarily to safeguard our public roads. It is time we get rid of the negative tag of being one of the most dangerous places to drive. What do you think of this incident of a Tata Punch hitting an electric pole?
Join our official telegram channel for free latest updates and follow us on Google News here.