YouTubers keep organising drag race events to test the real-world performance of popular cars against one another.
In a drag race on YouTube, the Tata Punch went up against the Maruti S-Presso. The Punch is a popular micro-SUV that boasts a full 5-star safety rating at the GNCAP. This resulted in massive demand and popularity among the buyers. On the other hand, S-Presso is an affordable alternative that has great fuel mileage and the reliability of Maruti in terms of service and space parts availability. But what happens then these two go toe-to-toe in a drag race?
You may also like: Skoda Slavia 1.0 Gives Hyundai Creta 1.4 A Run for Its Money in Drag Race
You may also like: Tata Safari Vs Tata Nexon EV Drag Race – Diesel Engine Vs Electric Motor
Tata Punch vs Maruti S-Presso Drag Race
The YouTuber has chosen an empty stretch of road to ensure safety. In the first attempt, the S-Presso zoomed ahead after an initial couple of seconds and the Punch was not able to catch it throughout the duration of the race. Note that the YouTuber had put the Punch in Eco mode which is not the sporty setting. In round 2, a similar pattern repeated itself and the Punch was no match to the brisk S-Presso despite its less powerful engine. In all the subsequent attempts, the Punch didn't beat the S-Presso even once.
You may also like: Skoda Slavia Vs Volkswagen Vento Drag Race Surprises
The engine and power of the Punch are higher than the S-Presso but that advantage is cut short when the power-to-weight ratio is considered. The Punch comes with a 1.2-litre petrol engine that outputs 83 hp and 113 Nm, while the S-Presso comes with a 1.0-litre engine that produces 67 hp and 90 Nm. But the weight of the S-Presso is only around 750 kg compared to over 1,000 kg of the Punch. That is what caused the S-Presso to accelerate quickly from a standstill and not allow the Punch to overtake.
You may also like: Maruti Swift Vs Mahindra XUV300 Drag Race Yields Surprise Result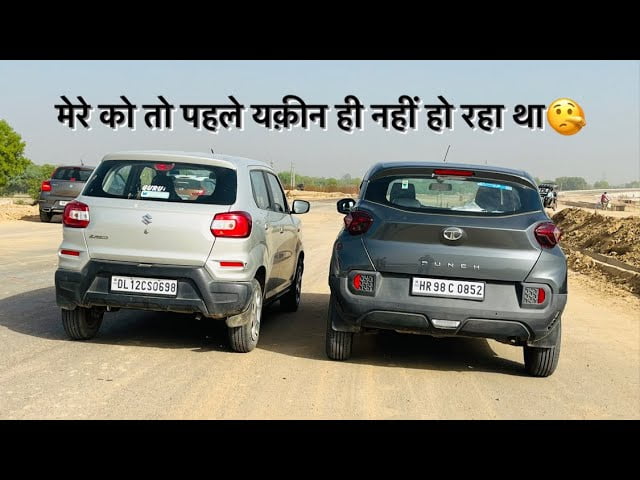 In the end, we would like to warn our readers to not pursue such drag race competitions because these could damage your cars in the long run. In addition to that, the roads are not always the safest places to conduct such drag races. It could jeopardize your safety and the safety of others. The YouTubers do it for content and take the precautions to be safe. Let us know if you were as surprised by the result as everyone else.
Join our official telegram channel for free latest updates and follow us on Google News here.