One of our twitter followers Sabha (@crsratnam) queried us about "What points to be noted during a test drive from a dealer? Usually for a first buyer." This is a very good question and we think that a lot of people can benefit from such information, so in this article we will share some basic things one should keep in mind during a test drive at the car dealer. Our list is not complete or exhaustive, so we would request you to add your suggestions and comments at the end of this article so that more readers can benefit from your advice and experiences.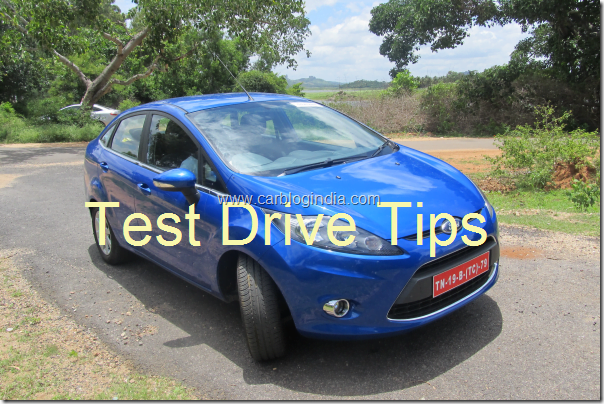 Tips For A Good Test Drive and Observations
Here is a list of points to note and some tips for a test drive:
Take Out Ample Time
Don't go for a test drive in rush and hurry, take out ample time so that you can patiently observe a car's characteristics and test is properly. Usually a test drive in hurry won't give your enough taste of the real experience. We think you should take out at least 30 minutes to 1 hour for complete test drive as it also important to see the car from exteriors, interiors along with a thorough drive. Ideally you should go in non-peak hours to avoid too much traffic during the drive and its better if it's a warm sunny day so that you can check the air-conditioning properly.
Take A Friend Or Family Member With You
Its usually easier to take decision when you have some good friend of family member with you who can point out the good and bad points about a car which you may miss to observe. Having a friend or two with you will help you to build and opinion better. Also, along with the opinion, you can check rear seat comfort by seating two or three adults at the same time at rear seat (ask your friends to sit at rear and give their feedback). Because rear seat comfort is also important specially in India when car buyers mostly drive with their families on weekends and long trips.
Observe Exteriors And Boot Space
Before you actually drive the car, take 5 minutes and walk around all the side of the car and observe from every angle if the car looks appealing to you. If the build and finish of the car up to your expectations, also open the boot and check if the boot space is enough for your needs and whether the boot loading gate and angle are apt for your usual luggage needs.
Observe Interiors, Plastic Quality, Seat Fabrics etc.
After you have checked the exteriors and are satisfied with it, sit at the front seat and look at the instrument cluster, dashboard, turn the knobs to see how is the plastic quality, check the seat fabric etc. Also see what are the storage options and cubby holes on the inside to keep your stuff like water bottles, cup-holders, door map pockets etc. Also observe the accessibility of all the dashboard knobs and controls from the driver seat. You should also check the door mounted controls for power windows and check their quality, accessibility and ease of use. Also check whether gear knob is at comfortable reach of your hand. Also check the features of the car which are available like steering mounted controls and other small features provided to see whether they are useful for you or not.
Test Driver, Co-passenger and Rear Seating
Then sit on the driver seat and adjust it as per your driving position and see whether you are feeling comfortable in the driving position, and if the seat height gives you enough visibility. Some cars have driver seat height adjust and steering adjust for a more precise setting, so set it up as per your driving needs and check if your feed are comfortably reaching the accelerator, brake pedals etc. without any trouble. After you set the driving seat, get down from the car and sit on the rear seat right behind the driver seat and check if the leg space ample for the rear passenger when the driver seat is properly set. If yes, its good for the rear seat comfort of your friends and family whom you would like to seat in the rear seats.
Also sit on the front passenger seat by the deriver and set the seat to a comfortable position, now check the leg space on the rear seat behind the co-passenger seat. This will help you ensure that the car has got good interior space and comfort for driver and co-passengers. Also check if the seat cushion is comfortable, and the back and under-thigh support for the driver and rear passengers is up to your expectations.
Engine Noise Vibration and Harshness Levels
While the test drive car is still at the stand still in the outdoors or on the road, start the engine, roll down the car windows and hear the engine noise levels, you should be able to hear engine noise easily. Now roll up the car windows and engine noise will reduce to a good extent. At this point, do not press the accelerator and observe if there is any vibrations (usually more pronounced at the steering wheel and gear knob), noise and harshness reaching inside the car with all the door closed and windows rolled up. Usually, these vibrations and noise are very little and acceptable in most cars at idling. If the noise it making you uncomfortable, then you should think twice before buying it. Once you check the Noise Vibration and Harshness (NVH) at the idling, press the accelerator (without putting the car in gear) just to rev up the engine to higher RPM for about 10 seconds and observe the changes in NVH levels. If its too harsh and uncomfortable, it might be a point of concern, usually noise will be high, which is quite acceptable, but the vibrations and harshness should remain under acceptable limits.
Drive And Handling Test
When you start the drive, try to take at least three  or four passengers with you on the drive, so that there is enough load on the car. If the car is able to please you with 4 or 5 adults in the car, it will please you when you ride it alone (as the load is quite less). Don't accelerate too quick on the first go, for two reasons, first being that its most likely first time you are driving this particular type of car, so it maybe bit unsafe, second, you should try to observe how smooth and silent the car is if you pick it up gently. Once you reach outdoor, stop the car, turn on the air conditioning, wait for a few seconds and pick up the car again. This time, the power delivery will be slightly reduced as air-conditioning puts additional load on the engine, also you should observe how effectively the car is cooled on a hot day. During all these observations, you should keep a watch on the NVH levels, if the car becomes too noisy or harsh under load or certain conditions.
Once you check the smoothness of the car, take the car to a less congested road and accelerate a bit harder to see how agile the car is (try it on a straight stretch for better judgment). Also go on a curvy road or a round about to see how well the car steers, and how much does the car's body tilt towards one side when you turn at some speed (this is called body roll, which should not be too high). To test the brakes, go up to a non-congested road, speed up to 40 to 50 KMPH and try to sop suddenly (NOTE – MAKE SURE THERE IS NO VEHICLE BEHIND YOU). Also one of the most important factors is that if you feel comfortable when you are test driving that car.
Suspension is also one of the key factors. If possible take the car to a not-so-good road (which are not difficult to find in India), and observe how well the car drives on such road. Whether it is able to absorb the bumps while keeping the car stable. Try not to drive fast on bad road as it maybe dangerous (a speed of up to 30 KMPH is enough to test the suspension on a bad road.)
Test Drive Rival Cars Also
As car buyers, we research a lot before shortlisting a car, but it is always wise to test drive a rival or successfully competing car from the same segment. This will help you make up your mind better and compare the differences between the car you selected and the car you have not selected.
Just a friendly reminder to all our readers, always wear seat belts when you test drive, or drive in your day-to-day life, as nothing is more precious in the world than well-being and safety of a person. Drive carefully and responsible.
We would love to know your suggestions and tips on test driving a car. Please share them via comments below. You can keep connected with us by liking our official Facebook Page and also sign up for our free email newsletter. We will keep bringing you more tips, news and reviews from automobile industry.
check out more-