Toyota has traditionally been at the forefront of cleaner mobility solutions.
It showcased the Corolla Cross Hydrogen vehicle at the Auto Expo 2023.
The crossover runs on hydrogen gas but with a traditional internal combustion engine.
Toyota has showcased a hydrogen vehicle in the form of a Corolla Cross. The concept highlights a unique configuration where the internal combustion engine will be calibrated to take hydrogen gas as the fuel source to produce power. Toyota has always worked on green mobility solutions and combined them with feasible, practical and affordable techniques to offer to the masses. That precedent was set since the time of the Prius plug-in hybrid. With this Corolla Cross hydrogen vehicle, it aims to enter the hydrogen-powered future race.
You may also like: New Tata Cars at Auto Expo 2023
You may also like: HOT New Cars at Auto Expo 2023 – Launches & Unveils!
Toyota Corolla Cross Hydrogen Vehicle
Toyota is calling it the Cross H2 Concept and the test vehicle has been showcased at the Auto Expo 2023. The crossover comes with a 1.6-litre turbo 3-cylinder engine that uses compressed gaseous hydrogen as the fuel. The traditional IC engine produces water vapour as the exhaust which is the speciality of hydrogen cars, in general. The power is sent to the Front Wheels and there will be 2 tanks on board to store gaseous hydrogen with an operating pressure of 70 MPa. The transmission duties are carried by a 6-speed Intelligent Manual Transmission which could mean that there will be manual gearshifts without pressing the clutch.
You may also like: New Maruti Cars at Auto Expo 2023
Dimensions and Design
In terms of the design, the vehicle bears a crossover silhouette. There is a sleek headlamp cluster at the front with a massive radiator grille area to let the fresh air inside the engine. In addition to that, there is a rugged skid plate and black housing for the grille that looks quite unique. Apart from that there is a heavy side body cladding and prominent squared wheel arches that enhance the SUV-ish traits of the crossover. At the rear, there is a wrap-around taillamp design pattern and a shark fin antenna.
You may also like: New MG Cars at the Auto Expo 2023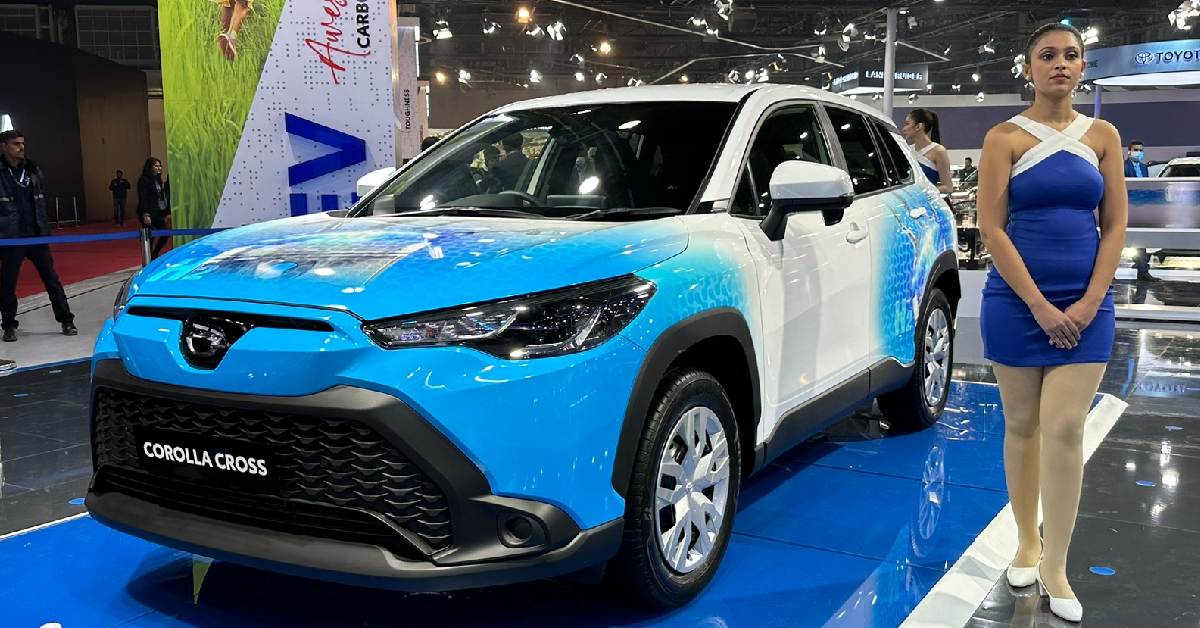 You may also like: New Hyundai Cars at Auto Expo 2023
The H2 Concept is 4,490 mm long, 1,825 mm wide, 1,620 mm high and has a wheelbase of 2,640 mm. This means that it would be regarded a mid-size SUV if it comes to our market. The large wheelbase ensures that there will be plenty of room inside the cabin for the passengers and luggage compartment. Let us stay tuned for more updates on the same.