In 2006 Toyota started the Toyota Etios project for which it had deployed Japanese engineers to take a thorough tour of our country so that they understand the needs of the consumers and road conditions here and develop a vehicle specifically for India. The outcome was Toyota Etios sedan which was projected as an ideal family vehicle but opposite to what Toyota thought, the car is becoming more popular in the commercial vehicle segment than personal vehicle one. This is quite confusing as Toyota was targeting a different segment and now the car is getting more attention in another segment which the car was definitely not meant for.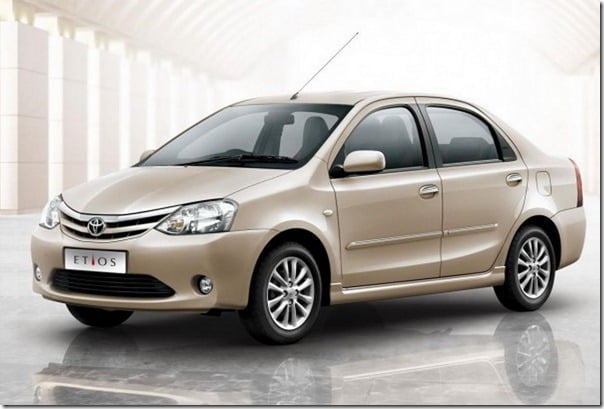 image – Toyota Etios Sedan India
The latest buzz is about the car getting popularity as a luxury cab in metro cities. Previously the cars to rule this segment were Ford Fiesta Classic, Renault Logan, Hyundai Accent and Maruti Swift Dzire. If you compare the Etios with each of these cars, you would undoubtedly prefer the Etios for reasons like elegant looks, superior fuel economy, amazing leg room and reliability.
A Mumbai based fleet operator, TabCab, has recently 600 cars and  more such orders could come to the brand from other agencies as well. This might be a good news for the brand but according to us it is leaving a different impression on the minds of prospective buyers. Just imagine yourself driving a brand new Etios, probably in white, and a similar looking white coloured Etios Cab overtaking you, what would you think?
It would definitely not bring a smile to my face as I want my car to look different and do not want it to look like a taxi So you tell us would you go with the Etios?
via – BusinessLine
check out more-