Over the years, the Toyota Fortuner has amassed a massive fan following in India. It is perhaps one of the most aspirational SUVs on sale here. So when the new 2016 model was unveiled last year, us folks couldn't wait to get behind the wheel of one. While we are yet to do a full blown 2016 Toyota Fortuner Test Drive Review, we got a chance to sample the new one's off-road prowess recently. We were part of the Toyota Fortuner Experiential Camp, which gives customers and media personnel a glimpse of the what this SUV is capable of. Read on as I take you through my experience in the Toyota Fortuner Off Road Review here.
Toyota's new Fortuner features a host of new technology that helps tackle off-road conditions with ease. It features the Sigma 4 four wheel drive system. You get three modes- 2H, 4H and 4L. Basically, the first one is the two wheel drive mode suitable for normal tarmac and good roads in general. 4H mode sends power to all four wheels and comes in handy when you're not driving too slow, but the surface requires extra grip – snow, sand, rain, etc. The last one, that is the 4L mode, is what you will need when the going gets really tough. The Sigma4 system combined with the limited slip differential and features like hill descent control, hill start assist control and active traction control ensured the Fortuner made it through everything that was thrown at it. Even at the hands of novice drivers.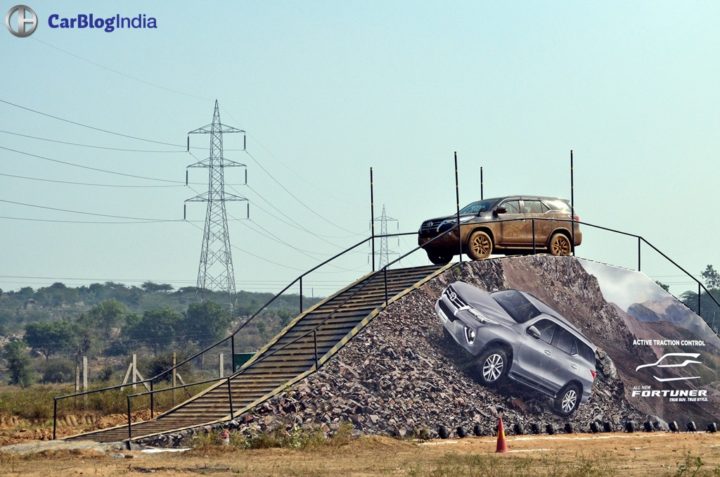 The course was designed by experts from the International 4 Wheel Drive Trainers' Association. It consisted of a series of challenges that test, or rather, highlight different aspects of the Fortuner. First up, the acceleration and braking test. This highlights the Fortuner's ABS with EBD that ensure the shortest possible braking distance while maintaining its composure. The more serious off road challenges came after that. A deep trench meant to show off the Fortuner's impressive approach and departure angles, followed by a steep incline.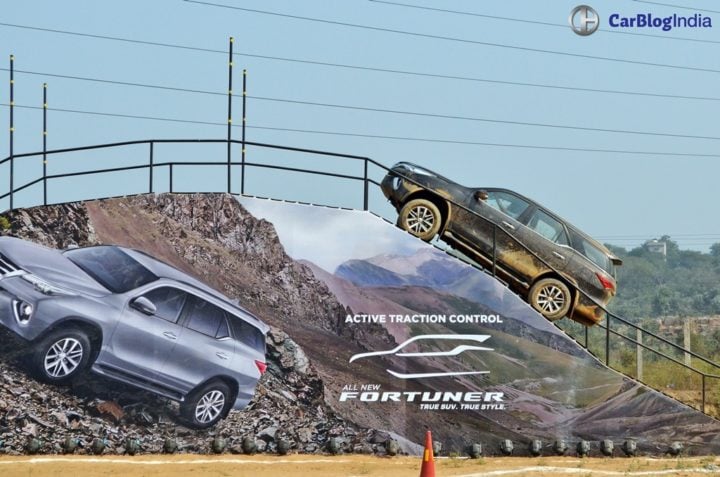 It may not look that steep in pictures, but sitting in the car, it feels like driving up a steep mountain. This gave us an opportunity to try out the Hill Start Assist Control or HAC. What it does is ensure the Fortuner does not roll back even if you take your foot off the brake after coming to a complete stop. It also ensures hill starts, such as this one, do not turn into a bottom clenching experience. The Toyota Fortuner features something called Downhill Assist Control or DAC. As the name suggests, it ensures the Fortuner and its occupants are able to negotiate steep descents safely. With the DAC engaged, the on board computer takes control of the brakes and guides the SUV safely downhill.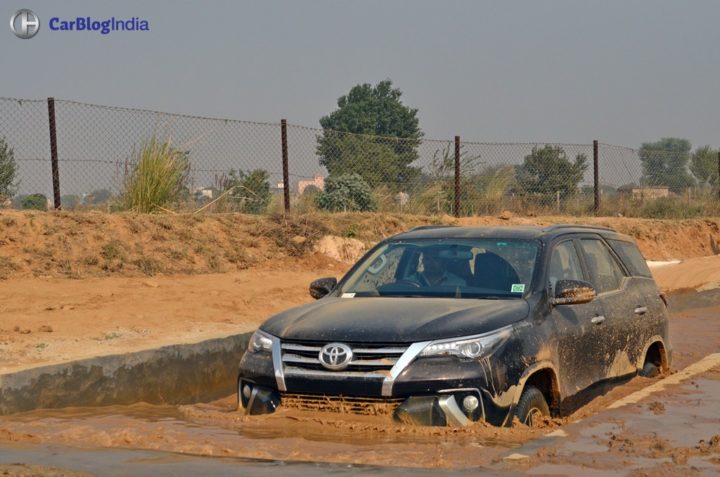 Next, we made our way to the deeply uncomfortable and mildly annoying chicken holes and rumble strip. Sitting in the Toyota Fortuner felt relatively comfortable while negotiating these bits. Toyota claims the Fortuner can wade through 700 mm deep water. So, we decided to put that to test. It made it through quite easily and the fact that not even a single drop of water entered the cabin was rather impressive. One of the most taxing aspects of traversing off the road is the heavy articulation each axle undergoes. That and side inclines can be really tough to negotiate. The ease with which the Fortuner managed to tackle them at the hands of drivers with little to no off road experience is something Toyota should be proud of.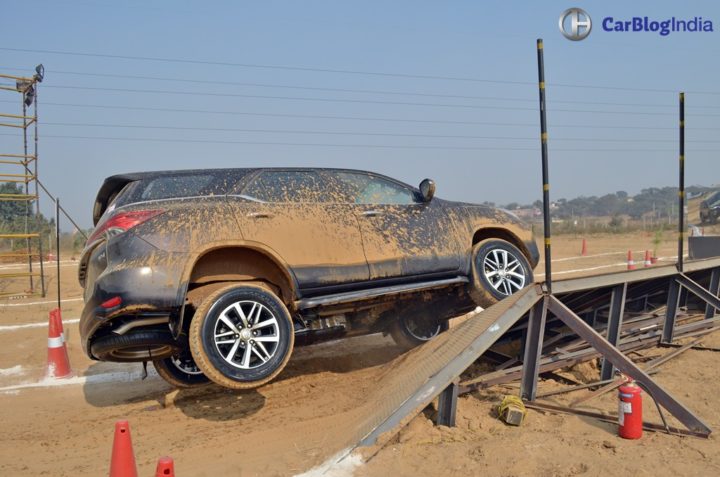 The last bit, and easily the most fun bit by miles, was the slush pit. Driving through one of these is a thoroughly enjoyable and visually entertaining experience. That said, there isn't much grip on offer and chances of getting stuck are high. Toyota Fortuner's four wheel drive and Limited Slip Differential helped it through without a hitch. On the driver's part, maintaining the revs and holding the steering tight is imperative. The slush pit marked the end of the course and my time behind the wheel of the new Fortuner. While most soft-roaders and crossovers will curl up and die at the sight of these challenges, in the Fortuner they felt like a mere walk in the park. Reason why these terms should never be used interchangeably.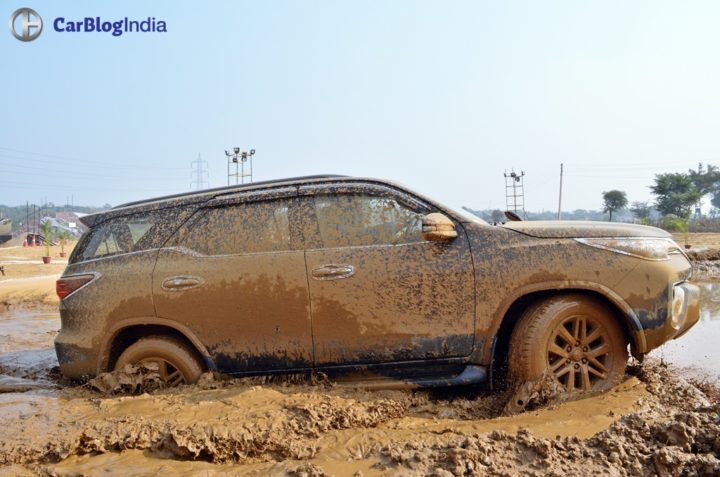 Throughout the course, the new Toyota Fortuner was in its element. SUVs are meant to be taken off-road and the Fortuner is more than capable of tackling the challenges that might be thrown at it. And personally, it looked way better with mud smeared across its body than the way it was before we set off. Sadly, though, in most cases these SUVs will remain shiny and spotless, restricted to the concrete jungle. Things like the "Fortuner Experiential Drive Camp" help demonstrate the Fortuner's off-road prowess and will hopefully encourage more owners to take these highly capable SUVs off the beaten track.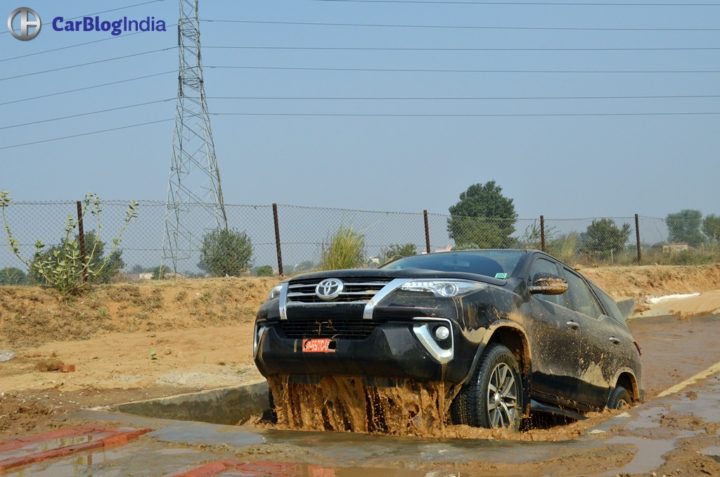 Toyota Fortuner Off Road Review – Features
All-new 2.8 L diesel engine available with a new 6-speed automatic transmission with sequential & paddle shift & a new 6-speed manual transmission
Newly developed frame structure that delivers exceptional torsional & bending rigidity even in the harshest environments
New suspension enhances ride comfort, through straight-line stability, controllability, handle response & advanced damping technology
Newly adopted Hill Start Assist Control (HAC) & Downhill Assist Control (DAC)
Electronic drive control
Eco & Power drive modes
Newly adopted Active Traction Control (A-TRC)
New Toyota Fortuner Price in India
 

 

2.7 Litre

 

 

2WD (Petrol)

Rs. 25,92,000

 Manual Transmission

Rs. 27,67,000

 Automatic Transmission

 

 

 

 

 

2.8 Litre

 

 

2WD (Diesel)

Rs. 27,52,000

Manual Transmission

Rs. 29,14,000

Automatic Transmission

 

 

4WD (Diesel)

Rs. 30,05,000

Manual Transmission

Rs. 31,12,000

Automatic Transmission
Let us know if you liked or disliked our Toyota Fortuner off road review. And stay tuned to CarBlogIndia for all the latest news and reviews from the automotive world.
Join our official telegram channel for free latest updates and follow us on Google News here.