In a bizarre racing style, a Toyota Fortuner is taking on the Ford Endeavour in water.
This Toyota Fortuner and Ford Endeavour are taking the off-road challenge to a whole new level with a water race. While it is not a prevalent theme and could prove to be quite dangerous, racing in water tests the capabilities of the SUVs to the extreme. Fortuner continues to be the segment leader in our market as the Endy has bowed down to exit our market after Ford decided to quit manufacturing in India. This video shows just how tough these off-roading machines are.
You may also like: Guess Who Wins Toyota Fortuner vs Mahindra Bolero 4×4 Tug of War
You may also like: Jeep Meridian vs Toyota Fortuner Comparison
Toyota Fortuner vs Ford Endeavour – Water Race
The video clip has been uploaded on YouTube as Shorts. The location is set somewhere alongside a water body. People are seen standing in the water suggesting that it is not too deep. The drone shots capture a quick race between the Fortuner and the Endy. The low water level essentially means that the SUVs are being driven on the river bed with not too many hidden obstacles in the water. The Fortuner is seen marching ahead of the Endy towards the end of the short video.
You may also like: Ford Endeavour X 2022 Expedition Mashup is Super Macho!
Specs Comparison
Before discontinuation, the Endeavour came with a 2.0-litre diesel engine making 175 PS of peak power and 420 Nm of peak torque. The transmission duties were carried by a 10-speed automatic gearbox. Meanwhile, the current-gen Fortuner comes with a 2.7-litre petrol engine which makes 166 hp and 245 Nm. It comes with either a 5-speed manual or a 6-speed automatic. The more popular diesel engine is a 2.8-litre unit that produces 204 hp and 420 Nm (in manual) and a colossal 500 Nm (in automatic). Both these SUVs come with a sophisticated 4-wheel-drive system with a relevant off-roading kit. That said, the video shows the last-gen model, which came with the 3.0-litre turbo-diesel with 4×4. Needless to say, the last-gen model was as capable as the current version.
You may also like: New Ford Endeavour in First Walkaround by Indian Vlogger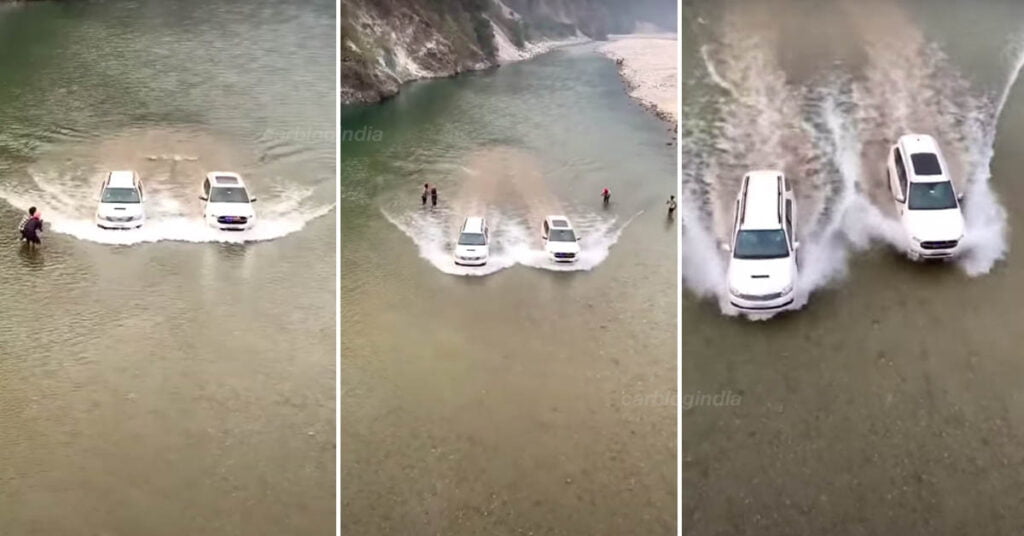 It is not recommended to perform a water race like this between a Toyota Fortuner and Ford Endeavour due to safety issues. One can never be too sure about what is lying underneath the water. In case there is some boulder, it could really damage the key components of the vehicle. Not to mention, there would be issues getting the vehicle out of the water. Hence, we suggest that you don't get involved in such stunts for your safety and the safety of your car.
Join our official telegram channel for free latest updates and follow us on Google News here.