Rostislav Prokop has designed a modern Land Cruiser 6X6 short-bed truck. The stylish pickup can easily take on the Mercedes-Benz G Wagon 6X6.
Car enthusiasts are always coming up with new iterations of their favorite vehicles. Now a digital illustration has gone viral among Toyota fans around the globe. The said rendering shows a Land Cruiser that has been transformed into a massive 6X6 pickup. While merely a figment of imagination, we feel that the real deal, if it ever sees the light of the day, can easily take on its Mercedes counterpart.
You may also like: Car Collection of Frank Lampard is Simply Exquisite
You may also like: Toyota Land Cruiser LC300 Deliveries Commence in India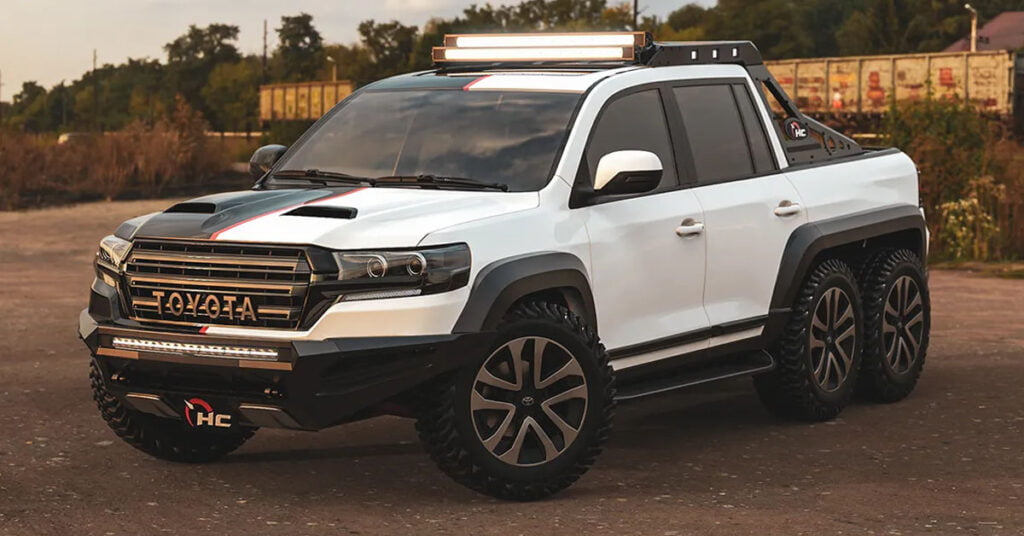 You May Also Like: Check Out This 6×6 Lowrider Widebody Concept of Toyota Hiluxpo 2023
You May Also Like: India's 1st Old Generation Land Cruiser to LC300 Conversion – This is IT
Toyota Land Cruiser 6×6 Pickup
As you can see in the images, Rostislav Prokop from Hotcars has essentially resurrected the Land Cruiser as a formidable 6X6 pickup truck. It sports a stylish black-and-white paint scheme with a red stripe in the middle. The Toyota Land Cruiser 6X6 looks like an all-white truck if you look at the build from the left side. From the right side, it looks all black. The bold choice makes the off-roader very exciting. This 16-footer Land Cruiser is gunning for the Mansoury-built Mercedes-Benz-AMG G 63 Limited Edition UAE 50th.
The 6X6 Land Cruiser comes with three axles. The SUV has been chopped and turned into a short-bed truck. It comes with cool features like a dual-cowl induction hood and high-flow dual exhaust pipes. The rugged metal bumpers wrap around and smoothly integrate with its fender flares. There is also a double-row LED light bar for late-night driving. Inside, the Land Cruiser 6X6 can be powered by a Toyota's 5.7-liter V8 engine. With twin turbos, it can output 600-700hp of power.
You May Also Like: This Toyota Land Cruiser Was a Humble Isuzu MU-X in Past Life
You may also like: Honda Civic Type R to Return to UAE After 12 Years, Teased
J200 has undergone a similar conversion
Overall, the new render is an elegant response to the much-touted Mercedes-AMG G 6X6. Mr. Rostislav Prokop has given the iconic off-roader a much-needed style update. It also looks more powerful than the conventional SUV. The functional upgrades give the Toyota Land Cruiser 6X6 an edge over the Mercedes counterparts. It would be great to see this render in the real world. Previously, the J200 variant and earlier versions of this Toyota have undergone similar conversions.
You May Also Like: Is Toyota Hilux Better Off Road Than Costlier Land Cruiser Prado?
The Toyota Land Cruiser is one of the most popular off-road vehicles across the world. It was originally launched in 1951. Back then, the popular vehicle was essentially a redesigned Willys MB Jeep that Japanese soldiers found in the Philippine jungle during World War II. Since then, the Land Cruiser is seen as a rugged and reliable four-wheel-drive vehicle. It was Toyota's most popular model in the 1990s. However, it saw very low sales in recent years. Hence, Toyota discontinued the model in 2021.
Join our official telegram channel for free latest updates and follow us on Google News here.