With more and more vehicles getting on the Indian roads, the number of accidents are also rising. The reasons are many but the end result is one, which is deaths. For a while the Union Cabinet was going over the proposed changes in the Motor Vehicle Act and finally it has been a green signal. The proposal is for increasing the penalties on violation of traffic rules and now that its has been passed by the Union Cabinet, soon in the form of a legislation it will be produced in The Parliament in Rajya Sabha.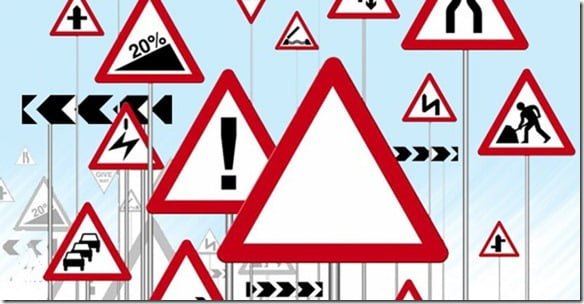 image – Traffic Symbols
The amendments to be brought to the Motor Vehicle Act are as follows:
Fine of Rs. 500 : For not wearing seat belt in your car or not wearing a helmet on a two-wheeler or jumping a red light for first time only. On repetition of any such activity the fine will be multiplied.
Drunk driving will now bear a higher penalty and probably a jail sentence for up to two years along with a fine of up to Rs.5000. Also the drivers will be given tickets according to the alcohol levels in blood.
Speeding will now be incur you a penalty of Rs.1000 for the first time whereas if you repeat it, the penalty could reach Rs.5000
Driving and talking on phone simultaneously is a common violation which will now attract a fine of Rs.500 for the first time and can go up to Rs.5000 on repeated violations.
The government has taken stricter steps this time to force people to follow the traffic rules and we are quite sure this will keep regular offenders away from speeding, drunk driving, avoiding seatbelts and helmets. We advice all you readers to always drive safe and not violate any traffic rules.
check out more-