Over the next 2-3 years, a whole host of new sedans will arrive in showrooms. They will include new names, re-entry of familiar names, new generations of existing products and more. So here we have done a report on the upcoming sedans in India while talking about their launch dates, expected prices, features and more.
By definition, a sedan is a three-box shape with separate compartments for the engine, passengers and luggage. Sedans continue to be one of the most aspirational purchases for any car buyer. They encompass a very wide price gap ranging from just 5 lakhs all the way up to 5 crores. The range includes brands such as Ford, Maruti, Mercedes, Tata, Honda and more. Here, we have done a detailed report on the upcoming sedans in India in the next few years with their specs, features, price, launch dates and more.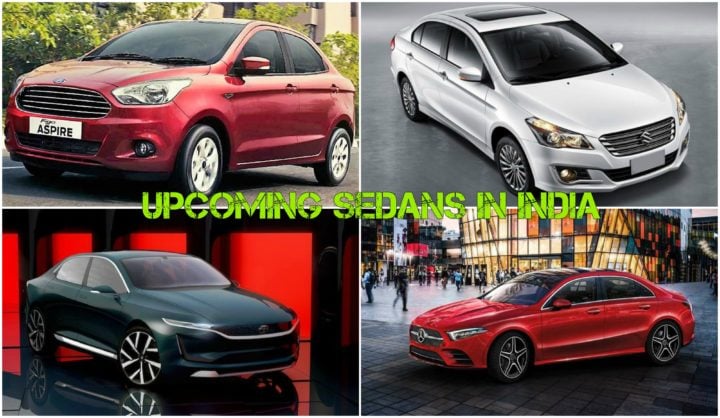 Upcoming Sedans In India – Ford Figo Aspire Facelift
Petrol
Diesel
Engine
1.2 Litre
1.5 Litre Dragon
1.5 Litre
Power
88 PS
123 PS
112 PS
Torque
112 Nm
150 Nm
136 Nm
Transmission
5-speed manual/6-speed Automatic
5-speed manual
Expected Launch
Second Half 2018 (Mostly June 2018)
Price Estimate (ex-showroom)
6 Lakhs- Rs 9 Lakhs

Ford recently stopped the production of the current Aspire and made plans for launching the facelift version of the car. Aspire Facelift has been spied various times and looks like it receives some cosmetic changes. Aspire Facelift might get the new 1.5-litre 3-cylinder Dragon petrol engine that produces 123 PS worth power and 150 Nm worth power. The diesel engine in the current Aspire will be carried over in the facelift too. Also, it will get a 6-speed automatic transmission. In terms of design, it will get a new front fascia with honeycomb grille. Spy images suggest that it will also get DRLs with an updated bumper style. Other features include a fully upgraded floating touch infotainment, ABS and more. Given, the new engine and minor features, Aspire Facelift might cost a little more than the current Facelift. The car is expected to launch before Diwali 2018 nearing June 2018.
Also Read: Ford Freestyle India Launch Date, Expected Price, Feature, Specification And Mileage
Upcoming Sedans In India – New Honda Amaze
1.2 Litre Petrol
1.5 Litre Diesel
Engine
1198 CC
1498 CC
Power
87 PS
99 BHP
Torque
109 Nm
200 Nm
Transmission
Manual/CVT
Expected Launch
May 2018
Price Estimate (ex-showroom)
Rs 6.5 Lakh – Rs 9.5 Lakh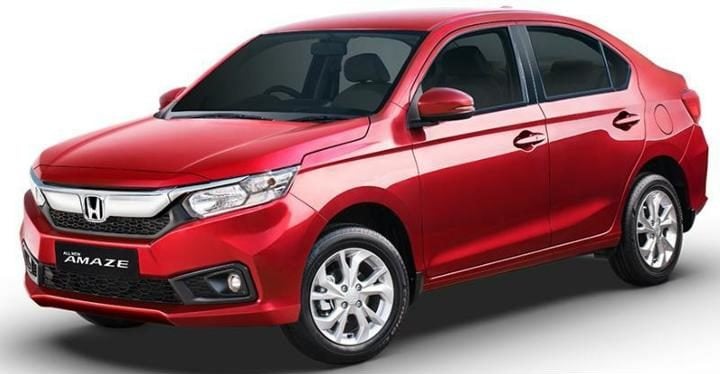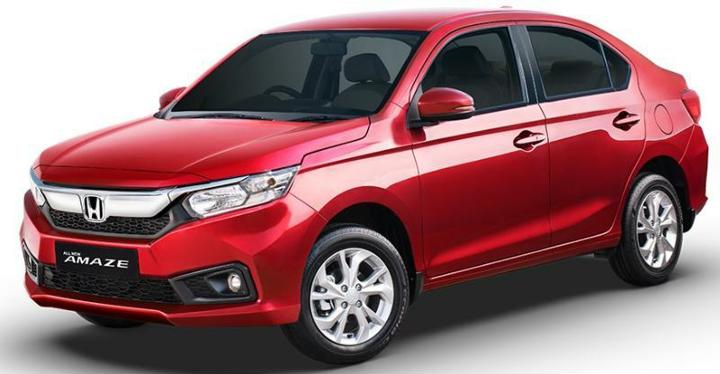 Honda is upgrading its popular sedan, Amaze to a new generation. The generation update comes with a first in the segment CVT automatic gearbox with both petrol and diesel derivatives. Amaze Petrol variant will get a 1.2-litre i-VTEC engine that produces 87 BHP power along with 109 Nm torque. While the diesel variant is going to get the 1.5-litre i-DTEC motor producing 99 BHP power along with 200 Nm torque. Also, Amaze will get a CVT option in the diesel variant. In terms of design, it gets a very bold and a lot more aggressive stance like the Honda City. The car comes with large headlamps and a thick chrome accent on the grille giving a sporty look. It will come with new features like DRLs, Automatic Climate Control, Day and Night IRVMs and more. The new Amaze is expected to cost between Rs 6.5 Lakh to Rs 9.5 lakh.
Also Read: New Honda Amaze 2018 Launch Date, Price In India, Images, Specifications And Video: All You Need To Know
Upcoming Sedans In India – Next-Gen Honda City
1.5 Litre Petrol
1.5 Litre Diesel
Engine
1498 CC
1498 CC
Power
117.3 BHP
98.6 BHP
Torque
145 Nm
200 Nm
Transmission
Manual/CVT
Expected Launch
First Half 2020
Price Estimate (ex-showroom)
Rs 9 Lakh – Rs 14 Lakhs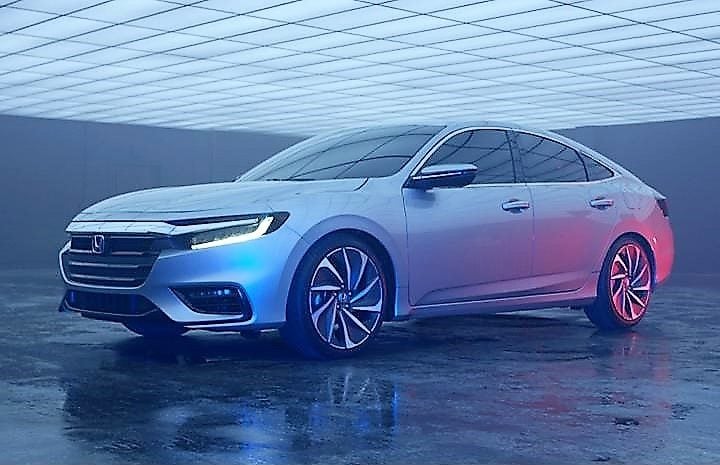 India's top sedan, Honda City will receive a next-generation upgrade. The biggest upgrade the City will receive is the CVT Automatic option in diesel variant with Bharat VI engines. It will get a 6-speed AMT in both petrol and diesel variants. Honda City might get a newer version of 1.5 Litre iVtec petrol engine that produces 119 PS power and 145 Nm torque. On the other hand, the 1.5 Litre diesel motor produces a maximum power of 100 PS and 200 Nm torque. There have also been some rumours about Honda planning to launch the hybrid versions of some of their cars. As the details are limited, there is no update on the features of the car. Most likely it will get all the modern features for a stiff competition. The next-gen Honda City might start from Rs 9 Lakh, as it offers minor added tweaks to the car.
Also Read: Honda HRV India Launch Date, Price, Specifications, Features, Design- All You Need To Know
Upcoming Sedans In India – Fiat Tipo
Petrol
Diesel
Engine
1348 CC
1548 CC
1248 CC
1548 CC
Power
95 BHP
110 BHP
95 BHP
120 BHP
Torque
127 Nm
152 Nm
200 Nm
250 Nm
Transmission
6-speed Automatic/6-speed MT
Expected Launch
First Half 2019
Price Estimate (ex-showroom)
Rs 8 Lakhs to Rs 12 Lakhs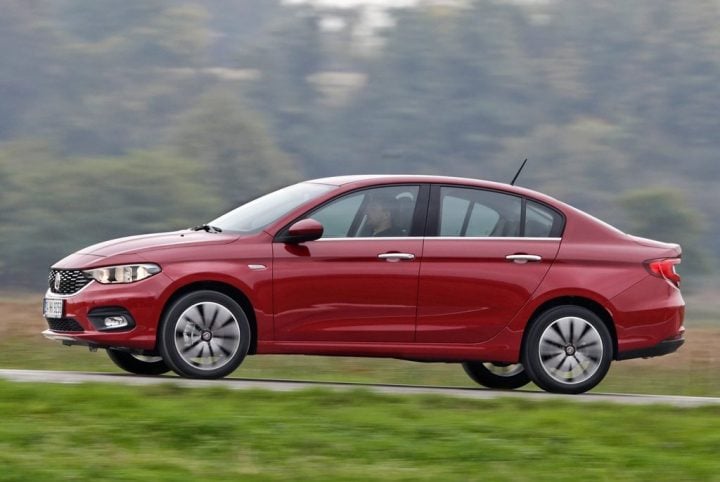 Fiat Linea is globally known as Fiat Tipo. Recently, Fiat Tipo got a new facelift version, indicating that Fiat Linea also might get many upgrades. It is speculated that Fiat Tipo might replace Fiat Linea for a better competition. Tipo might not sport a very different body than the current Linea. In most international markets, the Tipo is available with four engine options, which include 2 Petrol and 2 Diesel motors. The max. power output of these engines ranges from 95 BHP to 120 BHP. The engine comes mated to Manual and Automatic transmissions. Currently, Fiat Linea runs on a 1.4 Litre T-Jet engine that produces 123 BHP power and 208 Nm torque and a 1.3 Litre Diesel engine that produces 91.7 BHP power and 209 Nm torque. It will be equipped with modern features like Touch infotainment system, steering-mounted controls, inbuilt satellite navigation, parking assist and a rearview camera.
Also Read: Upcoming Cars In India 2018: Launch Dates, Expected Prices, Features And Specifications
Upcoming Sedans In India – Ciaz Facelift
1.4 Litre Petrol
1.3 Litre Diesel
(Current)
1.5 Litre Diesel (New)
Engine
1398 CC
1298 CC
1498 CC
Power
91 BHP
88.5 BHP
120 BHP
Torque
130 Nm
200 Nm
220 Nm
Transmission
Manual/AMT
Expected Launch
August 2018
Price Estimate (ex-showroom)
Rs 7.83 – Rs 11.62 Lakhs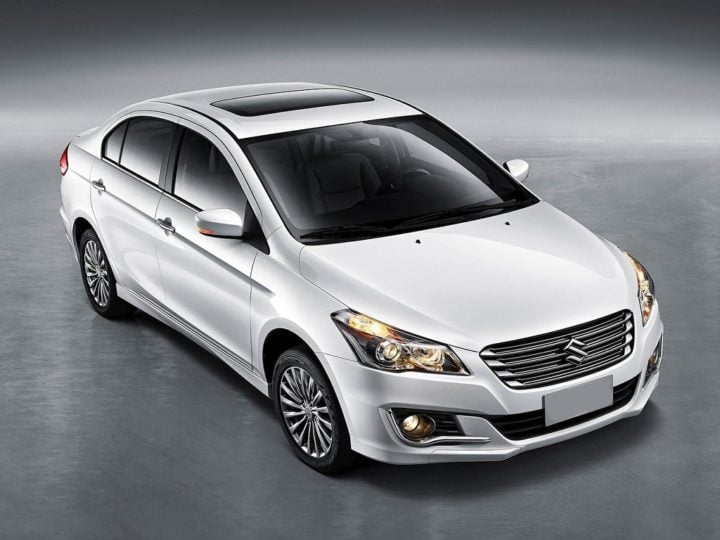 The Maruti Suzuki Ciaz Facelift is going to incur minor cosmetic upgrades. In addition to that, the sedan is going to come with a decent increase in its features and creature comforts. Furthermore, Maruti can replace the ageing 1.3-litre diesel with a brand new, in-house developed 1.5-litre oil-burner. However, the Ciaz Petrol variant will continue with the same engine. The new Maruti Ciaz will continue to come with features like projector headlamps, LED DRL's, LED Tail Lamps, Automatic Climate Control and more. Also on offer is rear view camera with parking sensors, cruise control, smoked headlamps and a possible introduction of a sunroof. In terms of safety, Ciaz will come with Dual Airbags, ABS and EBD as standard equipment. The good thing about the facelift is that it is reported to be priced around the same price range.
Also Read: New Maruti Ertiga 2018 Price, Launch Date, Mileage And Specs- Compete Details
Upcoming Sedans In India – Tata E-Vision Concept
1.2 Litre Revotron
1.1 Litre Revotorq
Engine
1199 CC
1048 CC
Power
104 PS
95 PS
Torque
140 Nm
200 Nm
Transmission
5-speed Manual/Automatic Transmission
Expected Launch
Early 2020
Price Estimate (ex-showroom
Rs 7.5 Lakh – Rs 11.5 Lakh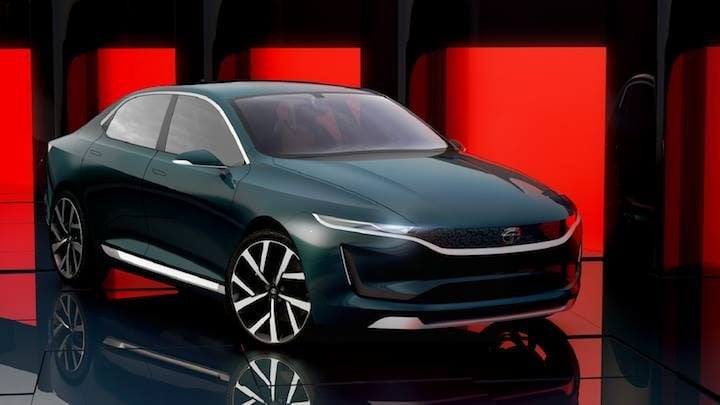 Tata E-Vision concept was unveiled at the Auto Expo 2018 and it was a unique sight. Based on Tata's new Omega ARC platform, the car will be based on an electric vehicle concept. Also, the platform is said to be lighter and stronger than the current platform. In the interiors, the driver's instrument cluster features a LED display that only turns on when required. The aircon controls are touch screen too and their controlling unit rolls out from the bottom of the dashboard and rolls back in when not in use. The car will come in petrol and diesel variants powered by 1.2 Litre Revotron and 1.1 Litre Revotorq engines respectively. The Revotron engine produces 104 PS power and 140 Nm torque. Revotorq engine produces 95 PS power and 200 Nm torque. Being Tata's sedan, it is expected to cost anything between Rs 7.5 Lakh to Rs 9.5 Lakh (ex-showroom).
Also Read: Tata H5X Might Be A Competitor For Jeep Compass – What To Expect
Upcoming Sedans In India – Honda Civic
1.8 Litre iVTEC petrol
1.5 Litre i-DTEC Diesel
Engine
1798 CC
1498 CC
Power
140 BHP
100 BHP
Torque
207 Nm
200 Nm
Transmission
6-speed Manual/CVT
Expected Launch
First Half 2019
Price Estimate (ex-showroom)
Rs 15 Lakh – Rs 18 Lakh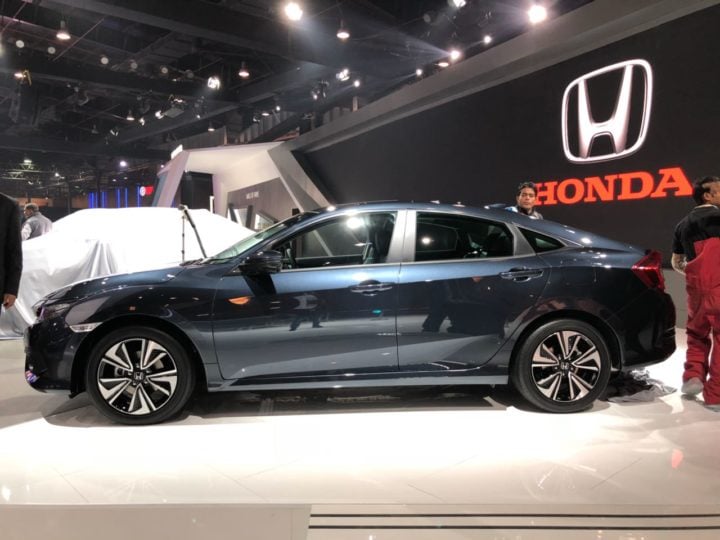 Honda Civic is making its comeback again in India. The 2000s premium sedan was discontinued in 2012. The new Honda Civic was unveiled in Auto Expo 2018 and is expected to hit the Indian markets soon. The car might come with a 1.8-litre petrol engine that produces 140 BHP power and 207 Nm torque and a 1.5-litre diesel engine that produces 100 BHP power and 200 Nm torque. Also, a 1.6-litre diesel is being speculated for the Civic. The car will be mated to a 6-speed manual and 6-speed AMT gearboxes. In terms of design, it gets a whole new sporty aggressive look. The interiors will be equipped with all-black interiors with premium looks. Features include keyless entry, automatic start-stop, Climate control, reverse parking camera, Cruise Control, Sunroof, DRLs and much more. The car is expected to cost starting from Rs 15 Lakh to Rs 18 Lakh.
Also Read: New Honda Brio In Works; Could Launch In India By 2019
Upcoming Sedans In India – Mercedes A-Class Sedan
1.6 Litre Petrol
2.2 Litre Diesel
Engine
1595 CC
2198 CC
Power
122 PS
136 PS
Torque
200 Nm
300 Nm
Transmission
9-speed Dual Clutch transmission/6-speed Manual
Expected Launch
First Half 2019
Price Estimate (ex-showroom
Rs 30 Lakhs – Rs 36 Lakhs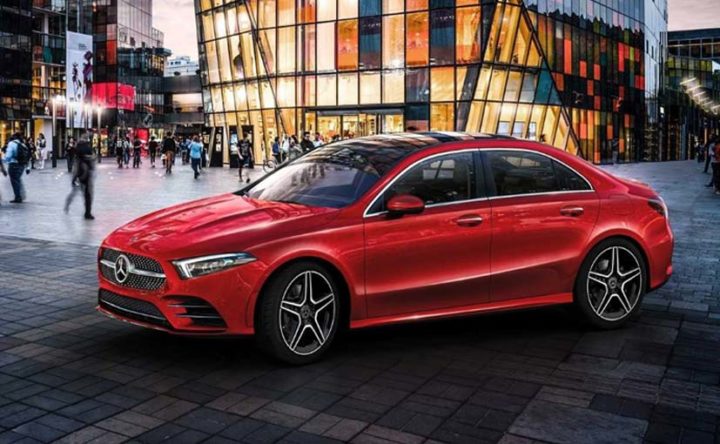 The Mercedes A-Class was launched as a hatchback, and now it will launch the A-Class sedan. The sedan will have short overhangs at front and rear, projecting its sporty design. Design elements feature the low, drawn-out bonnet, headlamps with chrome elements, and torch-like DRLs. The A-Class sedan will most likely get the same engine as the A-Class hatchback, which is the turbocharged 1.6-litre petrol engine. The 1.6 Litre petrol engine produces 122 BHP worth power and 200 Nm worth torque. After some time, it might also get the 2.2 Litre Diesel engine that produces 136 BHP power and 300 Nm torque. The car might get a 9-Speed DCT gearbox and also a 6-Speed manual transmission. Features might include distance assist, active lane change assist, active brake assist, panoramic sunroof, and more. In terms of safety, it will get ABS with airbags as a standard option along with EBD and ESP.
Also Read: Car Buying Guide: Best Cars In India Below 10 Lakhs
Upcoming Sedans In India – Tesla Model 3
Battery
Battery
50 kWh
75 kWh
Power
NA
NA
Torque
NA
NA
Transmission
NA
Expected Launch
December 2019
Price Estimate (ex-showroom
Starting Rs 48 Lakhs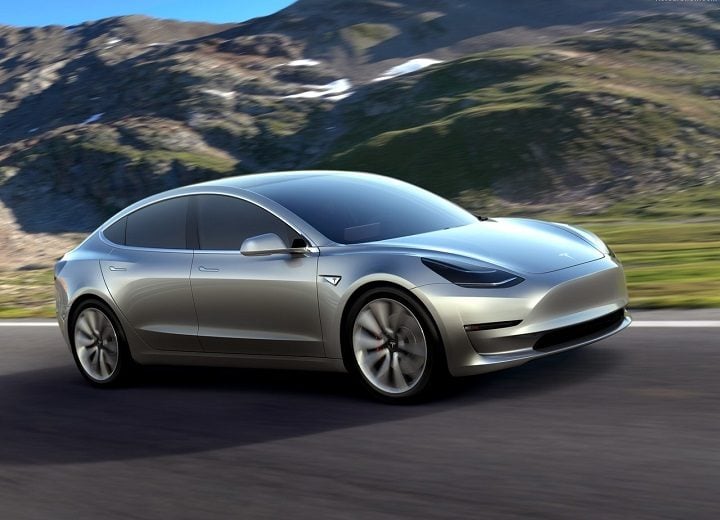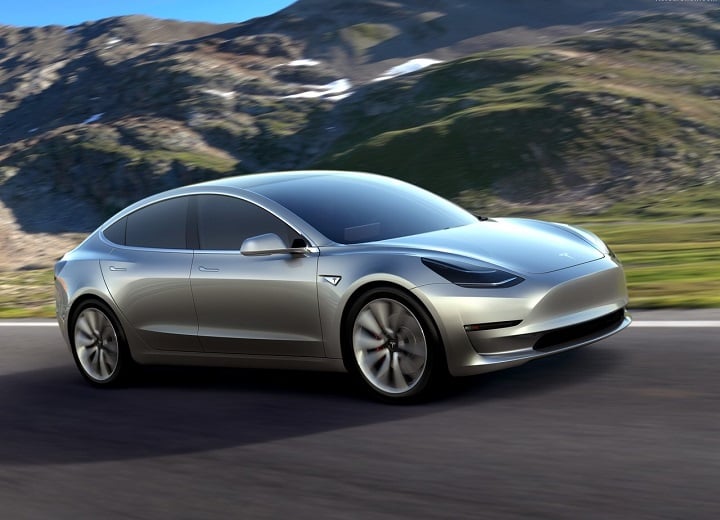 Tesla model 3 is an all-electric sedan which is awaited by a many Indians.  Among the design highlights, the upturned snout, tall roof, and the bobbed rear of Model 3 are a sight to watch. It will be available in two variants – 384 Km range and 500 Kmg range packs. The 384 Kms pack will run on a 50 kWh pack and the 500 Kms pack will run on a 75 kWh pack. With a supercharger installed, the battery can be charged to give a range of 210km in about 30 minutes. It would come with a dash-mounted 15.4-inch touchscreen display with landscape orientation. It controls everything from the dual zone climate control, sat-nav to the sound system while displaying information regarding battery charge, usage and range. However, there is no dedicated instrument cluster. So, the driver-centric information like the odometer and speedometer is also fed through the same display.
Also Read: Upcoming 7 Seater Cars in India: 2018 Maruti Ertiga, New Renault Duster And Datsun Go Cross
Upcoming Sedans In India – Audi A8
4.0 Litre TFSI Petrol
4.2 Litre TDI Diesel
3.0 Litre TDI Diesel
Engine
3993 CC
4134 CC
2967 CC
Power
429 BHP
380 BHP
247 BHP
Torque
600 Nm
850 Nm
580 Nm
Transmission
Automatic
Expected Launch
June 2018
Price Estimate (ex-showroom
Rs 1.2 Crore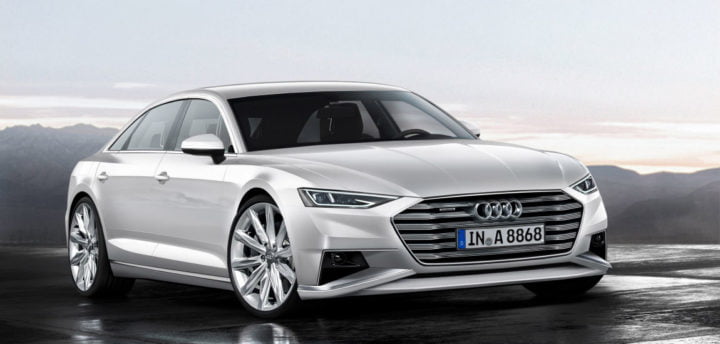 Audi A8 was unveiled at the Audi Global Summit and we can see that it gets an all-new exterior design language with a luxurious interior. The new generation Audi A8 will also be capable of advanced Level 3 autonomous driving, the first of its kind for any automobile globally. The new A8 features the new front end design with a large single-frame grille and laser headlamps. However, the look does not differ much from the previous generation. The features are not out yet, but everyone knows A8 will come on top of the line features. Currently, Audi A8 sports a 3.0 Litre TDI Diesel engine along with a 4.2 Litre TDI Diesel engine and 4.0 Litre TFSI petrol engine. Audi A8 might cost from Rs 1.2 Crore (ex-showroom).
Also Read: Top 10 Indian Cars: Best Cars In India That You Can Buy
So which of these sedans listed in our Upcoming Sedan Cars in India post interest you the most? Do let us know via the comments section below. And stay tuned to Car Blog India for more updates on Upcoming Sedan Cars in India With Price, Launch Date, Specifications and more.
Readers Rating

Rated 4.6 stars




4.6

/ 5 (

Reviewers

)

Outstanding
---
More Related News