In a recent study conducted by IAM Roadsmart in the UK, it was revealed that using touchscreens while driving was way more dangerous than drunken driving, severely affecting driver's response time to situations around the car.
The automotive industry keeps coming up with new innovations and technology all the time and then, some of them become game changers and almost a norm. One such piece of tech would be touchscreen infotainment system and its really bizarre how far they have come in recent years. Touchscreen infotainment systems have been in use since the 2000s in luxury cars but it is now that they really have become a necessity. However, are manufacturers over doing this trend of touchscreens and are they really as necessary in cars as they appear to be? It sure is a matter of debate.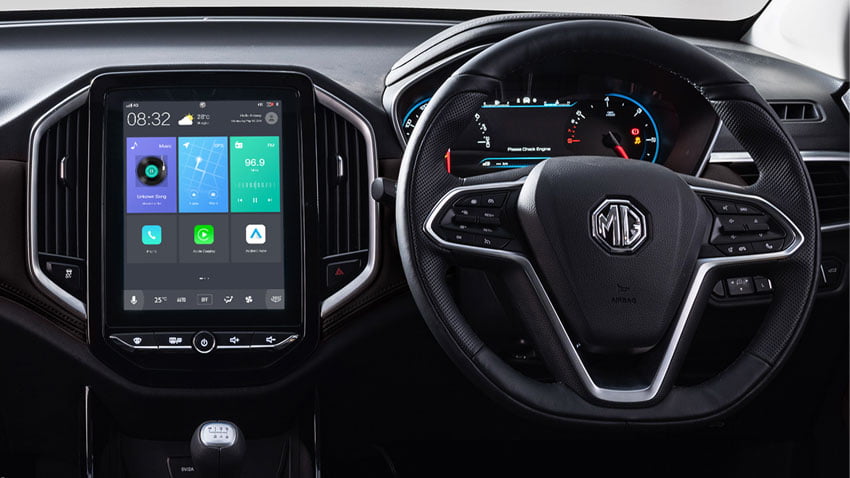 Apart from being a gimmick, a recent research has revealed that using touchscreens while on the go can be pretty darn dangerous. In fact, the study claims that using touchscreens while driving is even more dangerous than driving a car under the influence of alcohol. This research has been conducted by IAM Roadsmart, formerly known as Institute of Advanced Motorists. Its a charity based group in the UK, aiming to improve road safety standards with regard to car driving and motorcycle riding.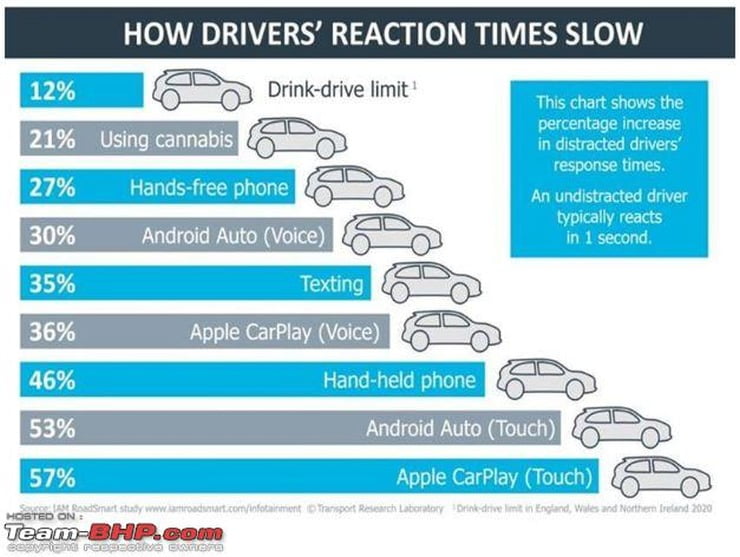 IAM conducted this study along with TRL, a global centre for innovation in transport and mobility funded by the FIA Road Safety Grant Programme and the Rees Jeffreys Road Fund. The study reveals that modern touchscreen infotainments system and touch-based control surfaces reduces the reaction time of the drivers as they act as distractions. The real shocking statistics is that the reaction time can be as much as 2-3 times slower than even when you are driving under the influence of alcohol.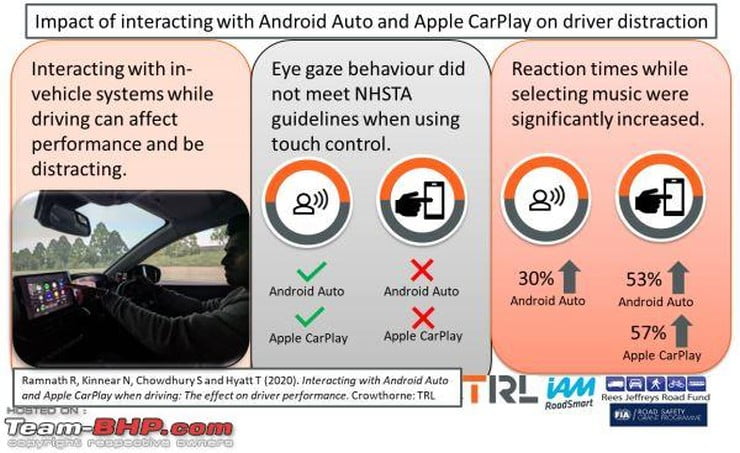 Also Read : Full Technical Specs of Royal Enfield Meteor 350 Revealed by new Leaked Brochure!
We all know how dangerous drunken driving can be but here's some technology that's potentially even more hazardous and no ones talking about it. Instead, OEMs are pushing even more towards digitization. The study revealed that action such as controlling a vehicle's position in lane, maintaining a consistent speed and headway to the vehicle in front were significantly affected when drivers were involved with the touchscreen infotainment system in their car. The study also revealed that the drivers failed to react, to a spur on road, his/her reactions much slower than normal.
Also Read : Mid-Spec Variant of Mahindra Thar Spotted With New Grille Design!
This is also not the first time a study of such sorts has been conducted revealing the drawbacks of modern touchscreen systems. Although this study was conducted in the UK, the outcomes or the findings are as relevant all across the world. It was however found out that distractions are significantly lesser for voice-based interactions with the infotainment system, a feature that is becoming a lot more common. We definitely appreciate the boon of touchscreens but in some cases, they are clearly overdone, particularly when even the HVAC controls are integrated in the touchscreens. Its dangerous! Please take note, car manufacturers.
Join us for FREE NEWS Updates on our Whatsapp Community or our official telegram channel.