Cabin noise is the new problem that Skoda owners are experiencing with their brand new Kushaq SUVs. It seems that the litany of issues for the Czech carmaker just doesn't seem to end at the moment. The Kushaq is Skoda's answer to the likes of Creta and Seltos. Skoda wants to ramp up its minuscule sales figures in our country by launching a product in the heart of the mid-size SUV segment. It is one of the fastest-growing segments in the market. However, ever since the deliveries of the Kushaq have started, people have been facing multiple issues with their brand new SUVs. The EPC issue has been going on for a long time but now, the cabin noise issue has also been reported by some owners. Here are the details.
Also read: Brand New Skoda Kushaq Delivers 23 kmpl on the Highway!
Skoda Kushaq Cabin Noise Issue
The video is uploaded on YouTube where the owner of the Kushaq has been driving the SUV. in the video, the creaking sound from the B-pillar is clearly audible. The driver tries to drive the car without the seatbelt to see if the noise stops but to no avail. The result is the same when the seatbelt is fastened. It is quite odd and worrisome that people are facing such cabin noises within the very first month of buying the SUV. Skoda has always manufactured quality products using high-quality materials. However, this time around the SUV has used almost 95% localization to keep the costs in check. It is possible that it is causing such issues.
Also read: Scooty Rider Who Collided With Skoda Kushaq Laughs at Damages
The possibility also lies in the fact that this is a completely new SUV built on a brand new platform. That could also be the reason why Skoda is not able to diagnose the problems easily. There are also problems with the fit and finish around the ISOFIX child seat mounts and some other areas inside the cabin.
Also read: Is Skoda Kushaq Compatible Only With Premium Petrol?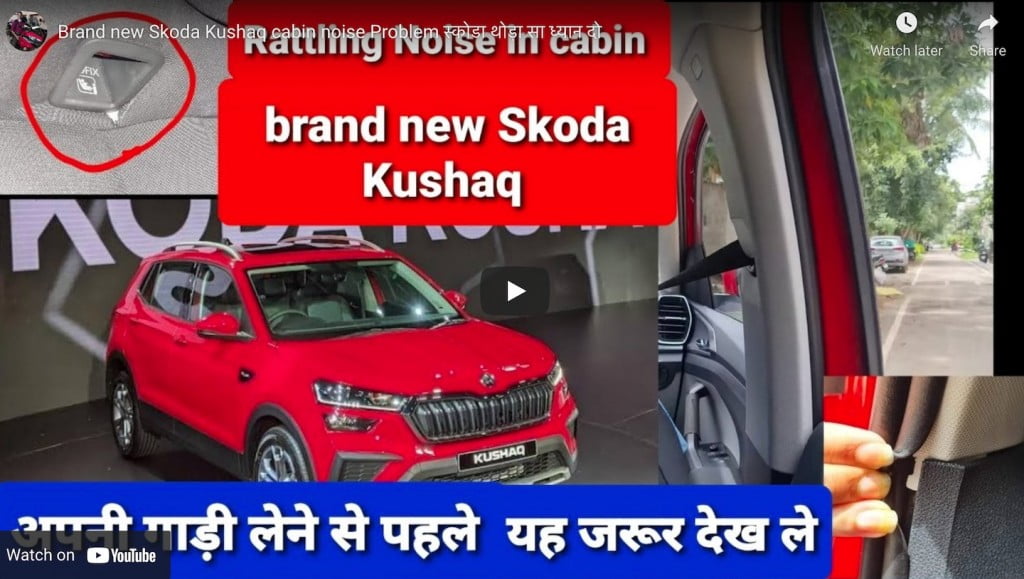 Specs
Powertrain options include a 1.0-litre TSI turbo petrol engine, making 115 PS and 175 Nm and its bigger sibling, the 1.5-litre TSI turbo petrol unit making 150 PS and 250 Nm in action with the Kushaq. Complementing the 1.0-litre engine is either a 6-speed manual or a 6-speed automatic transmission. The larger 1.5-litre unit comes with either a 6-speed manual or a 7-speed DSG (DCT) gearbox. The prices of the Kushaq range between Rs 10.49 lakh and Rs 17.59 lakh, ex-showroom. We hope that Skoda gets its act together before it starts suffering some huge losses in sales figures.
Also read: First-ever Skoda Kushaq With Aftermarket 16″ Mags – This is IT!