Some of our vloggers go on to any length to come up with a rather entertaining video. In one of the videos, a certain Youtuber from Rajasthan tries stopping his brand new Tata Safari with 50 mouse glue traps
The internet revolution around the middle of the last decade has brought millions of new users online. Not just that, it has even offered gigabytes of dirt-cheap data to everyone with a 4G device. All this has, in fact, even led to the birth of thousands of content creators who try hard to catch the fancy of webizens. While some of these creators are a good source of knowledge, others are good entertainers that work hard to impress one with their rather crazy antics. The video we have here is surely something that fits in the latter category. Basically, a Youtube creator in Rajasthan has tried to stop his brand new Tata Safari from moving using mouse glue traps!
You may also like: CONFIRMED- New Mahindra Scorpio N is Longer, Wider and Taller Than Tata Safari
You may also like: Citroen C3 vs Tata Punch Comparison
Tata Safari vs Mouse Traps
Such glue-based mouse traps are proven remedies against rodents but it's only logical that they won't work to stop a car dead in its tracks. Still, though, it's surely fun to watch this video in spite of knowing the outcome of this experiment beforehand. The video starts with the vlogger briefing viewers about his little experiment. He also shows the mouse glue traps he would later use in the video. For performing this experiment, the Youtuber uses his brand new Tata Safari. He lines up as many as 50 mouse traps in front of his vehicle and slowly starts driving his SUV on them.
You may also like: Why Mahindra Scorpio N Uses Ladder-Frame instead of Monocoque like Tata Harrier
As expected, the mouse traps do pretty much nothing to stop the mighty Tata Safari dead in its tracks. While the superglue on their surface is enough for the rodents, it's simply too minuscule to stop a heavy and powerful SUV. The driver successfully manages to pilot his car over all the traps he had placed in front of the vehicle. He then gets off and shows how each and every trap he had placed in front of the SUV sticks to the front tyres. He drives some more and shows how the traps sticking to the tyres give affect the driving experience a bit.
As expected, the Youtuber found all that noise coming from the front wheels quite bothersome. Finally, he stops and shows how easily the mouse traps came off the rubber as the Safari picked up speed. In all, the SUV was driven for 1.5 Km and as seen, the mouse traps did completely nothing to stop the vehicle from moving.
You may also like: 5 Reasons Citroen C3 is Better Package Than Tata Punch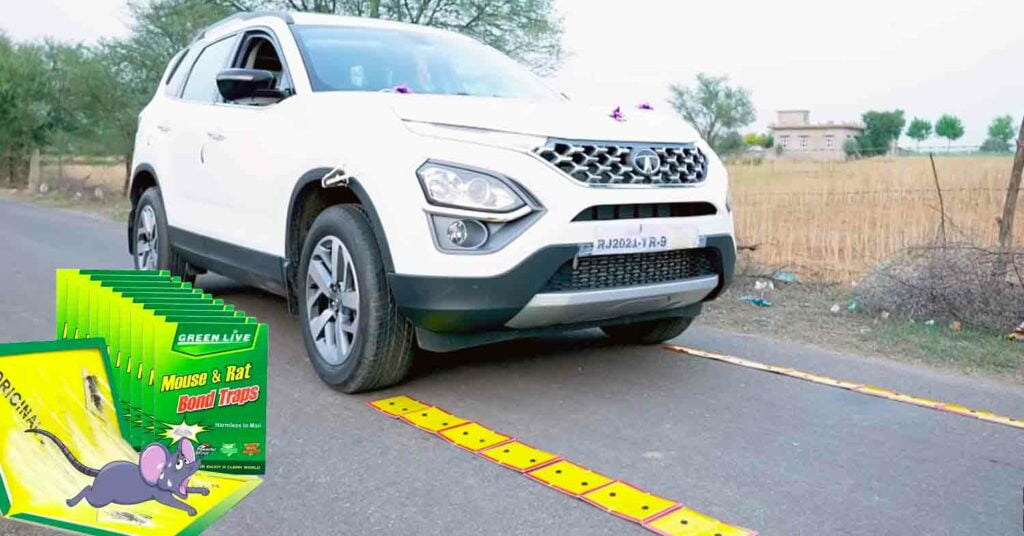 While this experiment was pretty interesting to watch, we recommend not performing it on your vehicle. Of course, it was always clear that the traps won't do anything to stop the Tata Safari. However, all that glue can surely end up damaging your car's tyre. The superglue used on these things is very difficult to remove from a surface. Even though much of it will be cleaned from the rolling against the road surface, it might still end up causing permanent damage to the rubber. Hence, it's best to leave such silly antics to some of our content creators.
Disclaimer- The embedded videos/ external content is/are being used as a convenience and for informational purposes only; they do not constitute an endorsement or approval by Car Blog India of any of the products, services, and /or opinions of the corporation or organization or individual. Car Blog India bears no responsibility for the accuracy, legality, and/or content of the external site or for that of subsequent external videos/ external content. Contact the external publisher for answers to questions regarding its content.
Join our official telegram channel for free latest updates and follow us on Google News here.