While road acidents are clearly unfortunate, they give us an opportunity to test the build quality and safety ratings of our vehicles which is an important criterion while making the decision to buy any car.
Watch this video which shows an incident where a Maruti Baleno crashes into a Tata Harrier. The Baleno is infamous for securing a disappointing 0 stars at the Latin NCAP. On the other hand, Tata Motors is famous for not compromising on security and giving the market one 5-star rated car after the other. While the official safety rating for the Harrier is not available, we can be certain of a decent rating considering how well other Tata products have performed. Let us take a look at what happens when a Maruti Baleno crashes into a Tata Harrier.
Also read: Owner of 5 yrs Old Maruti Baleno Reveals Truth of Build Quality
Watch A Baleno Crash Into Harrier
While the details of this incident are not known, it is reported that the incident took place somewhere in West Bengal. The video has been uploaded on YouTube. From the damages sustained by both cars, it becomes quite apparent that the driver of the Baleno crashes into the Harrier in the front. As a result, the front left bumper and bonnet are severely damaged on the Baleno. However, when one looks at the Harrier, there are barely a few scratches on the right rear bumper and boot. This, again, confirms the build quality of the Harrier and exposes the poor body shell of the Baleno. It is really disappointing that Baleno continues to sell huge volumes in our market despite being a 0-star safety rated product. We urge our readers to take into consideration the safety equipment on the car before buying.
Also read: STUPID Maruti Baleno Drivers Trying to 'Drift' Crash Into Each Other!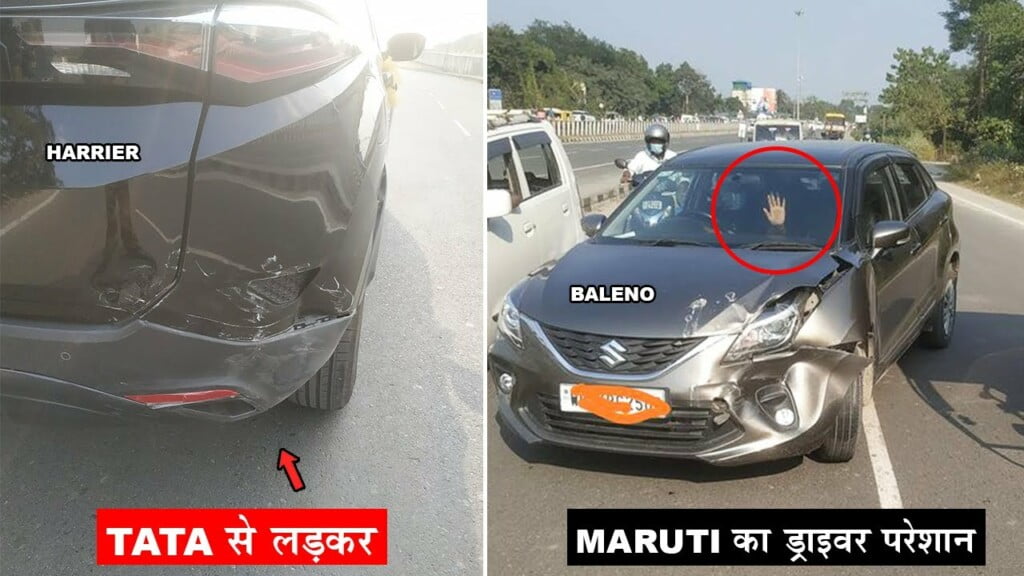 The number of roads accidents in India is huge. An exorbitant number of people lose their lives in such accidents. But a vast majority of these lives could have been saved if only there was decent safety equipment available on the vehicles. Of course, a lot also depends on the vehicle's build quality itself. We would suggest that everyone must follow the traffic rules and invest in the higher trims of the cars with maximum safety equipment. Also, the government should work towards making more safety features as standard across all the variants of the car.
Also read: First-Ever Tata Harrier Dark Edition (NCAP- NA) Hi-Speed Crash Reported
Join us for FREE NEWS Updates on our Whatsapp Community or our official telegram channel.