Testing the safety rating and build quality of vehicles is not something that needs to be done on roads under real-world conditions. However, when that happens, only the strong cars survive.
Here is a video of a truck overturning on a Ford EcoSport testing the build quality of the compact SUV. This video clip has been uploaded by Nikhil Rana on his YouTube channel. He keeps posting such videos to raise awareness among the people regarding the relevance of buying safer cars and following traffic rules as well. Ford is known for making sturdy and strong vehicles. It has stopped manufacturing in India. But its products still carry that legacy and when put to test, Ford cars prove how safe and strong they are. Let us check out the details of this incident.
Also read: Ford India Recalls EcoSport and Continues Offering Warranty Support Post Discontinuation!
Truck EcoSport Build Quality
According to the report, this accident took place somewhere in Maharashtra. A loaded truck overturns on a parked Ford EcoSport on the side of the road. The details of how this happened are still unknown. However, because the truck was overloaded, it is possible that the driver must've lost control and left the road. Thankfully, no one was in the car when this happened. From the visuals, it is clear that the damage to the compact SUV is limited. The front bonnet is affected but there are no signs of other damages anywhere. The A-pillar and the body strength absorbed the impact quite well. This is a great example of how safe the EcoSport is. Had it been a low safety rated car, it would've been crushed under such load.
Also read: Ford EcoSport 4WD Spied in Chennai But Here's Why We're Not Excited – Here's Why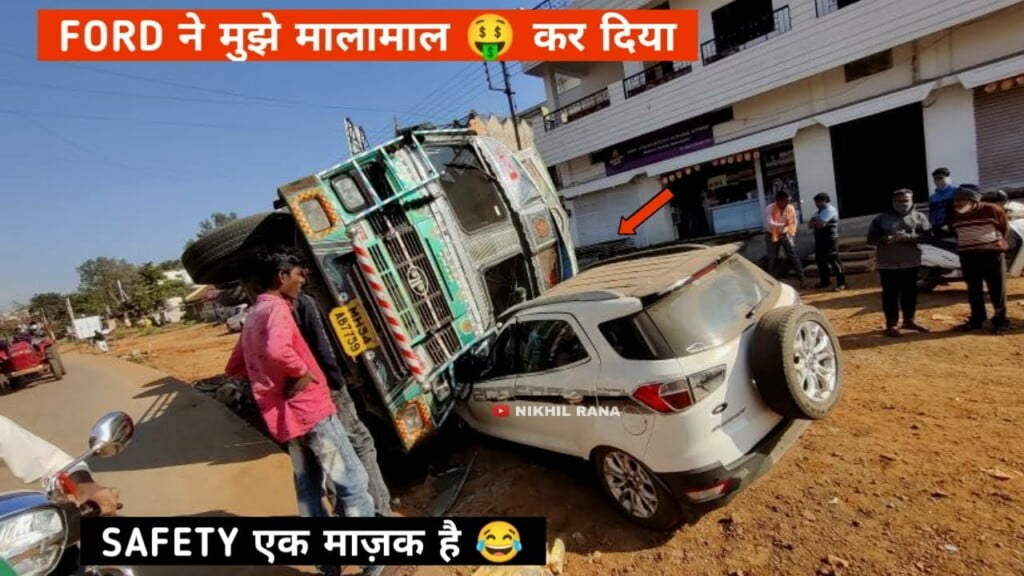 Such videos are there to remind you of the importance of investing in a safer car. Not just that, you should consider going for the top version of a car with all the safety equipment. These safety features could be the differentiating factor between survival and fatality. Also, we must be aware while driving because there are still a lot of people on the road who don't follow all the traffic rules. In the end, both parties suffer if there is a crash irrespective of if it was your fault or not. Hence, you must always be prepared for such incidents.
Also read: Watch Ford EcoSport Saving IDIOT Biker From Fatal High-Speed Crash!
Join our official telegram channel for free latest updates and follow us on Google News here.