Here is a horrifying video showing a Ford EcoSport driver saving the life of an idiot biker by avoiding a fatal crash. There are thousands of reckless drivers on Indian roads. We come across such people almost every day. However, not every time could one get so lucky, that he is able to hold his nerves and save a life. Here is one such example. This short video clip shows a horrifying experience of an EcoSport owner who barely managed to miss an idiot biker who was cutting lanes without looking around for other cars.
Also read: Ford EcoSport Owner Wanting To Upgrade Finds Out Non-availability of Base VW Taigun!
EcoSport Driver Saves An Idiot Biker From Crash
The Ford EcoSport driver is driving in the middle lane of a highway. The road looks empty which means that the speed of the SUV will likely be quite high. As it tries to overtake a truck, the biker from the right lane decides to take an exit from the highway on the left cutting through three lanes. He does that without even looking in the rearview mirror. The rider also seems to be carrying a stick and he has no helmet. It is unfortunate that people flout the traffic rules like this and cause accidents which turn fatal. The EcoSport driver was alert to this and honks to make the biker aware of a car and hits hard brakes at the same time. Thankfully, the SUV managed to avoid the biker barely. Also, luckily the SUV didn't skid, otherwise, it could have been fatal for the occupants without any fault of their own. This is how sometimes other people suffer because of some stupid people on the roads.
Also read: Crashed Ford EcoSport Hanging From Tree Shows Why We'll Miss It Bad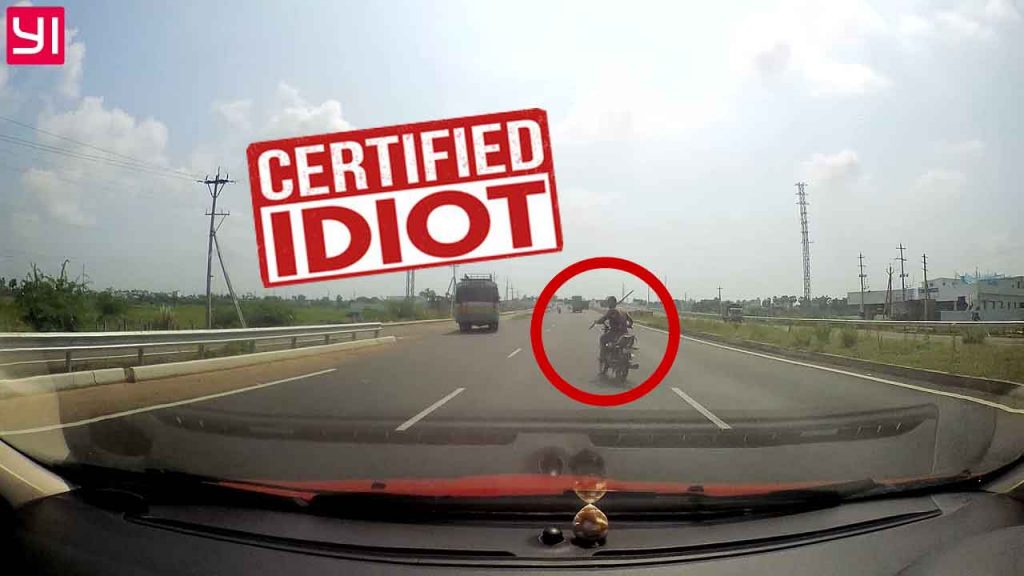 Ford EcoSport
Ford EcoSport is a relatively safe car and high-speed dynamics are also decent. That is the reason why the vehicle didn't skid and hold its lane. Also, ABS and EBD would've kicked in here which ensured that the wheels don't get locked up and the SUV doesn't lose traction. This highlights the importance of investing in safety equipment and safer cars. Such people will always continue to ride on the road. But to ensure the safety of yourself and your loved ones, you must opt for cars with high safety ratings and higher trims for better safety equipment. We are glad that no injury was reported in this case and urge you to follow the traffic rules and persuade others to do the same as well.
Also read: Unlike Indians, Americans Celebrate Discontinuation of Ford EcoSport!