A Ford EcoSport owner who plans to go for the VW Taigun is left confused after the non-availability of the base model of the mid-size SUV. Ford car owners are selling their cars left and right after the company decided to stop manufacturing in India altogether. When this EcoSport owner decided to upgrade to a mid-size SUV, he opted for the VW Taigun. Taigun is the latest offering from the German carmaker. It is based on a new MQB A0 IN platform specifically developed for India for VW and Skoda vehicles. But he was surprised to find out that the dealer was pushing for the higher trims. Let us check out the details of this entire saga.
Also read: VW Taigun Maintenance Cost is Just Rs 15 a Day!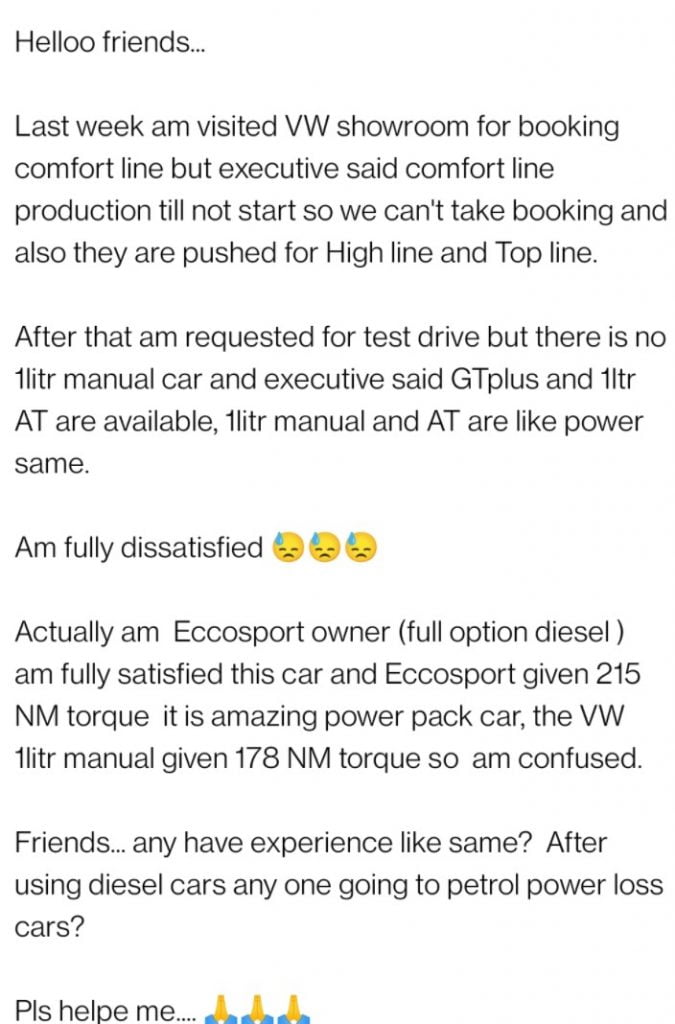 Ford EcoSport Owner Wants VW Taigun
This is the post shared by the EcoSport owner on Facebook. He expresses his shock when the dealer told him that he can't take the booking for the comfort line. The dealer tells the customer that the production has not started and suggested going for the Highline or Topline instead. In addition to that, there was no manual car available for a test drive. This is bizarre and perhaps means that the dealer is pushing for higher trims and automatic variants alone. The EcoSport owner current drives the diesel variant which is a punchy engine and is confused if the petrol could satiate his thirst for performance from his vehicle. There is also quite a significant difference between the torque figures of the two SUVs. However, as far as the TSI engines go, they are quite responsive and almost have the characteristics of diesel engines.
Also read: Will Even VW Taigun Get 'More Robust' Fuel Pump Now?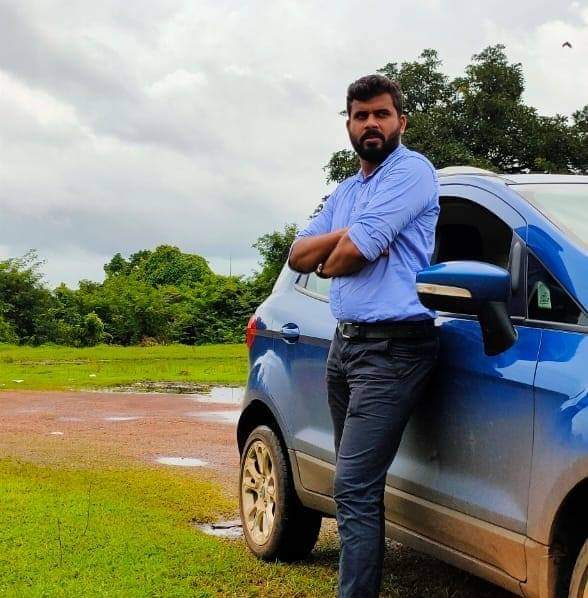 Hence, to opt for a TSI turbo petrol engine might not be as bad as it looks. But the more pressing issue here is that are the VW dealers actually pushing the potential customers towards buying the higher trims of the Taigun. It could also be because the profit margins for the carmaker and dealer is more in the higher variants. That is quite an unethical practice where you are stripping the customer of exercising the free choice. If a customer wants the base model of the vehicle, he/she should be given as much preference as any other potential customer by the dealership. Also, not having a manual car for a test drive is beyond any logic too.
Also read: VW Taigun Dealer FRAUD – Handling Charges Masked as Delivery Fee!
Join our official telegram channel for free latest updates and follow us on Google News here.