Qualcomm announced the first Wireless Electric Vehicle Charging (WEVC) trial for London in what is a UK and industry-leading initiative. Qualcomm is collaborating with the UK Government, as well as the Mayor of London's office and Transport for London (TfL) to deliver the trial. The pre-commercial trial is expected to start in early 2012 and will involve as many as 50 electric vehicles (EVs). The trial will use Qualcomm wireless inductive power transfer technology that enables high-efficiency power transfer across a large air gap. It is very easy to use: the driver simply parks the vehicle in the usual way and the system automatically aligns for power transfer, making parking easier and charging hassle free.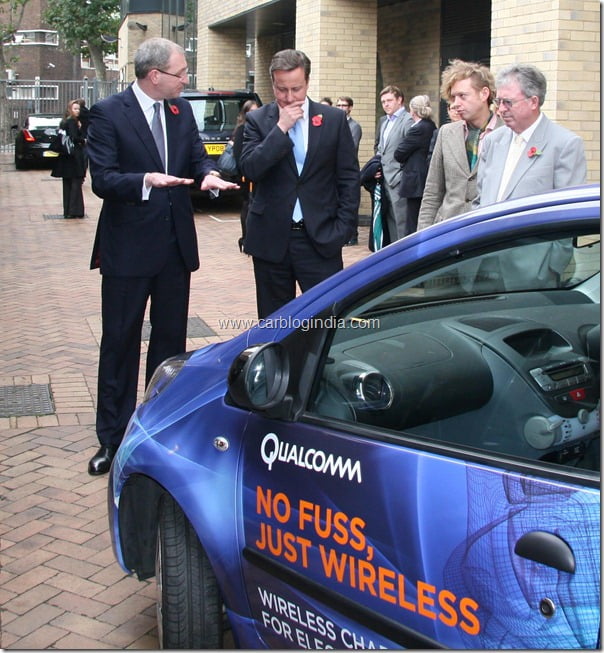 image – Qualcomm Wireless Charging Trial At London
Addison Lee, the UK's largest minicab company, and Chargemaster plc, the leading European operator of advanced EV charging infrastructure, have also agreed to participate in the WEVC London trial.
Prime Minister of England, David Cameron said, "This wireless charging technology is a giant leap forward for the electric car industry and I am delighted that London businesses will be among the first to benefit from the trial. Creative, high-tech advances such as this are extremely important as we work to rebalance our economy, and the decision to trial this at Tech City shows confidence in the UK as an ideal place for innovation and investment."
The Mayor of London, Boris Johnson, said, "In my quest to deliver cleaner air for the capital, I want London to be the electric car epicenter of Europe. Encouraging a massive uptake in electric driving is key to this vision of becoming a zero-emission city. We are already on this path with Transport for London delivering a citywide charging network, but we need to go further. This trial is an innovative new facet of my plans, with the promise to help drivers go electric with even greater confidence."
We hope such initiatives will help develop infrastructure models for electric vehicles which can be exploited all over the world to make global automobile industry more environment friendly.
check out more-