The Best Car in the world is all set to become even better, with reports suggesting that Mercedes Benz is ready to launch a super luxurious Pullman version of its S-Class to rival a certain Rolls-Royce. Now we are yet to see whether the Mercedes Benz S-class Pullman will beat the Rolls-Royce on the street, but if reports are to be believed it will certainly trump the Rolls with the price tag it shall carry, expected to be above the 1 million USD (almost Rs. 6 crores) mark The Mercedes Benz S-class Pullman is almost a double of what a top of the line Rolls-Royce would cost. The Mercedes-Benz S-Class Pullman will reportedly come standard with armour plating to protect the occupants with the four rear seats set to face each other. The front compartment and seats will be separated by a partition window. It is in the pipeline to be launched next year as a 2016 model.
Updated on 2nd August 2014
The Mercedes-Benz S-Class Pullman has been leaked thanks to patent photos showing the exterior of this highly luxurious car. New details revealed tell us that the Pullman will be exclusively produced by tuning company Brabus. A more expensive armoured variant of the Pullman will also be available for a starting asking price of 1.2 Million U.S. Dollars, which is about Rs. 7.77 Crore which should tip the scales at over 5 tonnes.
Gallery
We will keep you updated on the 2016 Mercedes-Benz S-Class Pullman. Stay tuned.
Photos Courtesy:  Telegraaf.nl
Updated on 30th June 2014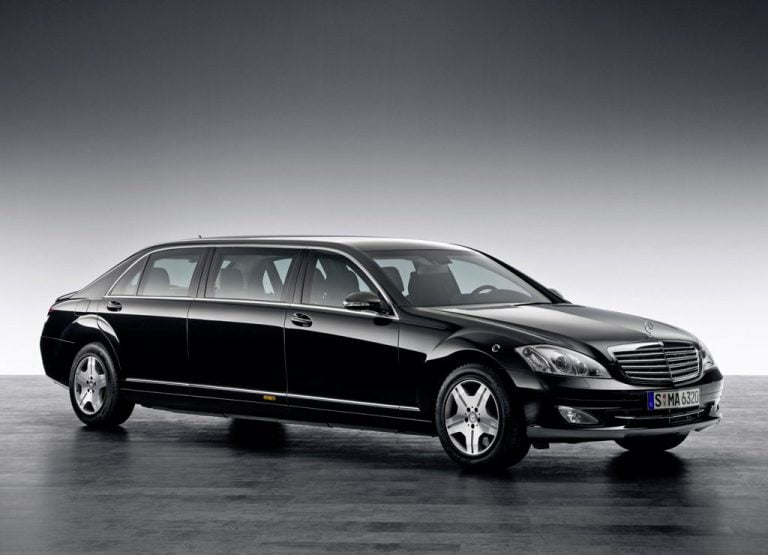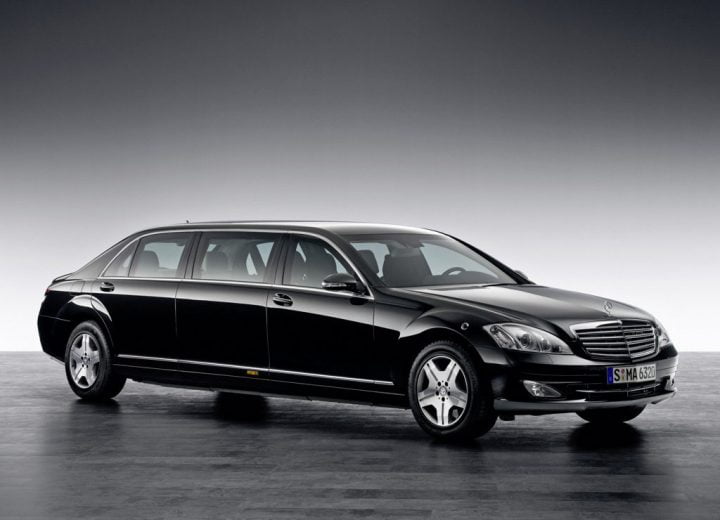 According to Tim Urquhart, a London analyst for IHS, "they [Mercedes-Benz] want to show that Mercedes still stands for an absolute elite, luxury and opulence. There's symbolic value to this kind of car."
Technically, the Pullman should feature the same 6.0-liter twin-turbocharged V12 engine delivering a total of 523 hp between 4900 rpm and 5300 rpm and 830 Nm of torque between 1900 and 4000 rpm as the standard length S 600. Due to the increased weight and size of the Pullman, it won't be as fast nor as efficient as the standard S-Class.
Not too long ago, the first spyshots of the Mercedes-Benz S-Class Pullman emerged along with suggestions that the armour plating is capable of withstanding continuous gun fire, hand grenades as well as other small explosions.
The magazine Bloomberg, quotes Dieter Zetsche, Mercedes CEO, saying "with the S-Class, we're offering a package of technologies that nobody can compete with and a quality that expresses the highest exclusivity", while the company has the ambition "to build the best car in the world" and with the current run of form that Mercedes seems to be on, they don't seem to be that far off.
Source: Bloomberg
Join us for FREE NEWS Updates on our Whatsapp Community or our official telegram channel.