In this age of innovation, it has become possible to make a Yamaha R15 from a Bajaj Discover. Read the details of this bike modification feat that has been showcased in this video.
In a bizarrely impressive turn of events, a bike modifier has transformed a Bajaj Discover into a Yamaha R15. Yes, you heard that right! The automobile modification industry has grown tremendously over the last few years. The technology used in the industry has been updated and more adoption has been seen. Additionally, people are becoming more conscious of making their bikes look unique. At the same time, they are looking for affordable solutions to achieve that. In one such instance, a Bajaj Discover has been converted to a Yamaha R15, as depicted in the video.
You may also like: Yamaha R15's 400cc Version Looks Amazing in Latest Visualizations
You may also like: Remember Yamaha Gladiator? It Returns in Sportier-Than-R15 Concept!
Yamaha R15 Based On Bajaj Discover
The YouTuber shows the 'new' Yamaha R15 as he unwraps all the exteriors tapes and stickers from the bike. At the front, the split-headlamp cluster has been installed, the indicators are also new, the side body panel resembles the regular R15 with a black paint shade on the entire body. The taillamps have been modified, the split-seat set-up has also been installed to make the bike look sporty. The front panel is covered with a glass protector. The body has been kept black so that its owner could apply any kind of body graphics as he/she wishes. The aerodynamic elements on the side body give the impression of a sporty bike.
In terms of the mechanicals, the bike is fitted with a mono-shock absorber suspension system, the disc brakes that are visible in the video are fake and non-functional. These are kept to enhance the overall appearance of the bike but the actual braking is achieved by the stock brakes of Bajaj Discover. The engine is of Bajaj Discover as well. This means that there is a 94 cc engine producing 7.7 hp and 7.8 Nm of peak power and torque respectively. This small engine came mated to a 4-speed manual gearbox. There are drums brakes on both wheels. Back in 2011, it used to cost around Rs 48,000, ex-showroom.
You may also like: WATCH Sports Exhaust From Yamaha R15M Bolted on Bajaj Pulsar RS200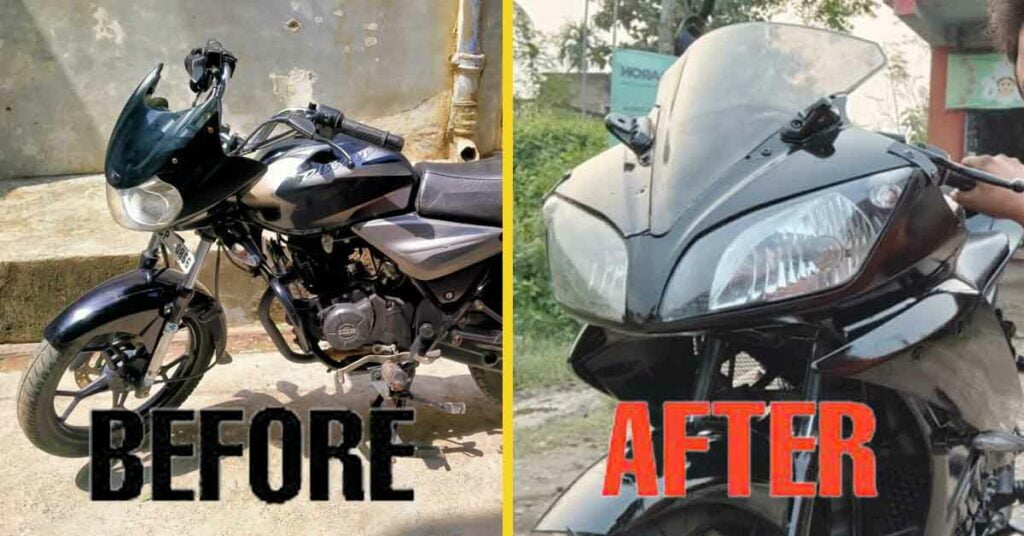 Let us know your feelings about this aftermarket modification of a Discover into an R15. Would you ever go for such affordable options if given a chance?
Join our official telegram channel for free latest updates and follow us on Google News here.