Advertisement

New Model 2016 Audi Q7 images and details, along with information on car's India launch
In luxury car market, the key is to keep churning the blockbusters one after the other. In the past couple of years, German carmaker Audi has done exactly the same. An all new Q7 SUV will be launched in 2015. Check our report here for all New Model Audi Q7 Images and details.
Updated on 26th February, 2015
The upcoming new model Audi Q7 has been spotted testing in Mumbai. The new Q7 was unveiled at this year's Detroit Motor Show and is yet to go on sale. In India, the new model Audi Q7 launch could take place around the end of this year.
Advertisement
via Motorbeam
2016 Audi Q7 Trailer Video
Updated on 28th January, 2015
As can be seen below, the new model Audi Q7 has already started testing on Indian streets and here we have images from a sighting in Mumbai. It is being said that the new model Audi Q7 will come to us via CKD route and could be launched here by November! This means that the Audi Q7 could be a part of the product offensive that Audi India has planned for this year. Given that the new Q7 will be here only by the end of this year, it would be rather safe to state that the launch of the flagship SUV will follow the updated Q3 and A6 in our country.
via Motorbeam
Updated on 23rd December 2014
The new model Audi Q7 has been spotted in India ahead of its public debut at the 2015 North American International Auto Show next month. However, the 2015 new model Audi Q7 India launch is expected to take place only in the second half of next year and in all likelihood, the initial batches of the new model will be brought to us via CBU-route. At a later stage though, Audi India is expected to start assembling its flagship luxury SUV in India.
2016 Audi Q7 Images
As can be seen in the render here, it is highly probable that the silhouette of the upcoming model would be very similar to that of the current model. The highlight, however, would be the car's front fascia, which will, like almost all Audi models of the future, would get a six-point single-frame radiator grille. The Q7 could also benefit from Audi's Matrix headlamp tech.
The 2016 Audi Q7 luxury SUV will be underpinned by parent group Volkswagen's much publicized MLB-Evo platform. This is the same platform that will also underpin the production-spec Lamborghini Urus, Bentley EXP-9F and the next generation Porsche Cayenne. Thanks to the usage of this modern architecture, the next Q7 could be upto 300 kgs lighter, which should translate into better performance and fuel efficiency. Other than the usual set of petrol and diesel motors, the next Q7 will also get two plug-in hybrid variants.
Updated on 6th August 2014
The upcoming Audi Q7 has been rendered again based on clearer spy shots. The render shows that the new Q7 will look much more compact in form (though it will not loose out on road presence or interior space) than the current model. Check out the render below:
Photo Courtesy: Carscoops.com
Updated on 29th July 2014
Audi will introduce a high-performance variant of the Audi Q7, called the SQ7, in 2016. The SQ7 will debut a new electrically-assisted turbocharging system called the the 'e-boost'. The system employs an electric motor connected to a small turbocharger which provides near-instant (in about 250 milliseconds) maximum boost reducing overall turbo lag. The electric charger is only used to provide boost at low RPMs, after which a bypass valve opens up and a normal (larger) turbocharger takes over. The system will applied to both diesel and petrol motors.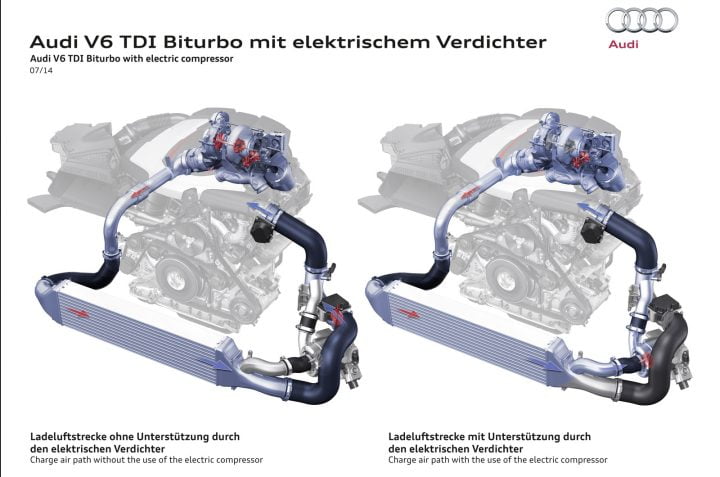 We will keep you posted on further developments, keep tuned in to Car Blog India.
News Source: Autocar.com
Updated on 22nd February 2014
The 2015 Audi Q7 could be delayed as Audi has had to go for an emergency redesign to make the SUV look less 'brutal and ostentatious'. The new SUV will loose about 300 Kg than the present iteration and Audi wants this to be reflected in the design too. It will be launched/unveiled internationally only by mid-2015, India launch could be shifted to end-2015 or early-2016 during the Auto Expo.
We will update the story when there is new information, do subscribe to our daily newsletter. It's free and is sent out once (only once) everyday.
News Source: Focus.de via WorldCarFans.com
Updated on 7th October 2013
Spy Shots: 2015 Audi Q7
Photo: 2015 Audi Q7 Rendering
Photo Courtesy: Car and Driver
Earlier it was believed that Audi would use an extended version of the Volkswagen Touareg/Porsche Cayenne platform. However, the latest news is that parent company Volkswagen has told Audi to use the new MLB architecture which will be used on the upcoming Lamborghini Urus, Bentley crossover and Touareg/Cayenne. If this news is true, the new Audi Q7 could be up to 363 Kg less than its predecessor which would mean better performance, fuel efficiency and handling as well.
There is not much information on the engine options that the 2015 Audi Q7 will get. There is speculation that the petrol varaints of the SUV will sport a 310 BHP, 3.0-litre V6 and a 435 BHP, twin-turbo 4.0-litre V8 engine. The diesel variants may be powered by a  258 BHP, 3.0-litre V6 and a 385 BHP, 4,2-litre V8 engine. Going by Audi's current trend, we are also expecting a plug-in hybrid variant, which may use a 3.0-litre TDI engine with a 115 BHP electric motor, it may or may not be launched in India though.
Keep tuned in to this space, we will be posting news on the 2015 new model Audi Q7 as it comes in.
Advertisement
Rendering courtesy – AutoZeitung; MotorOctane