Fiat India will be offering attractive discounts on almost all its models during the year-end
We've always been of the opinion that Fiat cars in India are among the best looking models in their respective segments. Not just high on the aesthetic front, these cars also score well in terms of ride and handling. However, thanks to an after sales service network that can be best described as really average, these models have failed to perform well on the monthly sales charts. And at this time of the year, when car sales are at their all time low, Fiat's sales performance almost threatens to be dismal. No surprise then that the manufacturer has come up with a plan to push sales during the year-end. As per this plan, the manufacturer has announced some attractive discounts on their models. While some of you might look at this as a clever tactic to get rid of 2014-manufactured stock, we still believe that it is one of the best times to buy a Fiat car. Come to think of it, under the latest scheme, Fiat is offering discounts of as much as INR 2 lacs on some of its models. Check out all Fiat India discounts and offers in our report here –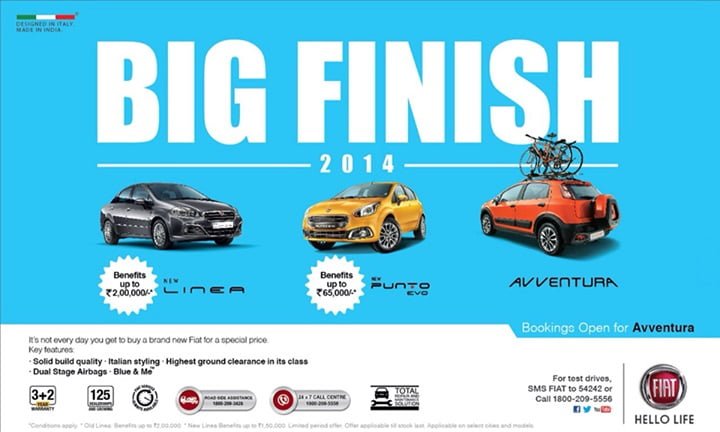 Fiat Linea Discounts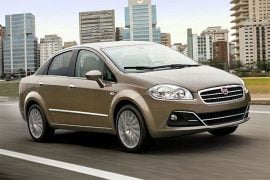 The Fiat Linea, which spearheads Fiat India's charge in the highly competitive upper C-segment of our car market, is being offered with benefits of up to INR 2 lacs!
Fiat Linea Classic Discounts
The older Linea gets discounts of up to INR 1 lac!
Fiat Punto Evo Discounts
The refreshed Punto is being sold with offers of up to INR 65,000.
NO DISCOUNTS on Fiat Avventura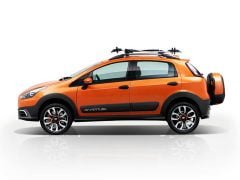 As you might have expected, the Avventura, which is the newest model in the carmaker's line-up, doesn't get any discount to speak of.
Even on the other models, the magnitude of discount varies between the variants and the trim levels and any kind of concession is being provided through offers such as exchange bonus, gift cheque and free insurance. Also, we believe that some haggling with the dealer would make these offers even sweeter. So, what are you waiting for? Rush to your nearest Fiat India dealership, now!
On which of these Fiat cars will you be willing to put your money on?  Do let us know by commenting below.