What is it?
The wild child, the one coked up on turbocharged air, frowned upon by the family elders. This, here, is the Fiat Avventura 'Powered by Abarth'. Like the Punto Evo, its crossover derivative took a trip to the Fiat's 'skunkworks' garage and came out with a new heart and some rather loud adornments. The performance junky in has almost always been hungry for a hot hatch, which Fiat duly delivered in the Abarth Punto, but a hot crossover? Why? Well, why not? It may not boast of fancy stripes and menacing Scorpion badges, but it has the same heart and, if Fiat is to be believed, is almost as fast.  We spent a few days with this intriguing crossover and you can read all about Fiat India's problem child in our Fiat Avventura Abarth test drive review that follows.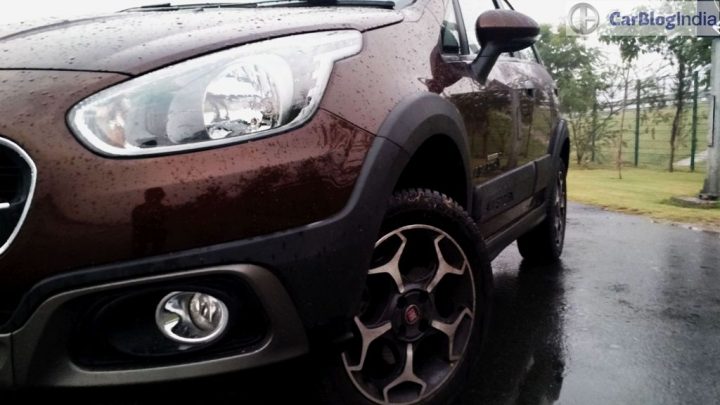 Yes, Looks Can be Deceiving . . .
Unlike the Abarth Punto, the Avventura retains its formal attire and does without the flamboyant, in your face tattooed exterior. In fact, apart from the 'Powered by Abarth' badge placed in the lower part of the front door and the 'Scorpio sting' alloys, there aren't any other visual differentiators. The Fiat Avventura Abarth continues to be the same, smart-looking crossover that its donor vehicle has always been. The chunky front bumpers, beefy tires and the exquisite alloys – all come together to make this one of the best-looking pseudo-crossovers out there. Never thought a tailgate mounted spare wheel could look good on a hatch, but the Avventura manages to pull it off really well. And then, there are those nicely detailed LED stop lamps. All things combined, the Avventura boats of one of the prettiest exteriors around. However, we do wish the exteriors were a little more Batman and a little less Bruce Wayne.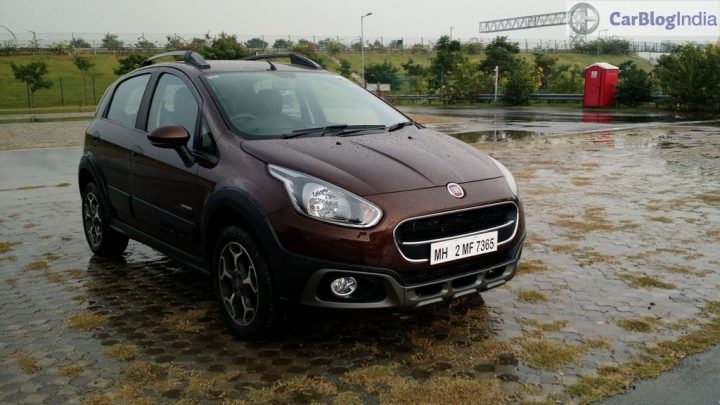 Fiat hasn't played around with the cabin at all. This is a good thing since I've always been fond of the black grey interior scheme. The cabin is built up of good quality materials all around and while space isn't its forte, this is hardly the car you should be looking at if backseat comfort is high on your priority list. However, we need to mention here that accessing the boot is a cumbersome process as it involves dismounting the spare wheel from the hatch using a rather heavy hinge mechanism. Also, we aren't really fond of the rather primitive Blue and Me system that doesn't even allow media playback through the phone. Other than these issues, however, there isn't much to complain about the interior and the features. Okay, maybe an Abarth badge or the scorpion insignia on the dash would've been a nice touch, but we are almost nitpicking here.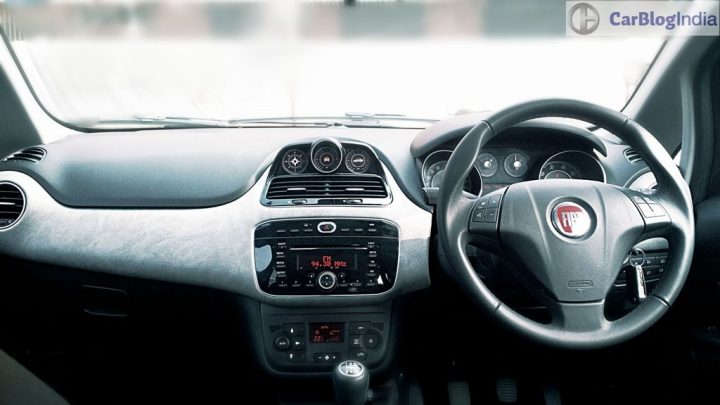 Getting Stung by a Scorpion . . .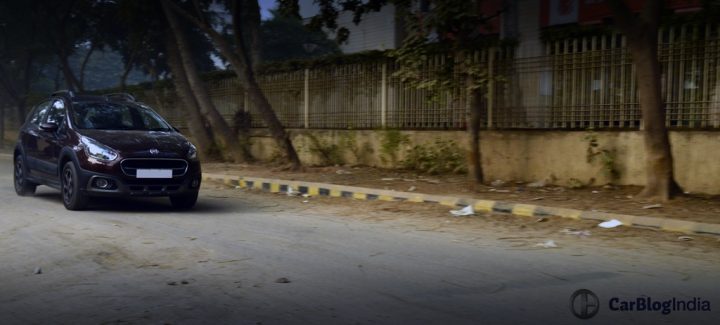 Fun to drive? You bet it! Forget cabin space, features and all the other irrelevant details because those things won't matter once you get behind the wheel of Avventura Abarth. The engine, with a bright red Abarth stamped on to it, is a 1.4-litre petrol mill that has been turbo'ed to churn out 139 bhp of max. power and 210 Nm of peak torque. A dampener, however, is the fashion in which this engine fires up without much drama as it idles almost noiselessly. However, a neat shove to the gas in the first cog will give you a hint of what this motor is capable of. Come 2,000 rpm and you'll soon find yourself pinned to your seat. This car pulls away like a really angry canine that's desperate to be unleashed! You really need to hold on to the steering wheel firmly to counter all that torque steer. There's an abundance of power until about 6000 rpm, post which it begins to tail off.

This gem of an engine is complimented well by the ride and handling. The deliciously weighted steering lets you know exactly what the wheels are doing and makes throwing the Abarth Avventura around corners loads of fun. The raised ride height does curb the corner-carving prowess to some extent, but the body roll is still very well contained and you just won't find your bottom sliding off the seat during cornering. Also praiseworthy is the ride quality, which doesn't offer the firmness usually associated with hot hatches. The only issue we had with the mechanicals was the 5-speed transmission unit, which is not very smooth as the gears do not slot into position smoothly enough. But such minor issues apart, a stonking motor and a brilliant steering ensure most cars stay in the Avventura's rear view mirror.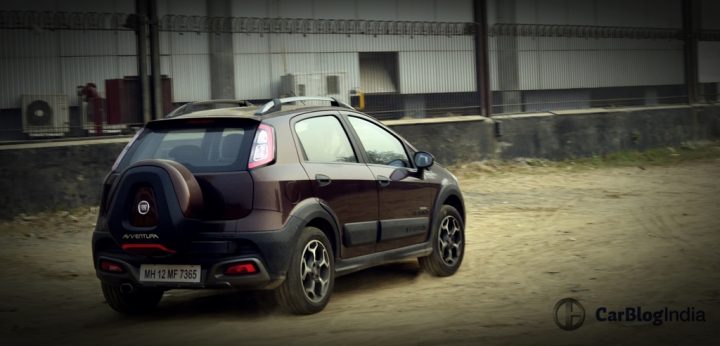 We managed to extract around 9-10 kpl, which is decent for a car with almost 140 bhp on tap along with the additional weight due to the extra crossover bits. Also, the crossover origins ensure you benefit from the extra ground clearance on those pothole-ridden streets our towns are (in)famous for.
Should I Buy One?
If you have already decided to spend around 10-11 lacs on an Abarth, chances are you will be a little confused between the Abarth Punto and the Avventura Abarth. The former is marginally more powerful, lighter, lower and flashy enough to let those around you know what the car is packing. The Avventura, on the other hand, feels more matured than its sinister sibling. The red stripes and scorpions might have been covered up by a formal suit, but that cannot hide the bulging abs that the Avventura Abarth is almost shy to flaunt. A fast, fun to drive crossover that appeals as much to the head as it does to the heart – that's the Fiat Avventura Abarth for you.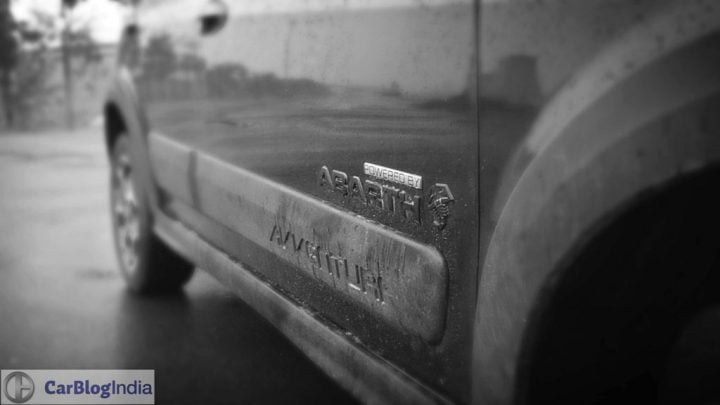 Specifications
| | |
| --- | --- |
| Length x Width x Height | 3989x1706x1542 mm |
| Kerb Weight | -NA- |
| Wheel Type and Size | 16" Alloys |
| Boot Space | -NA- |
| Engine Type/ Displacement | 1.4 L T-Jet Turbocharged Petrol |
| Power | 140 bhp |
| Torque | 210 Nm |
| Top Speed | -NA- |
| Acceleration (0-100 km/h) | 9.9 secs |
| Transmission (Gearbox) | 5-speed manual |
| Mileage | 17.1 kpl (claimed) |
| Air Conditioner Type | Automatic Climate Control |
| Power Windows | Yes (4) |
| Central Locking | Yes |
| Steering Audio Controls | Yes |
| Audio System | Yes (2-DIN) |
| Airbags | Yes (2) |
| ABS | Yes |
Price
INR 9.95 lacs (ex-showroom, New Delhi)
Fiat Avventura Abarth Test Drive Review Photos
So, what do you have to say about our Fiat Avventura Abarth Test Drive review? Do share your views by penning them down in the comments section below and stay tuned to Car Blog India for more posts like the Fiat Avventura Abarth Test Drive review that we have here.