So what if the new Ford Endeavour is the current bestseller in its segment? TKM plans to reclaim the top spot by launching the new Toyota Fortuner 2016 in India. Both the new Endeavour and the new Fortuner look great and come with more powerful engines. While the Endy gets butch American design, the Fortuner now looks sharper; it's a matter of personal choice, really. But is this all that separates these two SUVs? We compare the latest iterations of Fortuner and Endeavour to find our answers. Read on for our New Toyota Fortuner vs New Ford Endeavour comparison-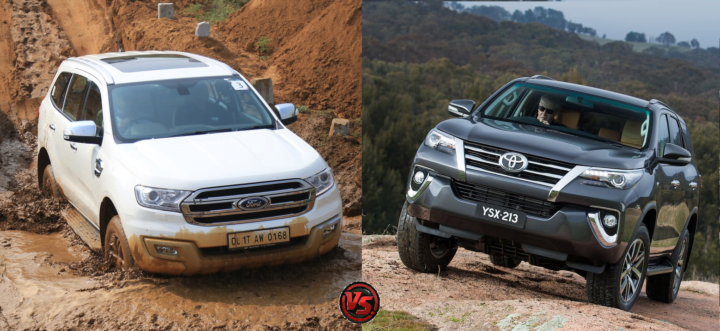 Also See- Fortuner Old vs New | New Fortuner Launch on November 7
New Toyota Fortuner vs New Ford Endeavour – Price Comparison
| | | | |
| --- | --- | --- | --- |
| New Toyota Fortuner | Expected Price | New Ford Endeavour | Price |
| G 2.4 Manual Transmission | Rs. 24.96 lakh | 2.2 Diesel Trend Manual 4×2 | – |
| GX 2.4 Manual Transmission | Rs. 26.85 lakh | 2.2 Diesel Trend Manual 4×4 | Rs. 23.78 lakh |
| GX 2.8 Automatic Transmission | Rs. 27.85 lakh | 2.2 Diesel Trend Automatic 4×2 | Rs. 23.78 lakh |
| VX 2.4 Manual Transmission | Rs. 28.69 lakh | 3.2 Diesel Trend Automatic 4×4 | Rs. 25.93 lakh |
| ZX 2.4 Manual Transmission | Rs. 30.63 lakh | 2.2 Diesel Titanium Automatic 4×2 | Rs. 27.51 lakh |
| ZX 2.8 Automatic Transmission | Rs. 31.93 lakh | 3.2 Diesel Titanium Automatic 4×4 | Rs. 31.93 lakh |
The Endeavour is on sale in two Diesel engine variants- 2.2-litre and 3.2-litre. By way of offering two engine options that are considerably different in size and power, Ford India has been able to sell the new Endeavour at a starting price of less than Rs 24 Lakh! This, in turn, woos all those with a budget constraint. The new Fortuner too is expected to have two Diesel engines. Both these will come from the Innova Crysta. However, pricing of the Crysta makes us believe that the new Endeavour would enjoy a significant price advantage in this comparison. Something which Fortuner's high brand image could just manage to nullify.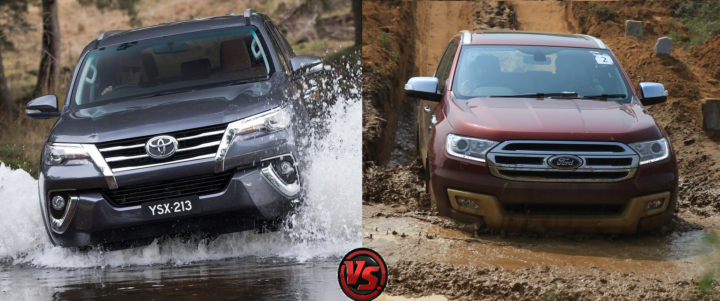 New Toyota Fortuner vs New Ford Endeavour – Specifications Comparison
| | | | |
| --- | --- | --- | --- |
| New Toyota Fortuner | Specifications | New Ford Endeavour | Specifications |
| Engine | 2.4 L/2.8 L | Engine | 2.2 L/3.2 L |
| Max. Power | 150 BHP/170 BHP | Max. Power | 158 BHP/197 BHP |
| Peak Torque | 343 Nm/360 Nm | Peak Torque | 385 Nm/470 Nm |
| Transmission | 6 Speed Manual & 6 Speed Automatic | Transmission | 6 Speed Manual & 6 Speed Automatic |
| 4×4 | No/Yes | 4×4 | No/Yes |
Spec to spec, the new Endeavour outclasses the Fortuner 2016, at least on paper. However, it is most likely the engines will come in a new tune for the Fortuner. Even then the top-end Endeavour's engine will hold a displacement advantage over new Fortuner. Both the SUVs will offer 6 speed Manual and 6 speed Automatic transmissions. Also, both the SUVs will have 4×4 at lest on the top models.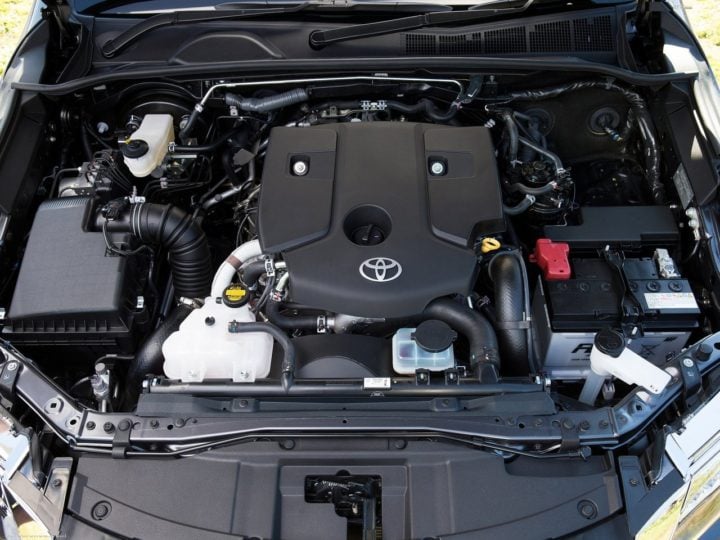 Also See- New Ford Endeavour Review
New Toyota Fortuner vs New Ford Endeavour – Dimensions
New Toyota Fortuner
New Ford Endeavour
Length
 4,795 mm
Length
 4,893 mm
Width
 1,855 mm
Width
 1,862 mm
Height
 1,835 mm
Height
 1,836 mm
Wheelbase
 2,750 mm
Wheelbase
 2,850 mm
Ground Clearance
 193 mm
Ground Clearance
 225 mm
The new Endeavour is slightly bigger than the new Fortuner. It is longer, wider and a wee bit taller. Not just that, even its ground clearance is larger. Clearly, the new Endeavour is brawnier of the two.
New Toyota Fortuner vs New Ford Endeavour – Features
Both the SUVs will be fairly kitted out. However, we are sad about Endeavour missing out on features like a push button start.
The new Endeavour comes with features like – Bi-Xenon automatic projector headlamps,
LED DRLs, Projector headlamps, 20-inch mag wheels, Panoramic Sunroof, 8-way power adjustable front seats, Driver's knee airbag, Electric Tailgate, Front parking sensors,
Rear view camera, 4×4, Rear Differential Lock, Leather upholstery, Cruise control, Hill descent control
The Fortuner could come with features like – DAC (Downhill Assist Control), HAC (Hill Assist Control), A-TRC (Active Traction Control), Power and Eco driving modes, 7 airbags, Brake Assist, VSC, Bounce Control, Electric tailgate, Touchscreen AVN, Ambient lighting, LED DRLs, Bi-LED Headlamps.
New Toyota Fortuner vs New Ford Endeavour – Exterior Comparison
As already seen, the new Endeavour is slightly bigger than the new Fortuner. While we are yet to see both the cars together in flesh, the pictures you see here show the Endeavour has a more daunting presence. Another factor that helps is the Endeavour's higher ground clearance. While the new 2016 Endeavour looks like a typical American SUV, the new Fortuner is all about sleek, sharp surfaces and a distinctly Asian design. Looks are subjective, but honestly, we prefer the Endeavour over the Fortuner here. Thanks to its modern yet butch looks, the new Endy is sure to have more street presence. Also, we find the new Fortuner's lines to be a bit too sophisticated to look rugged.
We do like many details on the Fortuner. The sleek headlamps, fancier greenhouse, stretched surfaces- there's enough to catch your attention. But it's just that these details feel a bit odd on a SUV with substantial off-road credentials. In comparison, the Endeavour is more in-your-face. There are many familiar bits around and overall, while the new Endy isn't as sleek, it sure looks mightier.
New Toyota Fortuner vs New Ford Endeavour – Interior Comparison
The interiors of both the SUVs are a reflection of their respective exteriors. The new Endeavour's interior gets a clean design, enhanced with rich materials and plenty of features. Even the Fortuner gets a long list of features. However, akin to its exterior, the interior gets a more radical look. Don't get us wrong for the we do like the new Fortuner's interior. It's just that it doesn't look as clean as the Endy's cabin. Both the SUVs have similar levels of equipment. Both the new Fortuner and the new Endeavour offer three rows of seats. However, the last row is fairly cramped in both the models.

New Toyota Fortuner vs New Ford Endeavour Comparison – Verdict
It is pretty tough to pin point flaws with any of these two, but going by the perspective of an Indian car buyer, we have compiled the results of our New Toyota Fortuner vs New Ford Endeavour Comparison-
Price- Toyota is yet to announce the prices of Fortuner in India. However, going by the pricing of the new Innova, the Fortuner is bound to get pricier. Ford has priced the Endeavour very competently. We expect a difference of Rs 1 Lakh in the prices of entry level models of these two. While it's a bit early to comment, Ford just might have already won the price war.
Specifications- Clearly, the top model of the Endeavour is more powerful than the top-end Fortuner. On the other hand, the base model of the Fortuner looks more competent than the entry-level Endeavour. Also, chances are Fortuner will also have a higher mileage. However, we can't say for sure until the specs for Fortuner are released. Hence, we are calling this one a draw!
Dimensions- The Endeavour is the clear winner here. It is larger and has more ground clearance. All this translates into a more aggressive stance. The butch looks help too!
Exterior Design- While design is a matter of personal choice, we pick the Endeavour over the new Fortuner. This is simply because the clean surfaces combined with modern design elements translate into a SUV that looks really daunting. In comparison, the Fortuner's design, while thoroughly modern, isn't as aggressive.
Interior Design- Much like the exterior, even the interior of the Endeavour is better. It is cleaner, more spacious and probably more premium too.
While pricing would be the key, it is very likely that the Endeavour would hold some major advantages over the Fortuner. Stay tuned to Car Blog India for regular updates to this New Toyota Fortuner vs New Ford Endeavour comparison. Also, what do you say about our New Toyota Fortuner vs New Ford Endeavour? Share your views by commenting below.
---
New Toyota Fortuner vs New Ford Endeavour

Reviewed by:

Published on:

Last modified:
---