New Ford Endeavour India Review and Test Drive Report
In February 2016, Ford brought the new Endeavour to India following its launch in certain South East Asian pockets. It may be noted that the earlier model on sale here had been unable to keep pace with the likes of the Toyota Fortuner and Mitsubishi Pajero Sport . With new generation models of both these SUVs headed our way next year, an early 2016 launch has given the new Endeavour quite a headstart and effectively, a free run of sorts for some time. Not just this, with the advent of the new generation model, the Ford Endeavour also becomes a much more potent rival to the Chevrolet Trailblazer launched late last year. We are just back from driving the new Ford Endeavour 2.2 AT 4×2 and the 3.2 4×4 variant and here's our New Ford Endeavour India Review to answer all your questions about this SUV.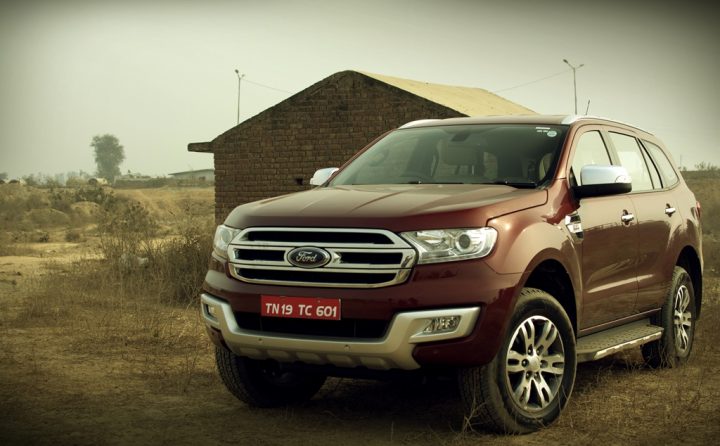 Also See – 2016 Ford EcoSport Review
New Ford Endeavour Video Review
Looks Good. . No?
Yes, with the advent of the latest generation model, the Endeavour has become the most modern-looking and the most suave SUV in its segment. Thanks to a really bold and a well-sculpted design, the new Ford Endeavour stands apart from a crowd of SUVs that have started looking dated and a tad boring. The highlight of the latest Endy's design is the front-end, which is characterised by a chunky, Chrome-plated radiator grille and LED Daytime Running Lights (DRLs). Together with a wide stance and other styling elements such as a faux skid plate, the new Endeavour's front-end bestows a powerful road presence on this SUV. Ford claims that the new Endeavour's chiselled design is also highly aerodynamic, thereby melding form and function.
And it's not just the front-end that's impressive. A look at the Endy's side profile, and you'll be quick to appreciate the way the space-age theme continues to run along the sides of this SUV. True, while the DLO could have been a tad larger, we have nothing but good things to say about the well-pronounced creases and wheel arches, stylish 18-inch alloy wheels, and small touches like the faux air-vents on the front fenders.
Rear-end is a reflection of the suave front. The highlights here are the C-motif for the tail lamps and a chrome strip running across the width of the boot-lid, both of which successfully infuses some premium-ness with the design.
Overall, the latest generation Endeavour manages to really impress us with its butch yet sophisticated exterior design. This seven-seat SUV's wide stance and a bold front-end, along with various interesting styling details, go on to bestow a high street presence upon this SUV, while its chiselled, sculptural curves hint at the really upmarket interior within.
Also See – Ford Figo Aspire Review
On the Inside?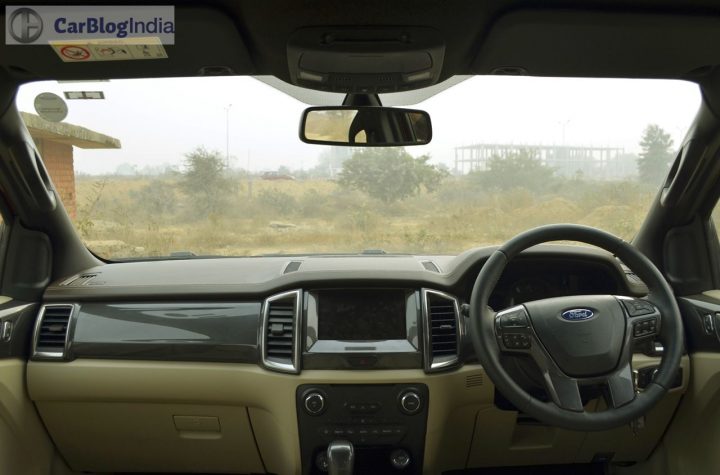 As we just said, the Endy's interior is a reflection of its modern exterior. The cabin is really upmarket and the manufacturer has made ample use of high-quality materials and a harmonious design to create a comfortable environment for up to seven occupants. The highlight of the cabin's design is the dashboard, which looks decidedly premium and features a Range Rover-like centre console. The cabin is very airy and is highly practical with 30 stowage spaces, multiple power outlets, and highly flexible seating and cargo arrangements that include fold-flat second- and third-row seating.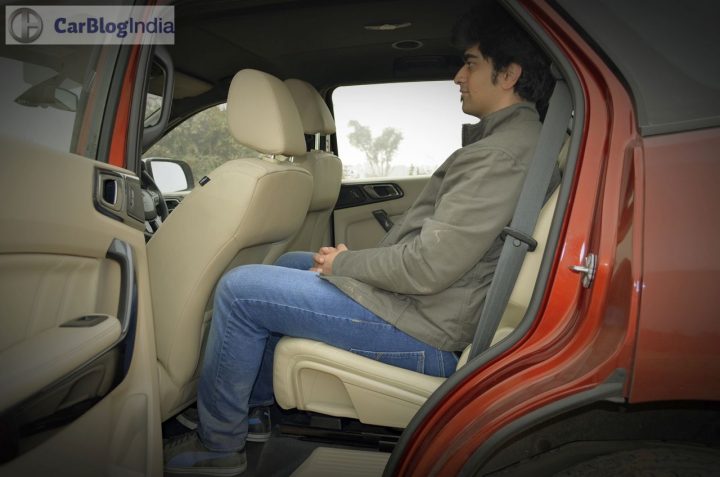 Ford has made use of Active Noise Cancellation technology to ensure an exceptional cabin quietness. Much like the tech used in noise-cancelling headsets, Ford's Active Noise Cancellation uses as many as three microphones, positioned strategically inside the cabin, to detect and measure sounds. Working in tandem with these microphones is a smart control module that instantaneously generates opposing sound waves, which are then fed through the Everest's audio system to cancel out unpleasant noises. Brilliant, isn't it?
While the 2.2-litre engine variant misses out on some features like push button start, panoramic sunroof, seven airbagspark assist, and electric-folding third-row seats present in the 3.2 Variant, the 2.2 AT variant does get a long list of bells and whistles in the form of a touchscreen infotainment system, electric tailgate, automatic projector headlamps, dual front airbags, multi-zone climate control and stylish 18-inch mag wheels. And then there is the 3.2 L Titanium variant, which offers all that and much more. Perhaps the most interesting bit is the semi automatic park assist system. Once, the on board sensors have selected a suitable spot for parking, the system takes over the control of the steering wheel with the driver handling the acceleration and braking (see video).
Also See – 2015 Ford Figo Hatchback
What's Under the Hood?
The India-spec Ford Endeavour comes with a choice of two oil burners – a 2.2-litre with 6-speed Manual and Automatic transmission options, and a 3.2-litre paired to a 6-speed Automatic gearbox and we tried out both variants. The 2.2 AT 4×2 variant, which is propelled by a 2.2-litre, turbocharged Diesel motor that belts out a max. power of 160 PS and a peak torque of 385 Nm. While this motor displaces 300cc less than the old Endeavour's 2.5-litre engine, the new engine is more potent with a higher peak power-torque rating. Not just this, the new engine also boasts of higher refinement and fuel efficiency levels.
As we said, this engine is more powerful than the earlier generation's 2.5-litre unit and while we were quick to note the well-controlled turbo-lag and a good torque spread, a slightly lackluster top-end performance turned out to be a dampener.  Also, the 6-Speed auto 'box, even with the 'Sports' mode engaged, doesn't actually feel much sporty with shifts taking their own sweet time to take place. Don't get us wrong though, for this transmission works just fine in normal driving conditions, and it is only under hard acceleration when this gearbox leaves us wanting for more. Talking about standard driving conditions, the Endeavour 2.2 AT should impress you with a fuel mileage of around 10-11 km/l. The 3.2 L diesel, which belts out 197 bhp – 470 Nm, is the one to go for if you're looking for better mid-range and top end performance. Quite obviously, this engine feels much more potent than the 2.2, but is let down slightly by the sluggish 6-speed Automatic transmission.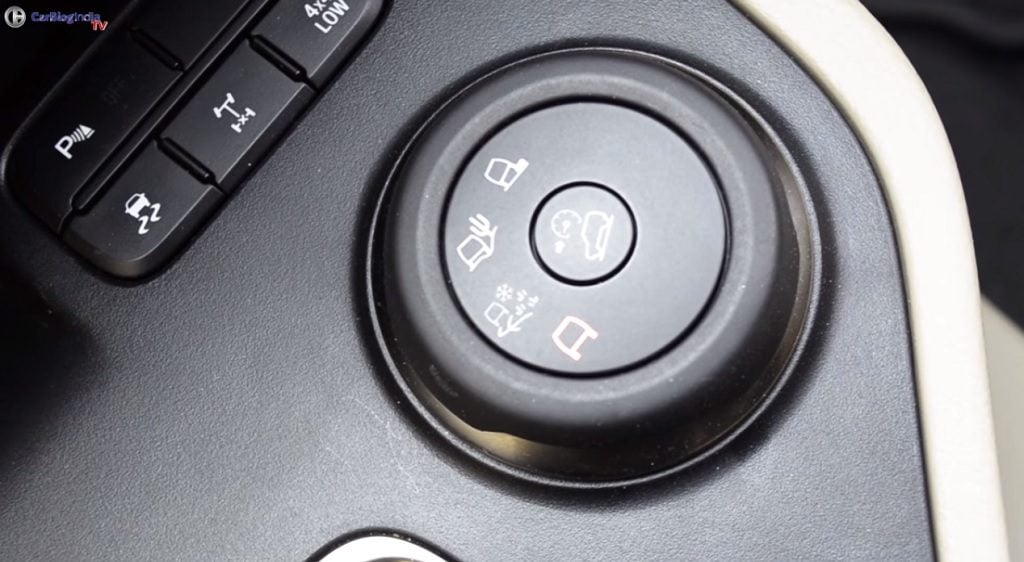 Also See – New Ford Endeavour Launch Report
Does it Offer a Comfortable Ride?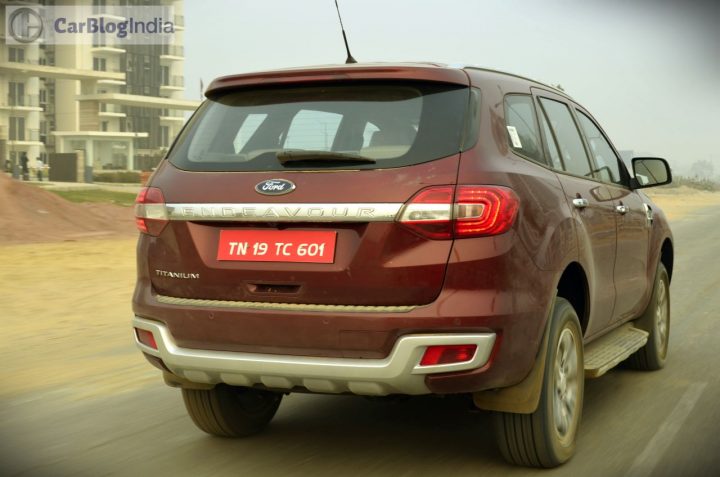 You bet it! While the new generation Endeavour continues to boast of a ladder-on-frame construction, its manufacturer has fortunately found it appropriate to replace the archaic leaf-springs at the rear with a coil-spring suspension. What this means is that the occupants of the new Endeavour experience a lot less body-roll and benefit from a really comfortable ride over most of the surfaces. The new Endy, thanks to its suspension and high ground clearance, simply glides over most of the craters and speed-humps. However, the firmness of the suspension does become slightly apparent when dealing with small undulations; not at all a deal-breaker, but you don't get the proverbial magic-carpet ride either.
And Around a Corner?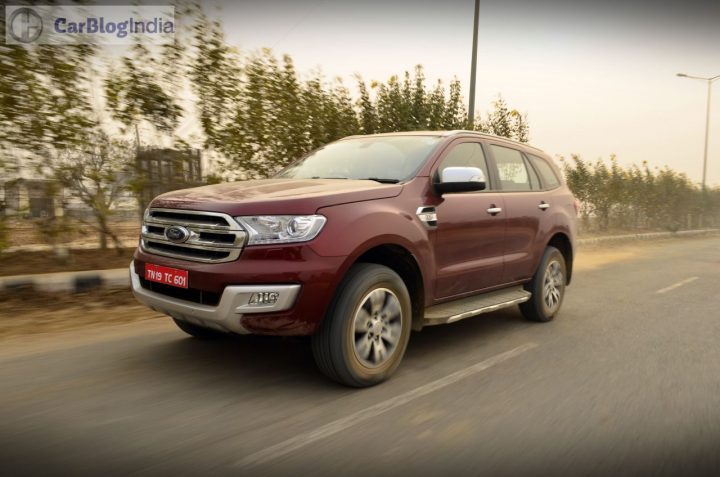 The new Endeavour, like every other vehicle in its segment, isn't the best tool for corner-carving. However, the new generation Endy feels a lot more sure-footed and poised than the model it replaces. Like we said, the body roll has come several notches down, and the new SUV doesn't lose composure during quick lane changes or even when hurled into a corner. The steering, in spite of being an EPS unit, weighs up pretty well and doesn't feel lifeless. Overall, we are pretty satisfied with the way this SUV handles.
Should I Buy One?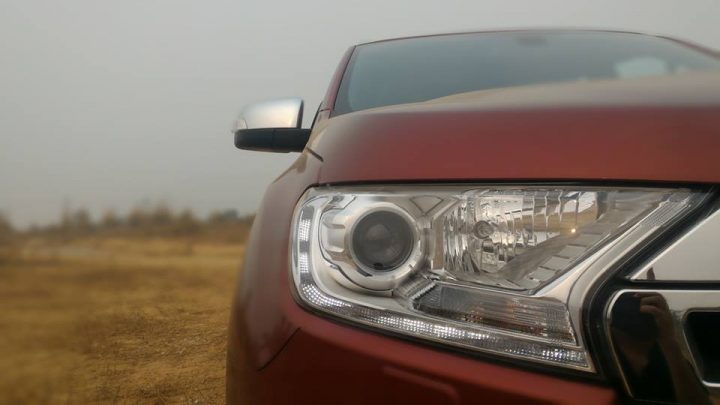 It will be only safe to state that Ford has got it really right with its all-new premium SUV. On sale at a starting price of INR 24.75 lakhs, the new Endeavour surely makes for a lucrative proposition. It has a butch design, a feature-laden cabin that can shame some SUVs from half a segment above, a sufficiently potent set of motors that are high on refinement and frugality, and it also exhibits decent ride and handling manners. True, the auto 'box could have been quicker and the 2.2-litre oil burner could have done with some more grunt, but we are almost nitpicking here. The new Endeavour looks, feels, and drives better than its rivals and don't be surprised to see the new Endy replicating the initial success of the last generation model.
New Ford Endeavour Specifications
| | |
| --- | --- |
| Lenght x Width x Height |  4893 x 1862 x 1836 |
| Kerb Weight |  2,357 kg |
| Wheel Type and Size |  17-inch, Alloy |
| Boot Space |  450 litres |
| Engine Type/ Displacement |  Turbocharged Diesel – 2.2-litre/3.2-litre |
| Power |  148 bhp/197 bhp |
| Torque |  385 Nm/470 Nm |
| Top Speed |   – |
| Acceleration (0-100 km/h) |   – |
| Transmission (Gearbox) |  6-Speed Manual/Automatic |
| Mileage |  12 kmpl (est) |
| Air Conditioner Type |  Dual Zone Auto |
| Power Windows |   4 |
| Central Locking |  Yes |
| Steering Audio Controls |  Yes |
| Audio System |  Bluetooth/Aux/USB |
| Airbags |  6 |
| ABS |  Yes |
New Ford Endeavour Review Photos
Stay tuned to Car Blog India for more reviews like the New Ford Endeavour India Review and test drive report here. Also, what do you have to say about our New Ford Endeavour India Review and test drive report? Do let us know by penning down all your thoughts in the comments section below.
Join our official telegram channel for free latest updates and follow us on Google News here.