Yamaha has stopped production of its famous RX100 long back. It was one of the best sellers and most famous Motorbikes of its time. Sources say that Yamaha is working on a 4-stroke low pollution engine for new Yamaha RX100 Bike. The styling of the bike will be similar to the original RX100 styling. This may prove to be a new best-seller for Yamaha India.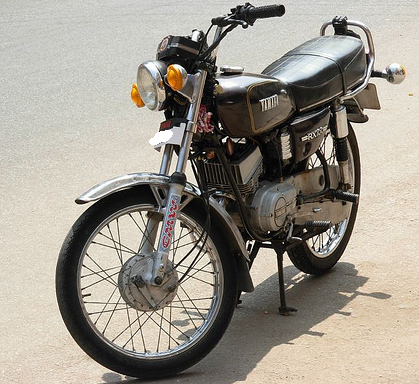 Also See – Yamaha Saluto RX 110 cc Motorcycle | Why Honda BR-V Could be a Flop
Updated 2nd April 2016 – Highlighting the popularity of the Yamaha RX 135 amongst enthusiasts, news has emerged that a dealer in Bengaluru has auctioned off seven units of the iconic motorcycle for five figure sums. Rahul S Dhojanna, who owns Pace Motors, claims that enthusiasts at the auction shelled out around INR 1.5-165 lacs for the RX135 models. The dealer had been trying to sell these units for quite some time now, but had to wait in order to obtain necessary permissions from the RTO as registration of two-stroke bikes had been stopped.
The RX135 had been in production until 2005 and was a hit amongst biker thanks to its affordable price, easy maintenance, and good performance. Popularity of the model fueled rumours of Yamaha resurrecting the RX brand by launching an all-new version of the RX100 with a 4-stroke engine. However, since then, Yamaha has denied reports regarding the re-launch of the RX100 in India.
Yamaha India currently has no presence in the 100-110 cc segment with their lowest capacity motorcycle being the Saluto. They might be looking at entering the 100 cc commuter bike segment and might consider selling the model under the RX 100 moniker, However, this info is purely based on industry rumours and the only one who can confirm this news is Yamaha itself. We'll be keeping a close eye on any further developments regarding the re-launch of the Yamaha RX100 with a 4-stroke engine so make sure you stay tuned to Car Blog India for all the updates.
Follow us on Twitter or subscribe to our free email newsletter for updates on New RX100.