The new 2020 Mercedes-Benz GLA comes with more technology, more comfort, enhanced styling and more power than before as well. There will be plug-in and electric variants in the future too.
Mercedes-Benz have unveiled the second-generation 2020 GLA internationally. The original GLA was launched five years ago, and almost a million units have been sold globally since then. The new model packs in lot more technology, more comfort and is also more powerful than before. With this generation update, the GLA will rekindle its rivalry with the BMW X1 and the Audi Q3.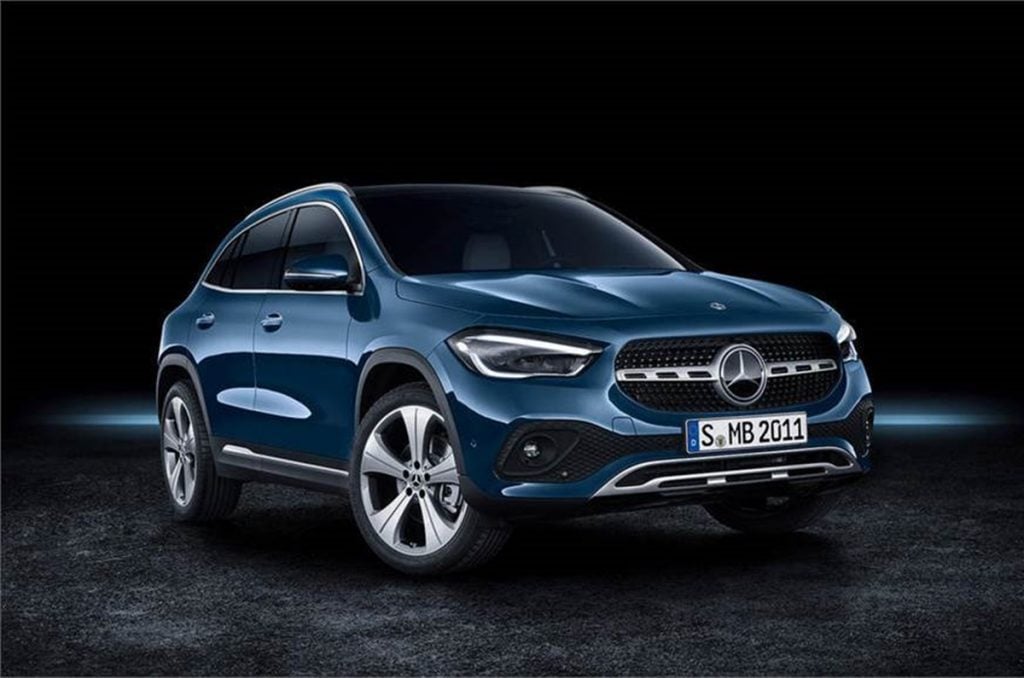 Just like its predecessor, the 2020 GLA is also heavily based on the A-Class. Mercedes-Benz CEO Ola Kallenius describes the second-generation GLA as being "better in every respect, with more convenience, more safety and more efficiency." Mercedes will debut the new GLA with two variants at launch – the  entry-level, front-wheel-drive GLA 200 and the four-wheel-drive Mercedes-AMG GLA 35. A plug-in hybrid and full electric versions of the GLA have also been planned for the future.
The GLA 200 will be powered by a 1.3 liter, turbocharged petrol engine with 163 bhp. Meanwhile, the Mercedes-AMG GLA 35 will be powered by a 2.0L, turbocharged unit that produces 306 bhp. The GLA 200 comes, which comes with a standard 7-speed dual-clutch automatic gearbox, can do 0-100kph in 8.7sec and hit a top speed of 211kph.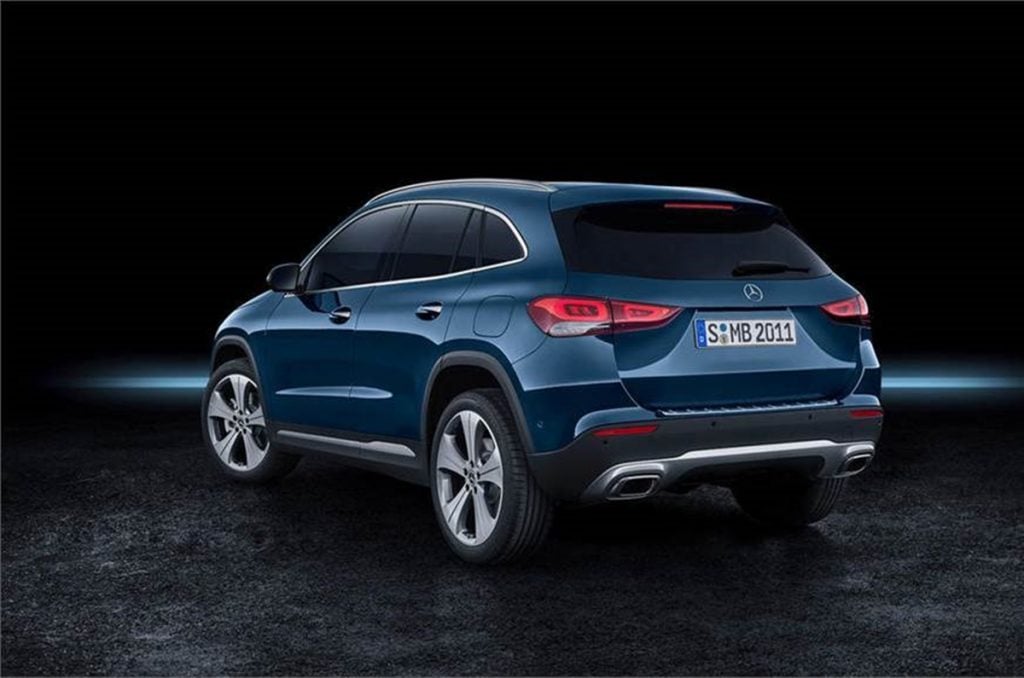 Further down the road, there will be EQ branded GLA 250e which will be powered by a 1.3-litre petrol-electric plug-in hybrid with 218 bhp. This will use the same 15.6kWh lithium-ion battery as the A250e EQ Power, providing it with an official electric-only range of more than 64km.
Visually, the new GLA is an evolution of the previous design. The ground clearance has been raised by 9mm and it now stands at 143 mm. Mercedes has given the new GLA smoother surfacing this time around with rugged elements making for the details of the new model. It gets plastic cladding around the wheel arches and bumpers. The wheel arches themselves are larger and can now house up to 20-inch wheels. The base variant gets 17-inch wheels. Design head Gordon Wagener claims it "combines muscular off-road genes with our philosophy of sensual purity."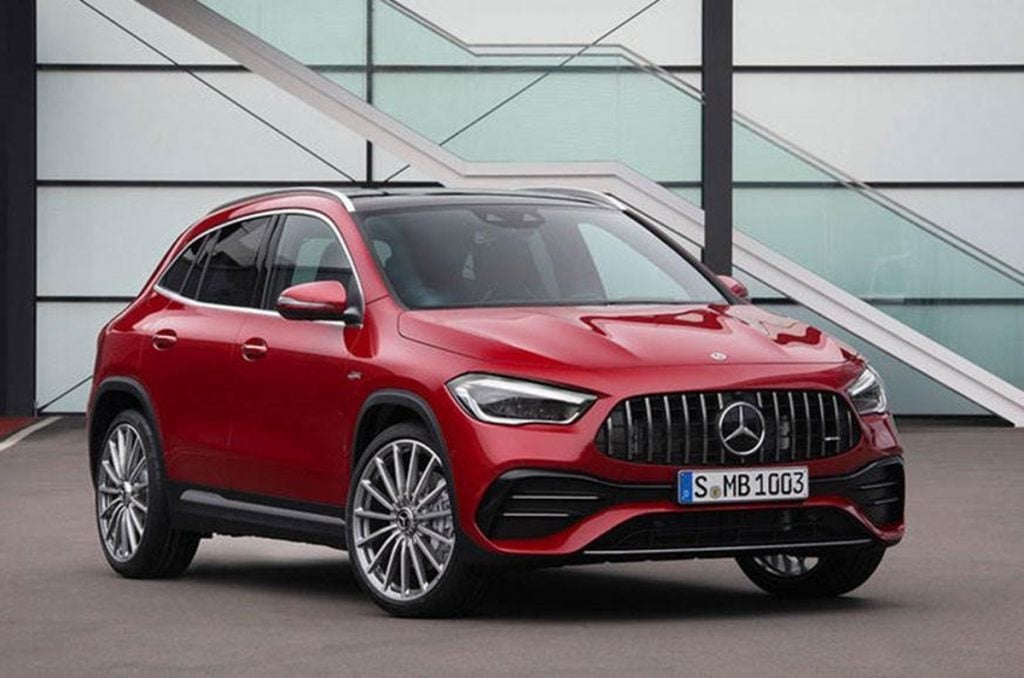 The AMG model gets distinct AMG bumpers with the panamericana grille, a new roof spoiler and different tailpipes. The new GLA is 4,410mm long, 2,020mm wide and 1,611mm high, making it 14mm shorter and 2mm narrower but 104mm higher than the old model. It's based on the second-generation version of Mercedes' MFA platform, with a transverse engine mounting, and has its wheelbase extended by 30mm to 2,729mm and its track increased by 46mm, front and rear.
The cabin has been completely revamped though and it is now in line with other newer Mercedes models. The dashboard is adorned with free-standing digital display panel. It consists of the two 7-inch screens for the instrument console and the infotainment screen. There's an optional widescreen version with two 10.3 inch screens as well. The displays are operated via Mercedes' MBUX operating system, which supports both, touchpad and voice control. A colour head-up display is also available.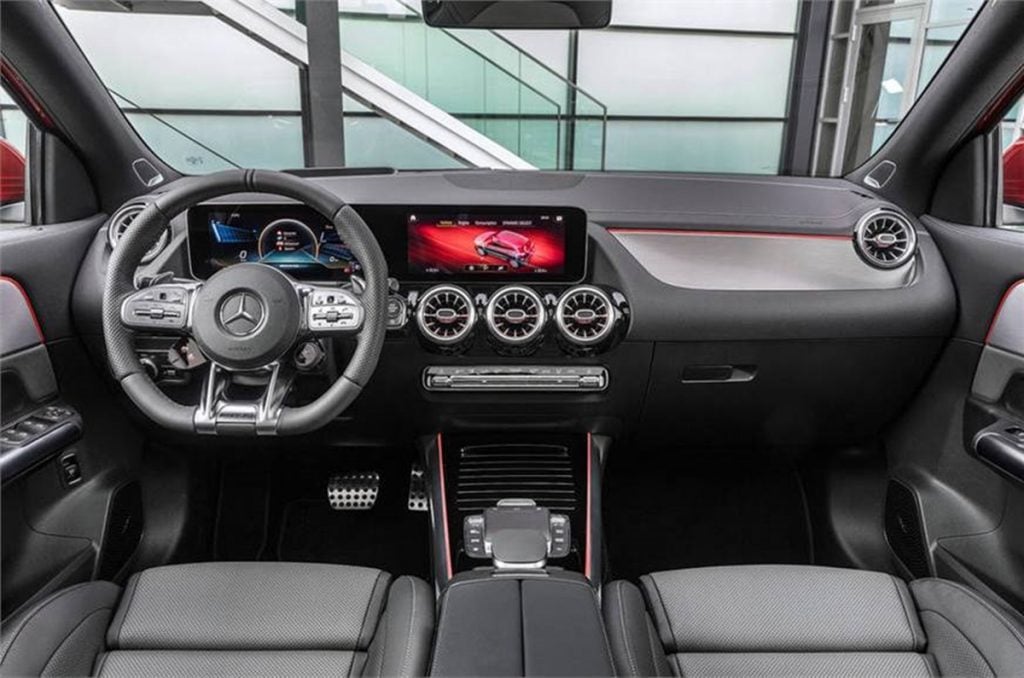 To further emphasize on the crossover nature of the 2020 GLA, Mercedes has positioned the front seats 140mm higher than in the A-Class. There's 22mm more headroom up front than in the original GLA, but rear headroom has been reduced by 6mm. The new GLA can also be opted with rear seats that offer 140mm of fore-and-aft adjustment, giving up to 116mm more leg room than before. Because the rear backrest can now be set at a steeper angle, boot capacity has increased by 14 litres, to 435 litres. The width of the boot aperture has also increased by 85mm, at 1,272mm.
Also Read : British Sportscar Maker McLaren is Planning to Enter India!
The 2020 Mercedes-Benz GLA is based on the Mk2 MFA platform and it uses McPherson struts up front and either a torsion beam or multi-link arrangement at the rear. You can also opt for Variable damping control as an optional extra. The four-wheel drive models can also be had with an optional off-road package. While the off-road package does not do anything to the ride height, this adds an off-road headlight function and an additional off-road driving mode called Downhill Speed Regulation.
Also Read : Mercedes-Benz Announces Price Hike for All Cars Effective from January 2020.
The new GLA will go on sale in international markets in the second quarter of next year and can also be expected to arrive at our shores by the end of 2020. The oncoming year seems to be a busy one for Mercedes-Benz India, with the automaker slated to launch a host of new and updated models, including the A-class sedan, GLE and GLS.