Anand Mahindra is well-known for his hilarious tweets and active presence on social media platforms. In his latest tweet, he mentioned the guy who converted the Mahindra 275 DI TU tractor into a Jeep.
Maia Rymbai, who converted a Mahindra 275 DI TU tractor into a Jeep, received a mention from Anand Mahindra himself. The innovation in the Indian automobile modification industry has risen to a whole new level. We keep coming across ingenious ideas at affordable prices to convert any car into any premium car. People are willing to attempt such conversions in order to make their vehicles look unique on the road. Here are the details of this incredulous endeavour.
You may also like: Farmer Humiliated by Dealer Gets Bolero, Welcomed by Anand Mahindra
You may also like: Fan Asks Anand Mahindra For Thar, Reply Leaves Twitterati in Splits
Anand Mahindra Applauds The Jeep Made From A Tractor
Anand Mahindra had retweeted this image that was originally tweeted by the official Mahindra Tractors handle. This innovative accomplishment was born in Jowai, Meghalaya. The creator of this Jeep is Maia Rymbai who took the Mahindra 275 DI TU as the base product and converted it into this compact little Jeep. As seen in the image, the front end has remained untouched, while the rear area has been closed to make a Jeep. The tyres are not changed to suit a regular Jeep but the engine performance is still that of the tractor.
People have received this creation positively as well. Some people have jokingly commented on the image that it looks like the vehicle of The Great Khali. Anand Mahindra commented that this looks like a weird beast but is no less than a prominent animated character from a Disney movie. Everyone loves this jovial personality of Anand Mahindra who keeps coming up with genuine feelings on social media and never hesitates to recognise genius work by 'normal' people.
You may also like: All-Black Mahindra Scorpio Looks Bolder Than Tata Nexon Dark Edition?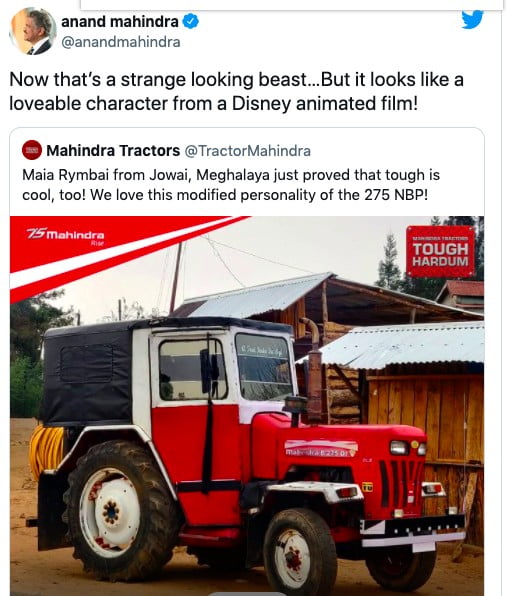 You may also like: Anand Mahinda UNHAPPY With Video of Indo-Americans in Gold Ferrari
Mahindra 275 DU TI Specs
The Mahindra 275 DU TI is one of the most popular tractors in the commercial and Agri space. It has class-leading fuel economy, low maintenance costs, affordable prices and a powerful engine. Speaking of the engine, it comes powered by a 3-cylinder engine that produces 39 hp with a rated RPM of 2100 and 8 Forward and 2 Reverse gears. For enhanced comfort, it has power steering. It also boasts of a high resale value which is a crucial reason for its popularity.
Join our official telegram channel for free latest updates and follow us on Google News here.