Popular for his witty tweets and active involvement on social media, Anand Mahindra has wooed the netizens yet again with a magnanimous gesture.
Anand Mahindra has offered a job in the R&D department to a rickshaw driver after witnessing his innovative idea. He is known for keeping up-to-date with everything interesting happening in the country and the world. Also, he never holds back his opinion and people love him for his honesty and candid nature. With over 9 million followers on Twitter, he is one of the most followed entrepreneurs in India. Let us check out what is his latest tweet all about.
You may also like: Anand Mahindra Gifts Bolero To Man Who Built Jeep From Scrap For Son
The capabilities of our people to rapidly innovate & adapt to new circumstances never ceases to amaze me. @rajesh664 we need to get him as an advisor to our R&D & product development teams! pic.twitter.com/ssFZUyvMr9

— anand mahindra (@anandmahindra) April 24, 2020
You may also like: Farmer Modifies His Tractor to Look Like Jeep, Anand Mahindra Impressed
Anand Mahindra Offers Job To Rickshaw Driver
Anand Mahindra shared a video clip on his Twitter handle where a unique idea has been implemented by a rickshaw driver. During the times of Covid, social distancing was the need of the hour. 'Necessity is the mother of invention' is a famous proverb justified for such times. A rickshaw driver has come up with a unique sitting configuration for his rickshaw. This is in accordance with social distancing. He compartmentalised his vehicle in such a way that there are 4 distinct and separate areas for passengers to sit without compromising on personal space. He cleverly put a demarcating material to divide the entire auto-rickshaw into 4 sections. The video shows all the sections and how effective this is in times of maintaining social distance.
Anand Mahindra tweeted to his R&D department to hire this talented person. He acknowledges the need to innovate and adapt enables such out-of-the-box thinking and he is amazed at this feat. He wants this rickshaw driver to be an advisor for his vision and creativity. This is not the first time he has praised people for performing unthinkable acts. That is the reason why people follow him and consider him as their role model. The country and the world need more and more entrepreneurs in prominent positions like him.
You may also like: Farmer Humiliated by Dealer Gets Bolero, Welcomed by Anand Mahindra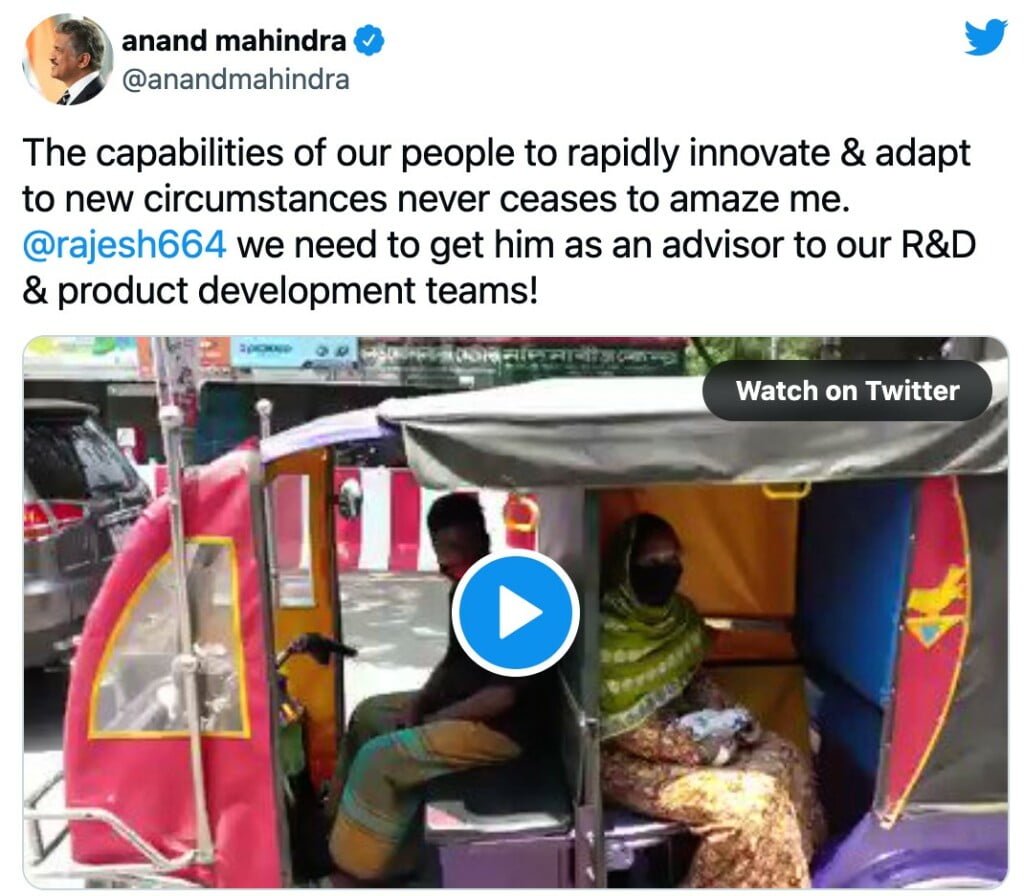 Make sure to follow Anand Mahindra on his social media handles to keep an eye out for what he does next. In any case, his posts will be hilarious and entertaining.