BMW has been lucky enough to launch an entry level car like BMW X1 and introduce a new segment at a time when other car makers were only planning to do so. What were the benefits? Being the only car of its type and being priced appreciably low when compared to the entry level luxury sedans, this car turned out to be great attracter. All was going fine until Audi announced the launch of the smallest SUV of its portfolio, the Audi Q3.
Lately the Q3 was launched at an impressive price of Rs. 26.21 Lakhs(Ex-showroom Maharashtra) and surely it is an interesting proposition from the company's side. In our car comparison series on Car Blog India, we are here comparing these two mighty cars Audi Q3 and BMW X1 which are one of the most attractive offerings from these luxury car makers in India.
Exterior Comparison: Audi Q3 Vs BMW X1

image – Audi Q3(left) and BMW X1(right)
First and foremost we will start with the looks. The Q3 is a new car in the market and obviously it had to impress us since all of us were waiting eagerly. It has the typical Audi look with slim headlamps, conventional huge grille, minimalist body lines and most importantly a true SUV body. In fact it is like a baby Audi Q5.
The X1 is present in market for some time now and the looks are quite familiar. A long hood, big headlamps, the typical kidney grille and a not-so-SUV-type shape are the features that make it distinctive. From the front to the rear there is enough sportiness to catch you eye.
Proportion wise the X1 is longer than the Q3, however the latter is taller and wider than X1. Another important fact is that the ground clearance of X1 is nearly 25 mm more than that of Q3. This is very evident from the construction and stance of the two cars. As far as the exteriors are concerned, both the cars are not very attractive but since we have to choose a better one, we will go with the new Q3.
Interior Comparison: Audi Q3 Vs BMW X1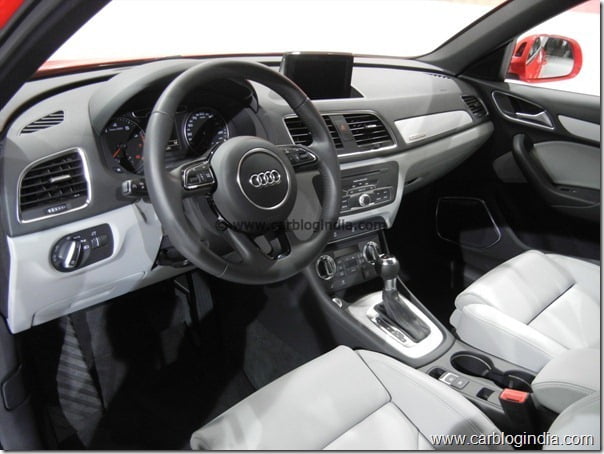 image – Audi Q3 interiors
On the interiors we will start with the Q3. Undoubtedly the Q3 offers what one would expect from a luxury vehicle. Comfortable seats and a good amount of space is its attribute. The noise levels in the cabin were pretty low making the ride even more soothing for you. Considering the features now, it comes with leatherette B-grain upholstery, interior lighting package, leather wrapped steering wheel, steering mounted with multifunction controls, ESP, Airbag, side airbags, immobilizer, child seat mounts etc. The base grade comes with manual air conditioning system, hill start assist, 4 way lumbar support at front seats, electric seat adjust for driver seat, rear parking assist, Cruise control, concert audio system, driver information system, voice command system and Bluetooth Support.
The top end model comes with features like 17 inch alloy wheels with 10 spoke design, rain sensing wipers and automatic headlamps, headlight washers, Xenon Plus lamps, LED Lamps at rear, Interior lighting with LEDs, high gloss walnut brown interiors, automatic air conditioner with sun sensor for better cooling, parking plus system, electrically adjustable driver and passenger seat at front, tyre pressure monitoring system, driver information system with coloured display.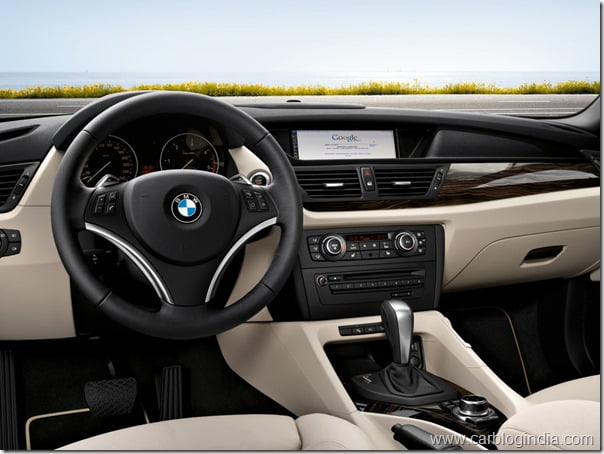 image – BMW X1 Interiors
The X1 is a competitive car in all senses but considering the fact that Q3 has just arrived and is new, the X1 seems to lose confidence. The interiors have a top quality built alike Q3, however the design is not as refreshing as Q3. Comparing the design of the dashboard with that of Q3 on a scale of 10, the X1 gets an 8 while the Q3 a 10. Features list includes leather steering wheel, side sills with finisher in aluminium, front and rear bumper with aluminium finisher, rain sensor, xenon lights, auto a/c, park distance control, iDrive system with an 8.8" display, USB and hands-free facility, driver and passenger airbags, ABS, brake assist, crash sensor, bumper system, dynamic stability control, dynamic traction control, run flat indicator etc.
Engine Comparison(Diesel): Audi Q3 Vs BMW X1
Audi Q3
Audi's Q3 is available with only one engine option which is a 2.0 litre TDI diesel engine. It produces 174 BHP @ 4200 RPM of max power and 380 Nm @ 1750-2500 RPM of peak torque. The engine is mated to a 7 speed S tronic gearbox. The engine offers a top speed of 212 kmph and a 0-100 km/h sprint in 8.2 seconds. The certified fuel efficiency of Q3 is 12.25 kmpl.
BMW X1
The X1 also has a 2.0 litre diesel engine that delivers 176 BHP of max power, however the torque output at 350 NM @ 1750-3000 RPM is a little less than Q3's 380 Nm. The 0-100 km/h sprint time is 8.3 seconds which is quite close to Q3's 8.2 seconds. The ARAI certified fuel efficiency of BMW X1 is 15.24 kmpl but in actual road conditions it delivers close to 12 kmpl.
Both cars have a 2.0 litre with marginal power difference but the 30 Nm of difference in the torque figures gives an edge to the Q3. So the Q3 goes faster, is more responsive, and also delivers better fuel efficiency.
Performance And Handling Comparison(Diesel): Audi Q3 Vs BMW X1
The Q3 with its electric steering wheel and excellently comfortable suspension setup brings joy while driving. It soaks up most of the bumps and is very calm and quiet on the inside.The only disappointing part is that driving a Q3 isn't fun at all.
The most important feature of Q3 is its quattro all-wheel-drive system which is a 4 wheel drive system capable of offering good offroading dynamics. The moment you activate the feature it starts behaving like a Q5 or Q7.
The X1 on the other hand has a heavier steering wheel which feels great while taking turns. The suspension setup is great but is not as comfortable as Q3's. Also it's a rear wheel driven vehicle and does not feature an all-wheel-drive system.
Price Comparison(Diesel) : Audi Q3 Vs BMW X1
Audi Q3 Price Ex-Showroom Mumbai
Audi Q3 Base Grade : Rs. 26.21 Lakhs
Audi Q3 High Grade: Rs. 31.49 Lakhs
BMW X1 Price Ex-Showroom Mumbai
BMW X1 sDrive 20d : Rs. 27.73 Lakhs
BMW X1 sDrive 20d Exclusive :  Rs. 34.56 Lakhs
The pricing is extremely competitive and it is difficult to tell who is the clear winner. As we can see the base diesel models have a difference of 1.5 lakhs only which increases almost 3 lakhs for the top end models.
One shouldn't worry about the features as both the cars are equally equipped, however when it is about value for money, we are sure the Audi captures the throne.
Car Blog India Verdict – Audi Q3 Diesel Vs BMW X1 Diesel
The Q3 is value for money, has a strong SUV character to it, drives easily through corners, sprints faster, good offroader (thanks to its quattro all-wheel-drive system) and is extremely comfortable. The X1 feels a little coarse, does not have an all-wheel-drive system, less pleasing interiors but it surely is good to drive. So for us the new Q3 is a better choice over the BMW X1 considering all the aspects compared above.