Most new SUVs come with multiple variants like AWD, 4WD, and 4×4. Let's see which of these is a better choice for you.
The brand new Mahindra Scorpio N comes with a 4WD option. On the other hand, the Mahindra Thar 4×4 and XUV700 AWD variants are also very popular. In case you are confused, these are different drivetrain technology options. The all-wheel drive and four-wheel drive options have become more efficient than ever. Additionally, the 4×4 option has already been a great choice for off-roading. Let's take a closer look at AWD, 4WD, and 4×4: Which One Should You Pick?
You May Also Like: How is Maruti Grand Vitara AWD different from 4×4?
You May Also Like: Toyota Urban Cruiser Hyryder Gets AWD, Hybrid Tech & More!
All-Wheel Drive (AWD)
The idea behind powering all four wheels is to offer more traction and control. The All-Wheel Drive (AWD) system essential requires no human intervention. The always-active technology uses both front-wheel drive and rear-wheel drive simultaneously. While AWD can be found in virtually any type of vehicle, it is usually found in cars and smaller crossover models. It is to be noted that the AWD systems are often given confusing names by the marketing department. All these work the same way to offer power to all four wheels to enhance traction.
Four-Wheel Drive (4WD, 4×4)
The 4WD or 4×4 also offers power to all four wheels. Unlike the AWD option, it involves the driver in decision-making. You need to manually turn on the 4WD or 4×4 system when needed. This can be done by pressing a button, turning a dial, or pulling a lever. However, some vehicles have an "auto" mode that automatically turns the system on when a loss of traction is detected. The Four-wheel drive (4WD or 4×4) system is usually found in bigger/ heavier vehicles that are designed for serious off-road driving. When disengaged, your car run in a two-wheel drive system (usually rear-wheel drive).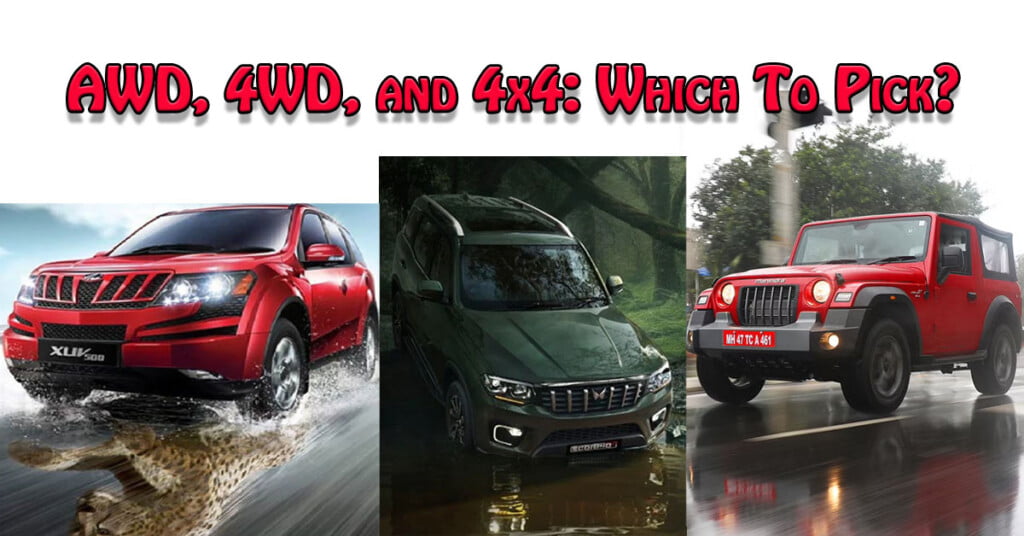 You May Also Like: Ford EcoSport 4WD Spied in Chennai But Here's Why We're Not Excited!
Additional Options
Some vehicles like Nissan Pathfinder use an "Intelligent 4×4 4WD" system which allows you to select a fuel-saving two-wheel drive mode when required. On the other hand, an "Intelligent 4WD" system on the Ford Escape can't be set by the driver into a two-wheel drive mode. Both these cases essentially work opposite to the given name. Additionally, some 4×4 or 4WD systems always power all four wheels. You cannot turn off the 4×4 system. In contrast, the two-wheel drive systems offer better fuel efficiency than AWD or 4WD options.
Summary
An AWD system usually includes some form of automated clutch, or "differential". It can deliver or cut the flow of power to a given axle. The clutch is typically driven by fluid pressure or an electronic system. On the other hand, the 4WD or 4×4 option comes with a transfer case. A mechanical connection is made between multiple sets of gears via a transfer case. These gears are physically meshed together/disconnected when the system is turned on/ off. Tell us which of the AWD, 4WD, and 4×4 you would pick.