Bajaj Auto India had a good sales month in February 2012 as it recorded highest ever sales ever recorded in any month of February in previous years. Talking of absolute numbers, Bajaj Auto sold 3.01 Lakh Motorcycles in the month of Feb 2012 which is higher than the Feb 2011 sales of 2.86 lakhs by about 5%. In terms of commercial vehicles sales, Bajaj sold close to 42 thousand commercial vehicles up by 4% from Feb 2011 sale of about 40 thousand. Overall growth rate stood at 5% at approx. 3.44 lakhs vehicles sold in February 2012 compared to 3.27 lakhs in February 2011. Out of this total number, 1.22 lakh vehicles were exported out of India which was higher about 20% compared to 1.02 lakh vehicles exported in Fen 2011.
If we see cumulative performance in the financial year 2011-12 till Feb 2012, there has been a growth of about 14% in sales of Motorcycles, 19% in sales of commercial vehicles and overall growth of 14% which is quite an impressive number under present economic conditions. On cumulative basis, the exports have grown about 30% in April 2011 to Feb 2012 compared to the same period in previous year.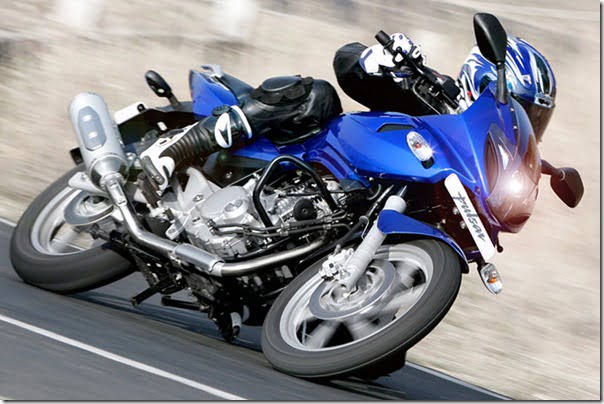 image – Bajaj Pulsar 220 DTSi
Bajaj Pulsar series and Bajaj Discover series both have been quite popular in Indian two wheeler market in their own segment and the sales have been hugely driven by these two bikes in the motorcycle segment. Recently Bajaj showcased their Bajaj Pulsar 200 NS in India which is due for launch in a few weeks now and is expected to further accelerate the sales of Baja Auto. Designed with a joint team of Bajaj and KTM designers, the Pulsar 200 NS is one of the most advanced Pulsar ever with a triple spark 200 CC Engine and sporty design.
Also in commercial vehicle space, Bajaj showcased its Bajaj RE60 four wheeler ahead of Auto Expo 2012 which is also expected to be launched in coming few quarters and it will expand Bajaj's portfolio in India. We will keep you posted on the new developments as they happen, stay tuned to us by liking our official Facebook Page and sign up for our free email newsletter.
check out more-