Bajaj Chetak Vs Ather 450 – Electric Motor / Battery Specifications / Riding Range / Features / Warranty / Charging Solutions / Availability
With Bajaj launching the new Chetak electric, the two-wheeler EV space has picked up a storm. The legendary scooter makes a comeback in a modern avatar is sure to attract many buyers opting for a fancy electric scooter. But what about its rivals?
Chetak's biggest rival comes in the form of Ather 450, which is the most popular electric two-wheeler. In the cities where it is sold, the waiting period for Ather was up to a year. So, here we put the Bajaj Chetak against the Ather 450 to check out their specs and other details.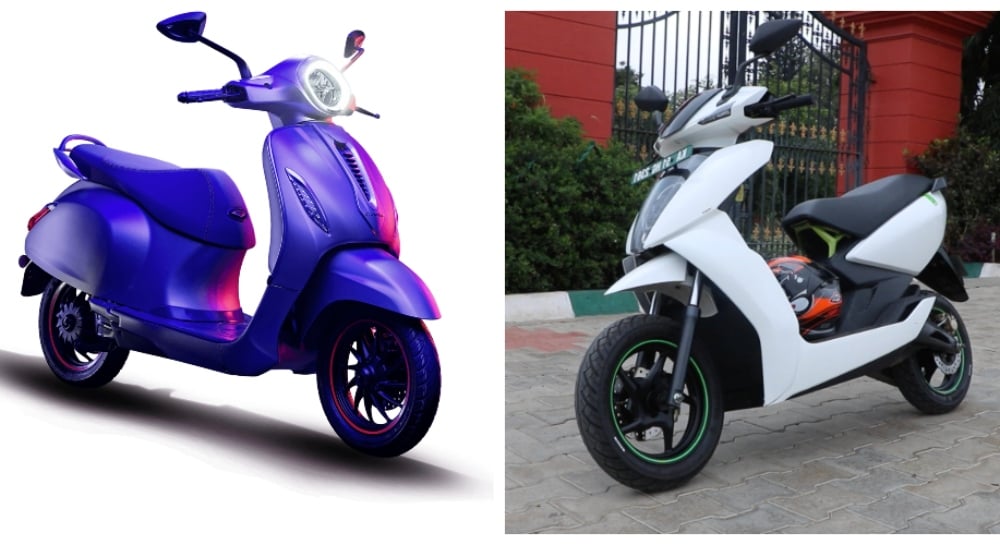 Bajaj Chetak Vs Ather 450 – Price
| | | |
| --- | --- | --- |
| | Chetak | Ather |
| Price (ex-showroom) | Rs 1-1.15 Lakhs | Rs 1.14 Lakhs |
The Chetak is available in two variants – Urbane and Premium – priced at Rs 1 Lakh and Rs 1.15 Lakhs, respectively. However, unlike Ather, the Chetak has yet not received the FAME-II certification. Once received, its prices could escalate down by a significant margin.
Ather 450 has received the certification and saw a massive price cut. It comes at a price of Rs 1.14 Lakhs (on-road Bengaluru) and Rs 1.22 Lakhs (on-road Chennai). As of now, both of them have a similar price range.
Bajaj Chetak Vs Ather 450 – Battery And Electric Motor Specifications
| | | |
| --- | --- | --- |
| | Chetak | Ather |
| Battery | 3 kWh lithium-ion | 2.4 kWh lithium-ion |
| Power | 4.08 kW | 5.4 kW |
| Torque | 16 Nm | 20.5 Nm |
| Modes | Eco And Sport | Eco, Ride And Sport |
| Top Speed | 65 Km/hr | 85 Km/hr |
Chetak uses a bigger 3 kWh lithium-ion battery pack. The electric motor produces peak power of 4.08 kW and 16 Nm of torque. It comes with two riding modes – Eco And Sport. The top-speed achievable on the scooter is 65 km/hr.
Since we have tested the Ather, we know that it is a performance-oriented scooter. The scooter gets a smaller 2.4 kWh lithium-ion pack. The motor produces a peak power of 5.4 kW and peak torque of 20.5 Nm. The power figures are significantly higher than Chetak. Further, the 450 comes in three modes – Eco, Ride and Sport. The top-speed for all these modes are set different, however, you can achieve a top speed of 85 km/h on Ather.
Bajaj Chetak Vs Ather 450 – Riding Range
| | | |
| --- | --- | --- |
| | Chetak | Ather |
| Range | 95 Kms | 75 Kms |
Being loaded with a bigger battery pack, Chetak offers 95 kms of riding range (claimed). In comparison, the Ather 450 offers 75 kms of range (claimed). With an electric vehicle, the range is the most important thing, which Chetak offers 20 kms more.
Bajaj Chetak Vs Ather 450 – Charging Details
Chetak can also be charged from the supplied cable for an AC charger. With the help of that, the Chetak can be charged fully in 5 hours. It does not get any provision for fast charging.
With an AC wall charger, Ather 450 will comparatively take more thing to be charged fully, around 5 and a half hours. However, it supports fast charging which can charge the scooter from in just 2 hours and 40 minutes. Also, Ather is setting up many Ather Grid public charging stations, which will juice it up to 80% in just 50 minutes.
Bajaj Chetak Vs Ather 450 – Features
Bajaj Chetak electric comes loaded with features such as:
LED headlamp with DRLs
Feather-touch activated electronic switches
LED turn lights
Bluetooth-connected Fully Digital speedometer
Alloy wheels
Navigation, tracking features, vehicle and battery statistics on the mobile App
Reverse Gear Mode
Front Disc Brake (Optional)
In turn, Ather 450 offers many more features:
LED headlamps
LED Turn Lights
Reverse Gear Mode
Alloy Wheels
Front And Rear Disc Brake (Standard)
7-inch touchscreen IP65 rated instrument console
Google Maps, Rider Insights And Scooter Settings On The Touchscreen System
Integrated E-Sim Card with its own internet for the system
OTA Upgrades
Engine Kill Switch
Bajaj Chetak Vs Ather 450 – Availability And Warranty
Bajaj Chetak electric will be available only in Pune and Bengaluru. The manufacturer is offering an overall warranty of 3 years or 50,000 kilometres on the Chetak electric as well as the lithium-ion battery. The company also claims that you need to service the scooter just once a year or on completion of 1 Lakh kms, whichever is earlier.
Ather 450 is available only in Bengaluru and Chennai, but will soon commence its operations in Pune. Even Ather offers an overall warranty of 3 years or 50,000 kilometres with the batteries, motor and the scooter.
Read: Ather 450 Review – Costliest But The Coolest Electric Scooter In Town