People trying various stunts with their bikes in the mountains is becoming increasingly common but they come with a ton of risks as well.
This video captures a Bajaj Dominar ridden through a waist-deep river in Zanskar Valley in Ladakh. The riders include the YouTuber accompanied by another famous automobile YouTuber, Gagan Chaudhary. They have been vlogging about their trip in Ladakh and this incident took place between Rangdum and Padum. Let us check out the details of what transpired.
You may also like: Fully Faired Bajaj Dominar Offers Proper Big Bike Look
You may also like: Bajaj Pulsar 150 LPG Ownership Review – 60 Paise/Km
Bajaj Dominar In Waist-Deep River
Now, Dominar is one bike that you don't always associate with off-roading. It is not designed for such adventures and challenging terrains. So, when the YouTuber came face-to-face with a river crossing, they knew that it was going to be difficult to cross. Nevertheless, they attempted to take the bike into the water anyway. There is this thing with water that it looks relatively easy to cross rivers where the riverbed is visible. But the water is often deep and the force is high. As expected, the biker got stuck in the middle, and water threatened to take him.
You may also like: India's First Extra Long Wheelbase Bajaj Pulsar – This is IT
Gagan reacted quickly to jump into the water and ask the YouTuber to let go of the bike and try to stand up. Eventually, he let the bike float away and somehow managed to get out of the water on the other side. The bike was also stuck not too far away from him. He tried to tie a rope around it to pull it back. But the current of the water was simply too strong. Luckily, they called a truck that was passing by and two people helped the YouTuber to get the bike out.
You may also like: Is Not This What Bajaj Pulsar F250 Should Have Looked Liked?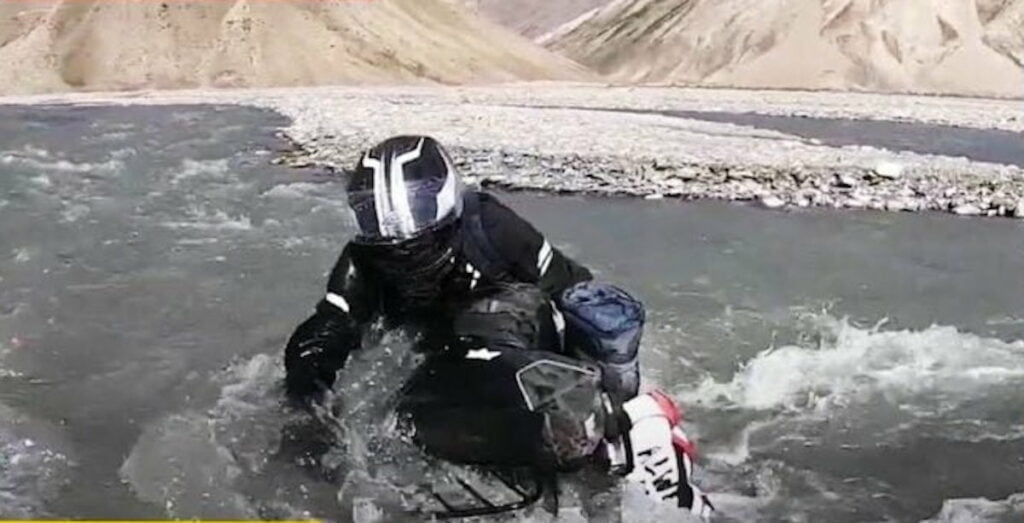 There was a lot of damage done to the bike by the water and the YouTuber was drenched in ice-cold water too. He mentions that he was not able to feel much of his lower body. They decided to open the component of the bike there to dry them in sun but didn't have the necessary tools. Water got into the engine oil compartment and coolant. Finally, they had to call a Mahindra Camper to take the bike and get it fixed in the village nearby. We must learn from this, that it is always a bad idea to test your luck with water. Please make your safety a priority, especially in such remote locations.
Join our official telegram channel for free latest updates and follow us on Google News here.