While you might not have heard about Bajaj ever launching a long wheelbase version of the Pulsar NS160, there are talented aftermarket motorcycle aficionados that have made it possible.
A YouTuber has developed a long wheelbase version of the popular Bajaj Pulsar NS160. Originally a bike enthusiast, the YouTuber has channelled his creativity by developing uniquely modified versions of common bikes. The Pulsar NS160 is a bike that many customers purchase as an affordable product for their everyday commute. Despite being a 160-cc bike, the balance between mileage and performance is quite impressive. Let us check out the details of this modified Bajaj Pulsar that the designer actually takes out on the road for a spin.
You may also like: Here's a Futuristic Take on Bajaj Pulsar F250
You may also like: Is This The 400cc Bajaj Pulsar We've All Been Waiting For?
Long Wheelbase Pulsar NS160
The YouTuber explains each and every aspect of the construction. What is impressive about this endeavour, apart from the final product itself, is that he has been able to make this iteration for a mere Rs 20,000. That is because he mostly made use of the scrappage that was lying around in dump yards and streets. Essentially, he didn't buy too many new components and used and modified the things that he got from the scrappage. Also, there were no external workers as carpentry, welding, cutting, installation, etc. were done by the YouTuber himself. The video shows all the steps of the process.
You may also like: Bajaj Pulsar NS1000 Makes Fresh Appearance In A New Pic
He dissembled all the parts of the bike in the beginning. To increase the wheelbase, he added solid iron bars, modified the steering system which was quite complex along with handlebars, customized the seating setup, installed a new footrest and underbelly protector, changed the chain, sprocket, suspension system and added a ton of metallic parts to ensure that the bike remains rugged. The long wheelbase should not compromise on ground clearance or strength, especially in the middle section due to uneven weight distribution.
You may also like: Bajaj Pulsar Twinner 500 – Everything We Know As of May 2022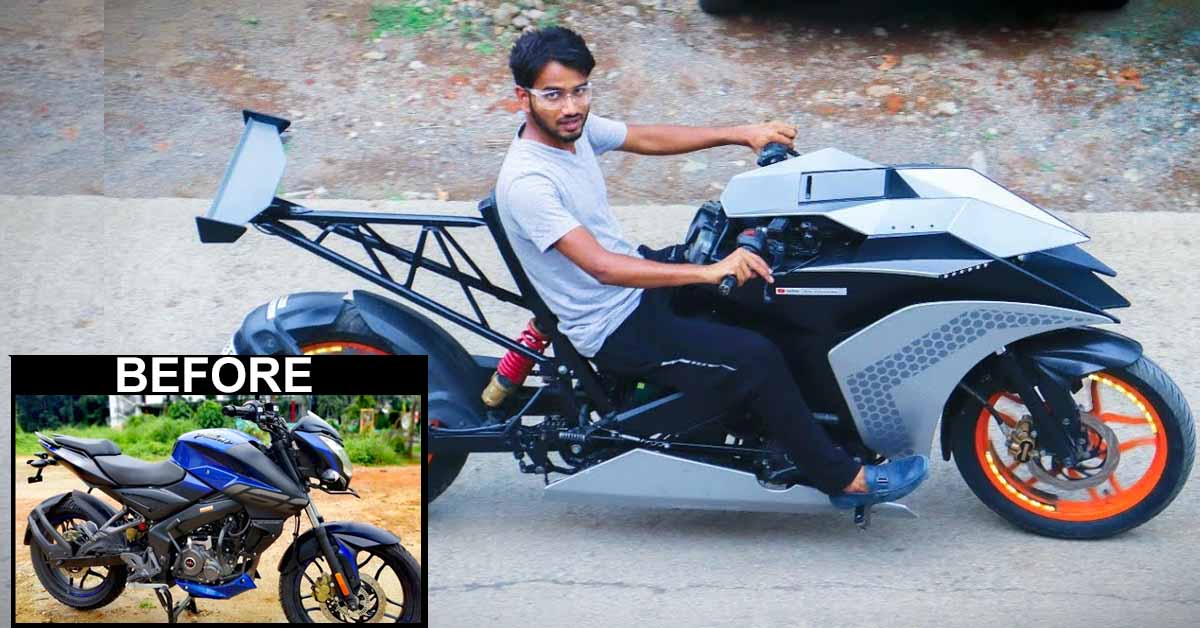 For aesthetics, he installed plastic body panels to give it a sportsbike look which he wrapped in attractive racing-style graphics. The colour combination chosen is quite sporty as well with silver and white wraps complimenting the orange alloy wheels pretty well. The final riding position is quite low but he explains that it doesn't affect the visibility as much as one might think. There are LED elements added to the headlights and taillamps. The night shots reveal the LED lighting in the wheels looks dope. He takes the bike on various terrains to prove its functionality. Let us know your thought on this long wheelbase Bajaj Pulsar NS160.
Join us for FREE NEWS Updates on our Whatsapp Community or our official telegram channel.