YouTubers keep conducting drag race events to measure the performance of popular motorcycles.
We know many of you must be excited to see the drag race between a Bajaj Pulsar 220F and the KTM RC200. The YouTuber mentions that the Pulsar is a 14-year-old model which had the title of the fastest bike in the segment due to Bajaj's technology back in the day. It is one of the most common and loved bikes in the country for a long time. On the other hand, the KTM RC200 is also a famous bike, especially among young riders looking for an affordable performance bike. Let us see who comes out on top in this exciting drag race.
You may also like: VIDEO- Yamaha RX100 Gives KTM 390 Duke A Run For Its Money
You may also like: Bajaj Pulsar 220 Successor Visualised With 400-cc Heart
Bajaj Pulsar 220F vs KTM RC200 Drag Race
The YouTuber gets on the RC200 while his friend, another YouTuber takes the Pulsar. At the beginning of round 1, both the bikes get an ideal start and are side-by-side for a long time. It is only after the riders engaged the 5th gear that the KTM pulled slightly ahead. It remained in the lead till the time it reached its top speed of around 141 km/h which is where it hit its limiter. However, the Pulsar hit the top speed of 152 km/h and overtook the KTM toward the end of the race emerging as the winner.
You may also like: Ola S1 Pro vs KTM Duke 390 Drag Race
In the second round, the riders were swapped in order to maintain the consistency of the results and incorporate different driving mannerisms. This time around, the KTM took a lead from the launch and maintained it for a long time. However, by the time the limiter play would've come into the picture, the race ended as there was not a lot of track left. Hence, KTM was victorious.
You may also like: Bajaj Pulsar 220 with Tractor Tyre is Taking Things a Bit Too Far!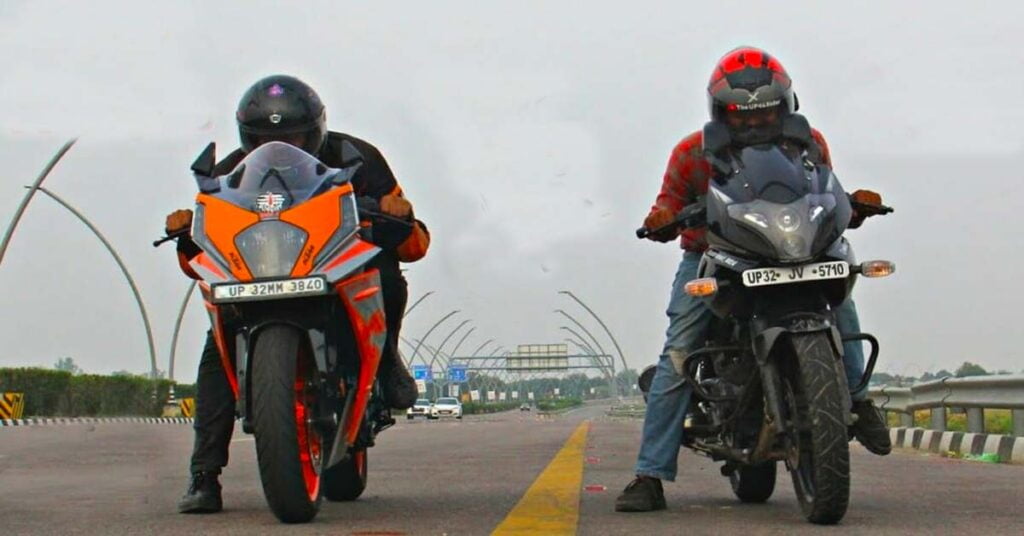 Specs
The KTM Duke RC200 comes with a 199-cc liquid-cooled single-cylinder engine that produces 25 PS and 19.3 Nm of peak power and torque. It is mated to a 6-speed manual gearbox. On the other hand, the Bajaj Pulsar 220F comes with a 220-cc twin-spark, oil-cooled DTS-i FI engine that outputs 20.4 PS and 18.55 Nm of peak power and torque respectively. This engine comes mated to a 5-speed gearbox and has a 15-litre fuel tank. Let us know your feelings about this drag race between the Pulsar and Duke.