Drag Racing on roads might not be the most prudent method of establishing credentials of a bike but it is certainly one of the most entertaining ones, at least, as far as social media is concerned.
This video brings out some unbelievable results of a drag race between the legendary Yamaha RX100 and KTM 390 Duke. These days, famous YouTubers are conducting drag race events between popular bikes in order to confirm the performance of various motorcycles. Before we begin, we must caution our readers to not try such stunts on their own. These could be dangerous for you, your bikes and other people on the road.
You may also like: Yamaha RX15 Is The Best Of Both The Worlds!
You may also like: Ola S1 Pro vs KTM Duke 390 Drag Race
RX100 vs 390 Duke Drag Race
At the beginning of the video, people on various bikes are seen challenging each other in a drag race. Among them are our two competitors for this race. The Duke 390 was the crowd's favorite at the beginning of the video. But there are ardent fans of the Yamaha RX100 as well. There is not a complete video of the race but someone recorded the result near the finish line. As seen in the video, the RX100, surprisingly, is ahead of the Duke by a significant margin, according to the drag race standards. This came as a shock to a whole lot of people, especially the Duke fans.
You may also like: FuelX Pro for KTM Duke 390 Enhances Performance at Just Rs 9,990
RX100 vs 390 Duke Specs Comparison
The RX100 was a legendary bike that was sold in India in the late 80s and early 90s. It was imported from Japan initially and then began assembly here and became quite popular. It came with a 98-cc single-cylinder two-stroke engine that produced 11 PS @ 7500 RPM. This engine was mated to a 4-speed gearbox. Its lightweight allows it to have great acceleration.
You may also like: KTM Duke 250 vs Bajaj Pulsar N250 vs Yamaha FZ25 – Drag Race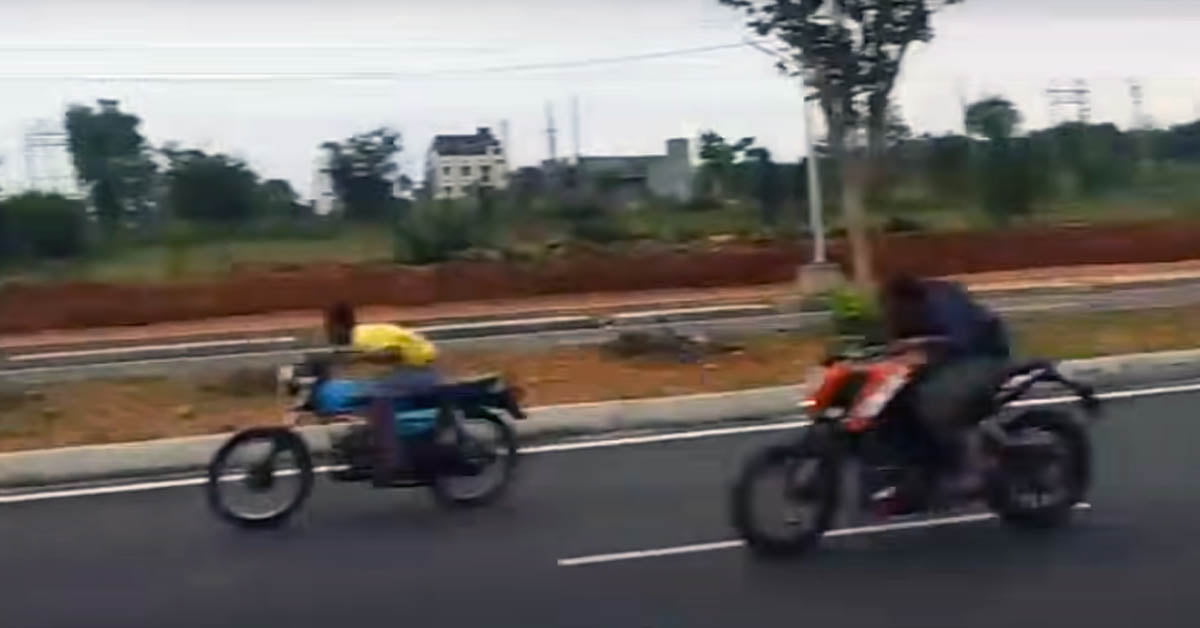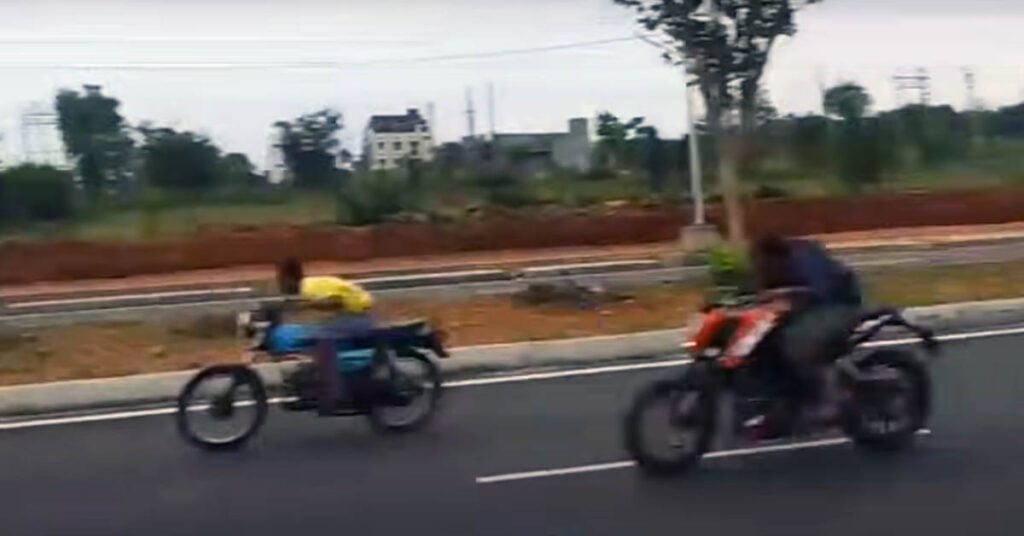 On the other hand, the Duke 390 has a 373-cc liquid-cooled engine that produces a healthy 43.5 PS and 37 Nm of peak power and torque. It comes with a 6-speed gearbox with a slipper clutch and a bi-directional quick-shifter. It costs Rs 2.94 lakh, ex-showroom. Let us know how did you like this drag race between the Yamaha RX100 and KTM 390 Duke.