People are seen doing incredibly dangerous things on roads almost every day.
This is one such case where a man is seen riding a bike with 2 cats.
Netizens are upset about the lack of safety for the cats and others on road.
In the latest video, a man in Bengaluru was seen riding his bike with two cats. Now, we don't need to explain how much people love their furry companions. In most cases, they are loved more than real humans which is fascinating. When it comes to dogs, they are called a man's best friend. But over the last few years, we have seen people having all sorts of pets from cats and dogs to squirrels, rabbits and parrots. This latest video shows a man carrying two cats on his bike in heavy traffic, which has drawn a lot of flak from the netizens. Here are the details.
You may also like: UP Policeman Chases Bike on Bicycle, Video Goes Viral
Found this guy in ORR today! @peakbengaluru pic.twitter.com/BIDtBTFRdx

— Aarun Gowda (@alwAYzgAMe420) January 14, 2023
You may also like: Man Uses Harley Davidson to Deliver Milk – Viral Video
Bengaluru Man Rides Bike with 2 Cats
The post has been shared by a certain Aarun Gowda on Twitter. Someone made a video of this man on a bike who has 2 cats with him. This includes one on top of the rider's backpack and the other sitting comfortably on the fuel tank. However, this could potentially be extremely dangerous not just for the cats or the rider, but for others around as well. People on the internet were quick to point out the fact that this act was jeopardizing road safety.
You may also like: Royal Enfield Bullet 350 Once Costed Just Rs 18,700; Bill From 1986 Goes Viral
While it may look like the cats are sitting comfortably, one can't really predict what manoeuvres could the rider have to pull as per the road circumstances. Generally, people take their pets in a car due to this very reason. Our roads are full of surprises on every turn which makes it difficult to ride a two-wheeler. Additionally, it is entirely possible that while holding one cat in one hand, the control of the bike on the motorcycle is reduced significantly. Hence, he is not equipped adequately to deal with that situation.
You may also like: Father on Hero Splendor Protects Kid From Rain – Pictures Go Viral
Road Safety
Finally, we would like to raise awareness among our readers about the importance of road safety. We lose thousands of lives in road accidents in our country every year. Most of these unfortunate scenarios crop up due to the negligence of the drivers and road users. This one certainly qualifies as a careless act that could prove to be fatal. Hence, we urge our readers to discourage people from performing such activities on road or report them to the authorities. What are your thoughts on this?
You may also like: Pillion Shows Off Bike Stunts on Bajaj Pulsar, Falls! – Video Goes Viral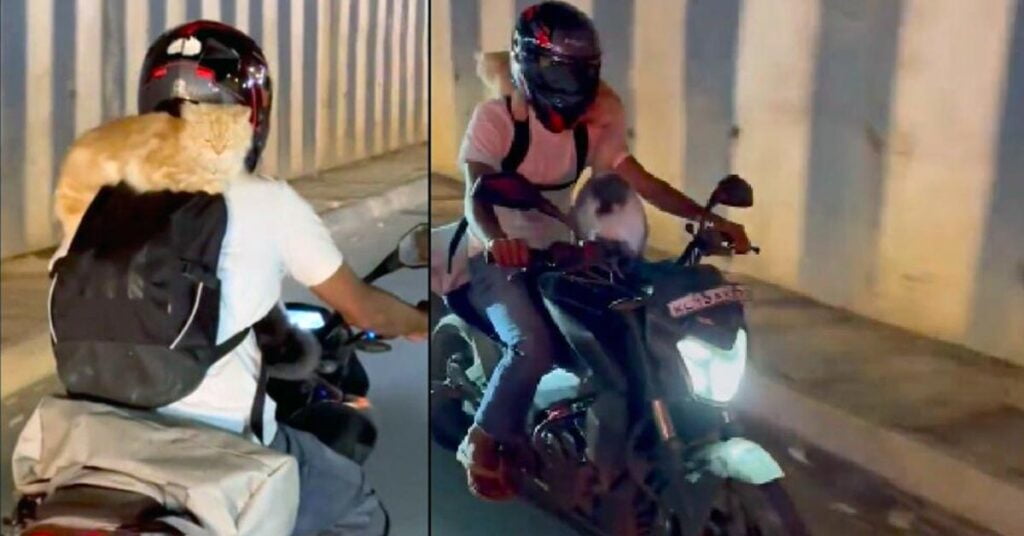 Disclaimer- The embedded videos/ external content is/are being used as a convenience and for informational purposes only; they do not constitute an endorsement or approval by Car Blog India of any of the products, services, and /or opinions of the corporation or organization or individual. Car Blog India bears no responsibility for the accuracy, legality, and/or content of the external site or for that of subsequent external videos/ external content. Contact the external publisher for answers to questions regarding its content.
Join our official telegram channel for free latest updates and follow us on Google News here.