It is unbelievable what the Police officials end up doing at times.
A video is doing rounds on the internet where a Police personnel is trying to catch a biker on his bicycle.
It became a matter of trolling by the netizens.
In the latest incident, a Police personnel is seen trying to catch a biker with his bicycle. Social media brings to the forefront, the abysmal condition of the Police department. This video shows just how ill-equipped they are to tackle any criminal act by the miscreants. There have been tons of such instances which have been doing rounds on the internet. Let us take a look at the details of this latest one.
You may also like: Bengaluru Biker Seen Riding with 2 Cats – Netizens React
You may also like: Man Uses Harley Davidson to Deliver Milk – Viral Video
You may also like: Royal Enfield Bullet 350 Once Costed Just Rs 18,700; Bill From 1986 Goes Viral
You may also like: Biker Takes Photo of Rash Auto Driver, Gets Beaten Up
Police Runs After a Biker Using Bicycle
The video has been uploaded by Decode Trend on YouTube. This channel frequently posts incidents regarding traffic scenarios and incredible activities on roads. This one certainly qualifies as a bizarre but funny act. The scene is set at a Police checkpost where the officials are checking the commuters. It looks like two people on a bike are being stopped by the Police as they are not wearing helmets. However, after looking at the Police, the duo decide to make a run away from them.
You may also like: Kid Driving Mahindra Scorpio Does Wheelspins – Viral Video
While the Police officials are heard shouting them to stop, one person climbs on his bicycle and decides to give a chase. It goes without saying, that Police personnel will never be able to catch the bikers due to obvious reasons. It is entirely possible that the Police official acted abruptly in response to the situation and it would have later dawned on him that he won't be able to catch the bike with his bicycle.
You may also like: Traffic Policeman Challans Another Cop for Half Helmet, Video Goes Viral
Such acts, while being funny, remind us how terribly ill-equipped our Police force is. This is a great example to know that the Police, at least in the rural and semi-urban areas need better equipment to deal with criminals and law-breakers. Do share your feelings and thoughts about this with us.
You may also like: Instagrammer Almost Falls Off Roof of Maruti Swift While Trying to Create Viral Content
You may also like: Watch Why This Bicycle is Worth Rs 70 Lakh – VIDEO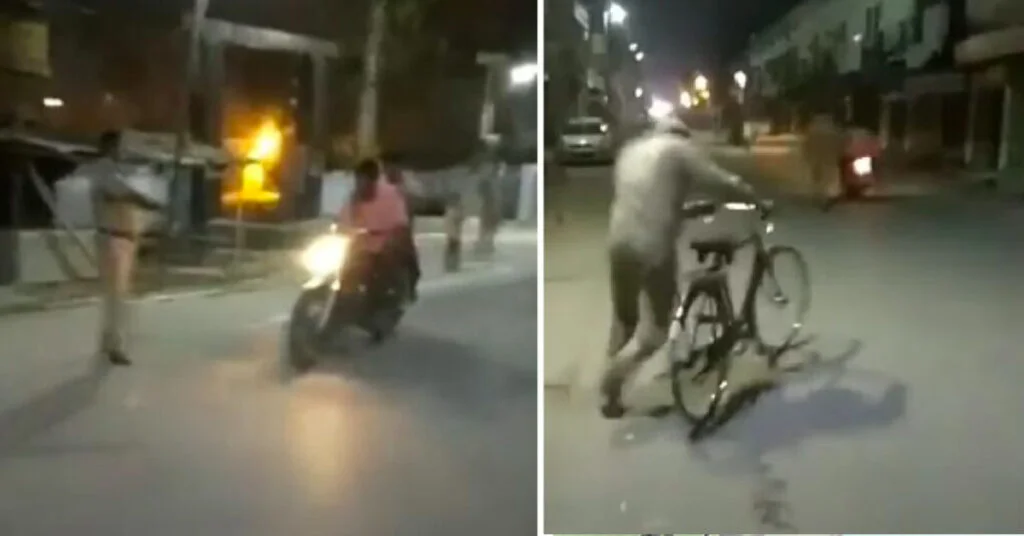 You may also like: What if Fortuner, Endeavour, Alto & Others Had Emotions? Viral Video Explains!
Disclaimer- The embedded videos/ external content is/are being used as a convenience and for informational purposes only; they do not constitute an endorsement or approval by Car Blog India of any of the products, services, and /or opinions of the corporation or organization or individual. Car Blog India bears no responsibility for the accuracy, legality, and/or content of the external site or for that of subsequent external videos/ external content. Contact the external publisher for answers to questions regarding its content.
Join our official telegram channel for free latest updates and follow us on Google News here.