We encounter some weird instances of aggression on roads at times.
A biker was taking a photo of an auto-driver who was driving rashly.
But the driver got angry and started physically abusing the biker in broad daylight.
Here is a case of a biker trying to take a photo of a rash auto driver who was driving carelessly on the road. However, the auto driver got angry at this and started physically assaulting the biker. We have seen auto drivers driving recklessly millions of times. That jeopardizes the safety of the passengers sitting in the auto, as well people outside including the pedestrian and other drivers on the road. What's even worse is the fact that they don't fear the law as they are capable of beating anyone in the middle of the road with tons of people around. Let us take a look at the details of this here.
You may also like: UP Policeman Chases Bike on Bicycle, Video Goes Viral
You may also like: Frustrated by Traffic, Man Starts Drinking on Moving Car's Roof
Rash Auto Driver Beats Biker Who Takes His Photo
The video has been uploaded by Decode Trend on YouTube. This channel keeps featuring content about weird instances on road on a daily basis. This time around, the video informs that this instance is from somewhere in Delhi. A biker and other cars stop at a traffic light. He takes his phone out and starts clicking photos of the auto driver who was driving quite recklessly. However, as soon as he starts taking photos of the auto to register a complaint, the auto driver comes out.
You may also like: Haryana Roadways Bus Driver Smokes Hookah While Driving
He approaches the biker and takes off his helmet and starts physically assaulting the biker. The video cuts at that time and the entire episode has not been recorded. But this reflects the audacity that people have. This also shows how aggressive some auto drivers in Delhi could be. It is simply unbelievable to see that someone is capable of doing this in the middle of the road in broad daylight with tons of people around.
You may also like: Couple Gets Romantic on Bajaj Pulsar 150, NABBED – VIDEO
We are shocked to see this and can only advise our readers to report such activities but also take care of their own safety. We must do our bit to ensure road safety and traffic rules and regulations being followed by bringing such incidents in front of the authorities so that people think twice before committing such acts. Do share your thoughts on this with us.
You may also like: Young Woman Learning to Ride Honda Activa Crashes Into Temple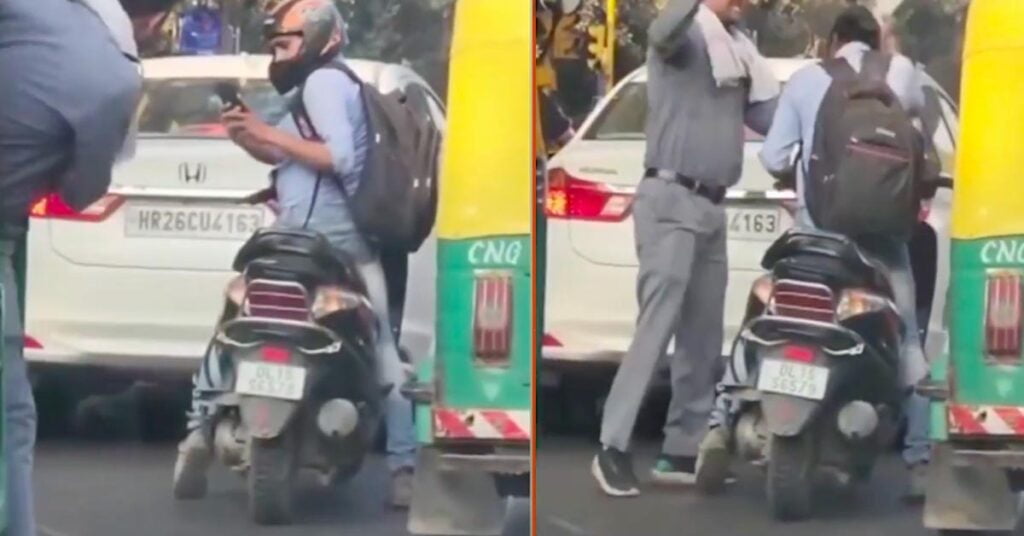 You may also like: Traffic Police Officer 'Challans' Bicycle Rider for Not Having Bill of Vehicle
Disclaimer- The embedded videos/ external content is/are being used as a convenience and for informational purposes only; they do not constitute an endorsement or approval by Car Blog India of any of the products, services, and /or opinions of the corporation or organization or individual. Car Blog India bears no responsibility for the accuracy, legality, and/or content of the external site or for that of subsequent external videos/ external content. Contact the external publisher for answers to questions regarding its content.
Join our official telegram channel for free latest updates and follow us on Google News here.