We have seen how the Police could do shady activities at times.
This looks like one such scenario.
However, the entire episode was caught on camera this time around.
In this latest incident, a traffic Police officer was caught on tape as he challans a bicycle rider on the road. Now, the traffic Police are infamous for being quite mischievous. They can stop unsuspecting road users anytime and slap challans on them. At times, the reasons for such fines are not clear. That is the reason why they mostly catch people who are not so well-read. They don't know about the exact rules and regulations of traffic. This looks like one such case.
You may also like: Did Chandigarh Traffic Police Slap Challan on a Judge for No Parking?
You may also like: Traffic Policeman Challans Another Cop for Half Helmet, Video Goes Viral
Traffic Police Challans a Bicycle Rider
This video has been uploaded by Decode Trend on YouTube. They keep posting the latest viral content. In this video, they show CCTV footage of traffic Police personnel stopping a bicycle rider on a busy street. He holds the bicycle and checks some things on it. It is unclear why he stopped the person. After physically doing some checking, he takes the bicycle to the side. The poor fellow follows the Police officer not knowing why exactly was he stopped.
You may also like: Hero Passion Owner Rides Sitting Like Pillion, CHALLANED
As per the information in the description of the video, the bicycle rider was challaned Rs 50. We are not entirely sure why this fine was levied on the bicycle rider. Nonetheless, it is, unfortunately, a common phenomenon for the traffic Police authorities to harass poor people on the road expecting a small bribe. What is worse is the fact that people happily pay bribes to prevent getting involved in judicial procedures. They take it as a fee to not go through the taxing lawful route.
You may also like: Traffic Police in This City Offering 75% Discount On Challan Payments
Always Follow Traffic Rules
However, we must encourage road users to always follow traffic rules and not give the traffic Police a chance to stop them for any traffic rule violation. That is the only way to stay clear of such disappointing acts by the Police. Also, if you see Police personnel taking bribes, you have the right to record the proceedings as evidence. They can't stop you from doing that. Let us pledge to follow traffic rules to promote road safety in our country.
You may also like: Owner Sets His Bike on Fire to Avoid Paying Challan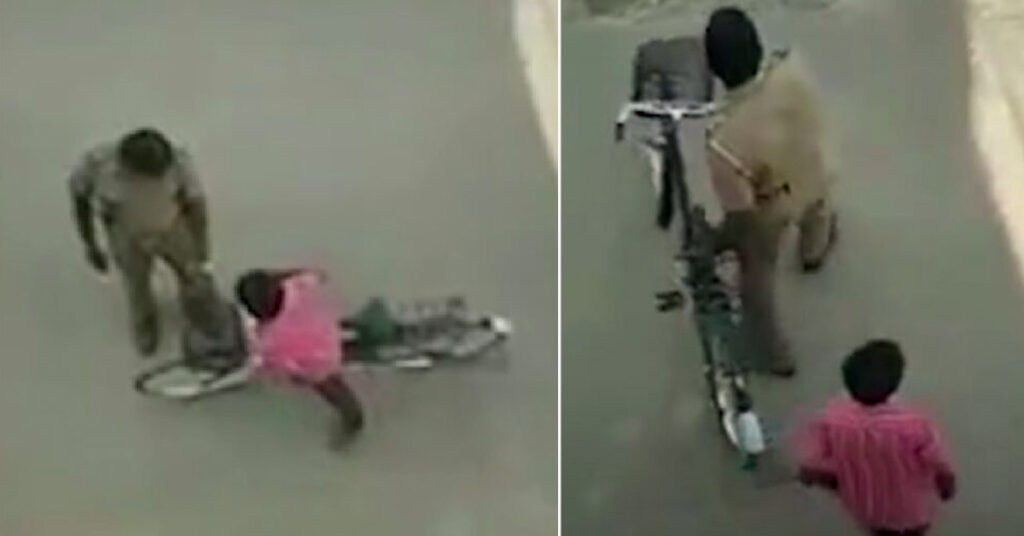 Disclaimer- The embedded videos/ external content is/are being used as a convenience and for informational purposes only; they do not constitute an endorsement or approval by Car Blog India of any of the products, services, and /or opinions of the corporation or organization or individual. Car Blog India bears no responsibility for the accuracy, legality, and/or content of the external site or for that of subsequent external videos/ external content. Contact the external publisher for answers to questions regarding its content.
Join our official telegram channel for free latest updates and follow us on Google News here.