The social media age is upon us and we witness stupid stunts on a daily basis in order to gain more followers and views.
This is a great example of the social media engagement derived from mindless stunts like this man standing atop a moving Maruti Swift. He is accompanied by a prominent figure in the world of influencers on social media with a heavy following, Salman Khan. He is a famous fitness model. But the stunts that they are attempting in this video clip are not a great motivation for their followers. Let us check out the details of this careless stunt.
You may also like: Maruti Swift and Ciaz Taken Off Road, Stuck Royally
You may also like: Mini Cooper Electric Breaks World Record for Tightest Parallel Parking in EV
Man Standing Atop A Moving Maruti Swift
The video clip has been shared as Instagram Reel. The visual show Salman standing on top of a moving Mahindra Thar on the left and his friend standing on top of a moving Maruti Swift on the right. As the vehicle move, the man on Swift suddenly loses his balance and comes to his knees on the roof. Thankfully, he regained composure before falling on the road which would have definitely caused some serious injuries. This shows how quickly things can turn around if you are not careful.
You may also like: Man Rides on Mahindra Thar's Bonnet for Social Media Attention
We can only urge our readers to not imitate such stunts being displayed relentlessly on social media. One must maintain his sense of logic despite such content being available all over the internet. Especially if you have a large following on various platforms, the responsibility comes with it. You must not do things that would create danger because the followers have the tendency of imitating their idols irrespective of which profession one is in. But that could lead to some critical circumstances risking their safety.
You may also like: VW Virtus Owner Allegedly Given Used Car with Faulty Brakes and Other Defects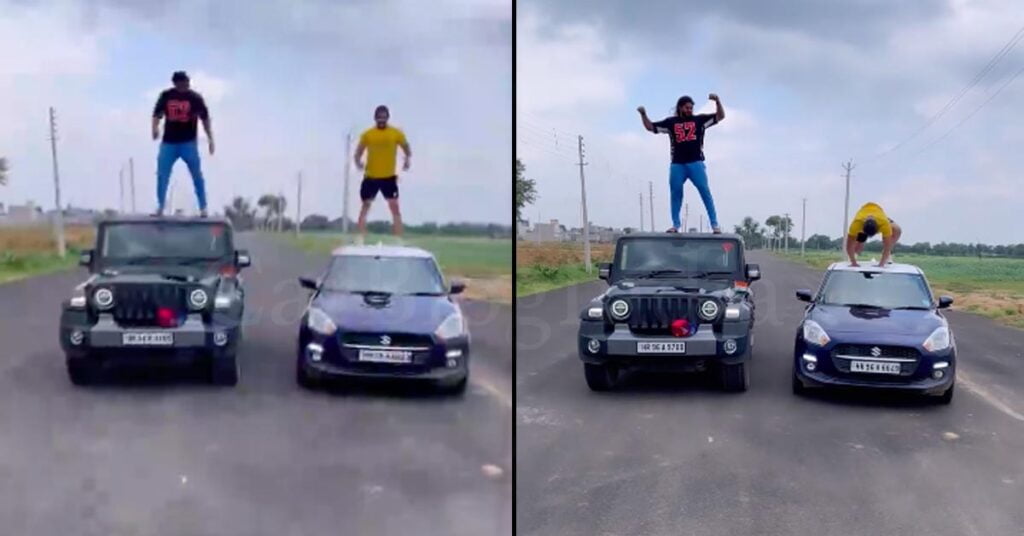 What are your thoughts about these modern-day social media influencers who resort to extreme measures in order to gain more attention on the internet?
Disclaimer- The embedded videos/ external content is/are being used as a convenience and for informational purposes only; they do not constitute an endorsement or approval by Car Blog India of any of the products, services, and /or opinions of the corporation or organization or individual. Car Blog India bears no responsibility for the accuracy, legality, and/or content of the external site or for that of subsequent external videos/ external content. Contact the external publisher for answers to questions regarding its content.
Join our official telegram channel for free latest updates and follow us on Google News here.