In a freak accident, an overspeeding BMW jumped the divider. Subsequently, the driver was severely thrashed by the mob.
Over the last few years, safety standards have improved in Indian cars and Indian roads. However, there is still an unprivileged mob mentality. In a freak accident in Mangalore, an overspeeding BMW jumped the divider and hit several people and a car. Following this, the BMW driver was surrounded and beaten up. The whole incident was captured on video. Nikhil Rana has shared the details of the serious accident on his YouTube channel to raise awareness of safety standards in modern vehicles. Let's take a closer look.
You May Also Like: Malaika Arora Meets With Accident in Her Range Rover
You May Also Like: Skoda Octavia Airbags Deploy Without Accident, GoDigit Denies Insurance
As you can see in the video, the usual Mangalore traffic was disrupted by a speeding BMW sedan that jumped the divider and hit a woman. Subsequently, it crashed into a woman on a scooter and then hit another car (i20) before coming to a halt. The lady on a scooter was severely wounded as she was hit and thrown under another car. Fortunately, the lady on the divider narrowly escaped the BMW. So far, the cause of BMW losing control is still unknown.
This incident occurred at 1:20 p.m. (approx), 9 April near the Ballalbagh crossroads, Mangalore. Before police reached the spot and took action, the i20 owner (along with the public) thrashed the BMW driver. This kind of behavior is totally unacceptable. Currently, the accident is being investigated by the police. The injured two-wheeler is being treated in a hospital's ICU. Other injured are reportedly out of danger.
You May Also Like: Mahindra XUV700 TOTALLED in Worst High Speed Accident Yet – VIDEO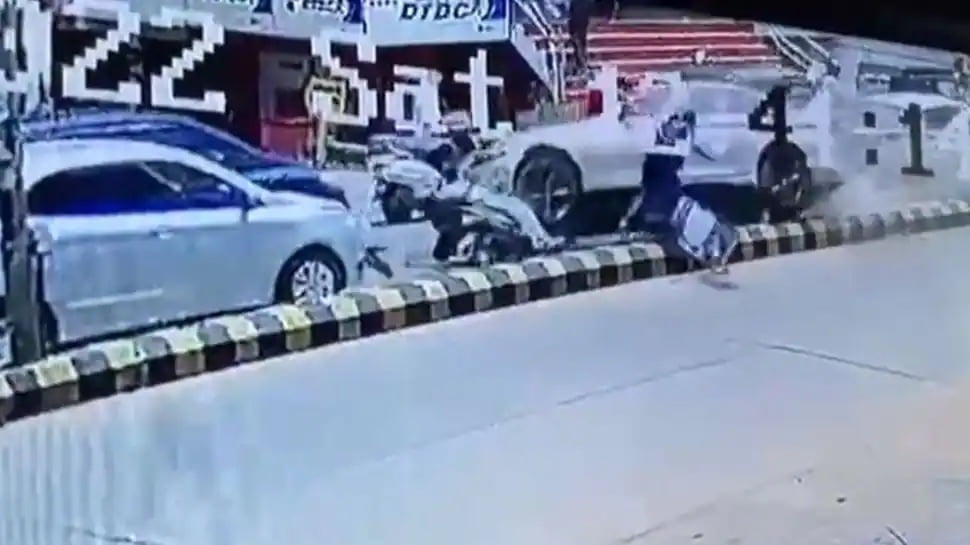 You May Also Like: 2 Days Old New Maruti Baleno Tests Build Quality of Brick Wall
Thousands of people lose their lives in avoidable accidents every year. The quality of Indian roads varies from place to place. Also, since random objects might appear out of nowhere (animals, kids, potholes, etc) it is important to be mindful while driving. Fortunately, now you can invest in a safe car (with good build quality and safety equipment). Still, follow the traffic rules and report anyone driving recklessly to the authorities. Over-speeding is a clear no-no. Having said that you should not take the law into your hands in any situation.
Join us for FREE NEWS Updates on our Whatsapp Community or our official telegram channel.