The airbags in a car could be quite sensitive to any kind of collision of the car. In this case, there was not even a collision with a car or an obstacle. Here are the details.
A Skoda Octavia, which hit a pothole too hard, got its airbags deployed without any collision. Octavia is a prominent product from the Czech carmaker that boasts high safety equipment and standards. The details of this incident have been shared on the Team BHP forum by the owner who is struggling to claim insurance cover for it. Let us check out the information regarding this strange case.
You may also like: Skoda Octavia Owner Buys Kushaq 1.5, Faces EPC Issue in Just 2 Days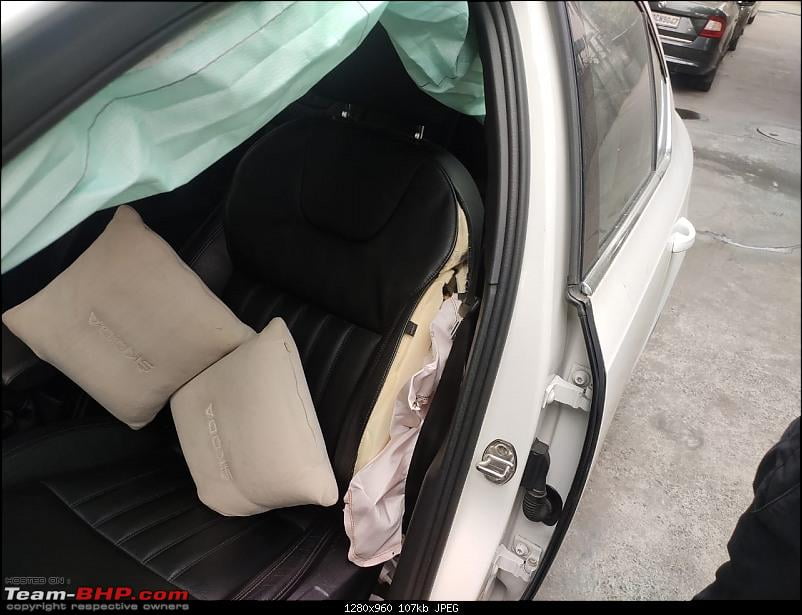 You may also like: Disgruntled Skoda Octavia Owner Impressed With Intervention From Zac Hollis!
Skoda Octavia Airbags Deploys Without Collision
According to the owner of Octavia, the sedan went over a pothole at a relatively high speed. The impact caused a dent in the left rear alloy. Somehow, the electrical of the car considered it as an accident signal and the airbags on the left side were deployed. This included the front passenger airbag and side curtain airbag. The owner went to the dealership the next day and Skoda confirmed that it was an accident trigger due to the impact on the alloy. The same was conveyed to the insurance company too. However, the claim was rejected within 20 mins. The insurance company cited that the airbags got deployed due to an electrical fault and not due to the accident. That is the reason why they won't cover it.
What is bizarre is the fact that Skoda has provided a written document confirming that the accident was caused due to the vehicle hitting the pothole and the rear axle has also been damaged due to the same. But the insurance company still rejected the claim. Now the owner is left with no option other than to pay for the damages out of his own pocket and approach consumer court. The forum members suggested him to visit an insurance ombudsman to sort this out with the insurance company. The car was purchased in 2019 and the insurance was booked with Godigit with a zero depreciation policy.
You may also like: Skoda Octavia vs Hyundai Elantra – Engines, Prices, Specs, Features, Safety Comparison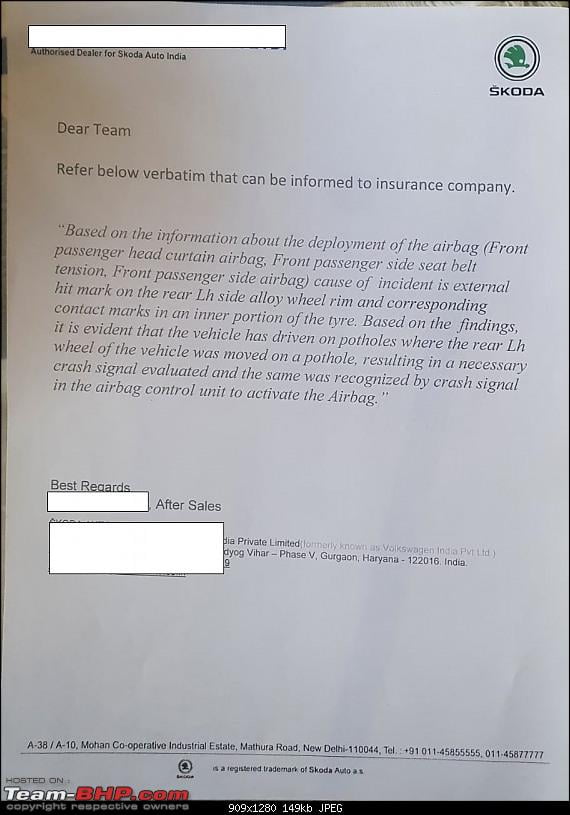 You may also like: 5 Features of Skoda Slavia Not Available on Honda City
This is one case that represents what could happen sometimes even when it is no fault of your own. Make sure to read the fingerprint of your insurance policy before buying one.
Join our official telegram channel for free latest updates and follow us on Google News here.