Launched earlier this year, the Skoda Kushaq became the first product of VW India 2.0 strategy. The compact SUV is underpinning by the MQB-A0-IN platform, which, by the way, is nothing but an 'Indian-ized' version of the much-publicised MQB architecture used on many international-spec VW offerings. Other than having a platform that's tailor-made for India, the carmaker has allegedly even resorted to some cost-cutting measures in order to achieve a competitive price. The same, however, seems to be backfiring as many owners of the Kushaq are suffering from EPC errors and other quality blips. Sadly, the latest to join the fray is an Octavia-user whose Kushaq suffered this error within two days of delivery.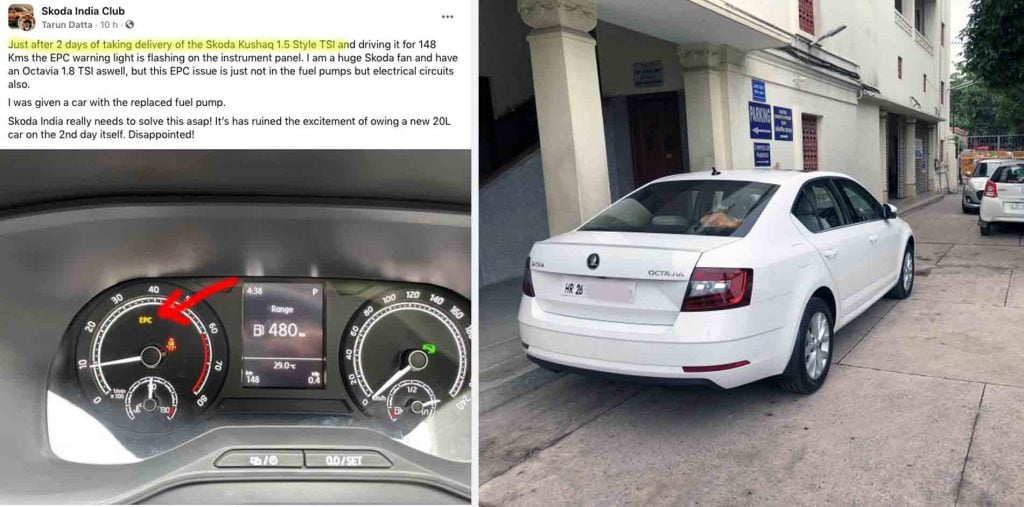 Also read: Skoda Kushaq To Be Recalled Soon To Fix EPC Issue
Earlier, last month, it came to light that Skoda Auto India is voluntarily replacing the fuel pumps of all Kashaqs with a 'more robust' unit that the carmaker has come up with to combat the EPC issue. However, now it looks like the new fuel pump, which is allegedly designed to be compatible with varying fuel quality, hasn't done much good to solve the EPC issue. As per one Tarun Datta, his Skoda Kushaq 1.5 Style TSI came with this new fuel pump. Yet, he faced the EPC issue within 2 days and 148 km of usage. He goes on to say that it looks like the EPC issue is not due to the fuel pump but owing to the electrical circuit. Finally, Tarun goes on to state that Skoda India really needs to solve this issue as soon as possible as it has ruined the excitement of owning a car that costed him more than Rs 20 lakh on the second day of ownership itself.
This unfortunate incident has come to light merely days after a Doctor owner of Skoda Kushaq faced multiple EPC errors in just 40 days of ownership. As per this owner, he had to face the EPC error 3 times in just 40 days of ownership. All the time, he had to get his car towed to the service centre. After he faced the issue second time, the fuel pump was replaced with a 'more robust' unit, which took 2 days. However, on facing the error once again, he was told by the service centre guys that his car needs to be given a software update. The same owner goes on to say that being a doctor by profession, he is struggling to spare time to get his brand car repaired.
Also read: WATCH Video of Brand New Skoda Kushaq With Cabin Noise!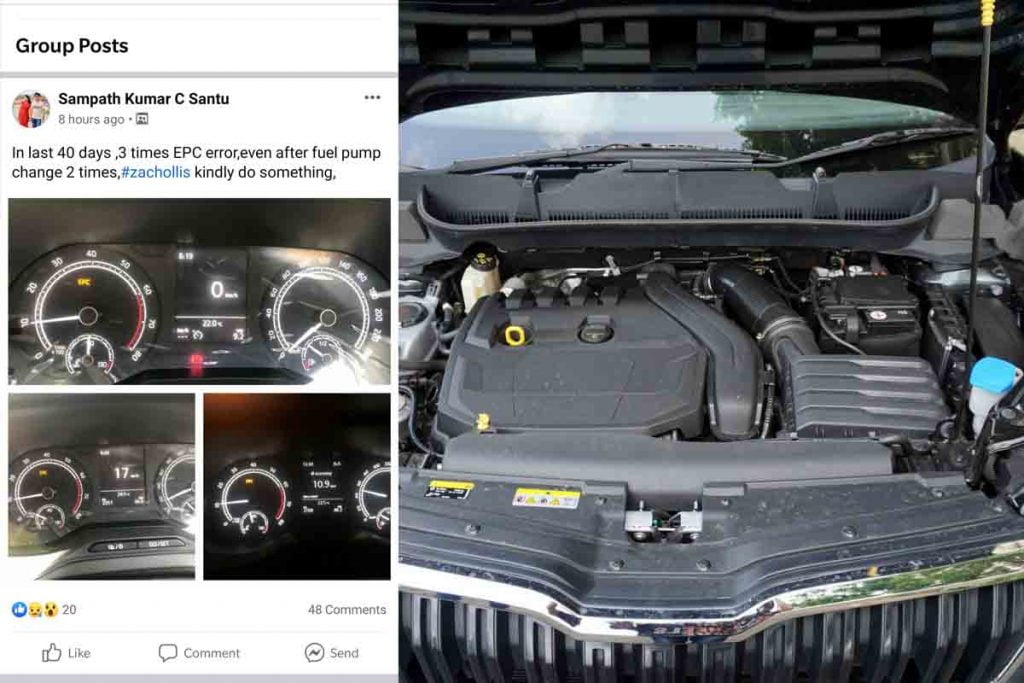 It must be noted here that the Skoda Kushaq had a strong start by receiving 10,000 orders within a couple of months of its launch, However, over the last few months it has been in the market, many owners have faced the EPC issue and some have even reported about minor quality blips. Given that the Kushaq was supposed to be the torchbearer for VW's India 2.0 strategy, such errors have certainly hit the image of the carmaker. It must be noted here that the Kushaq comes with a higher price tag with lesser features than its Korean adversaries. More than that, the EPC issue has plagued the image of the carmaker in the eyes of prospective compac SUV buyers.
Also read: Brand New Skoda Kushaq Delivers 23 kmpl on the Highway!
Join our official telegram channel for free latest updates and follow us on Google News here.