Prominent personalities have to go to extreme lengths for their protection which calls for such measures.
Check out India's first bullet proof Toyota Fortuner Legender. The requirement for making a car bullet proof is quite common, especially among the political ranks. One can consider it as an occupational hazard. For self-defence, many politicians and other VIPs convert their vehicles into a wall of armour. Let us check out the special installations on this Legender to make it so unique.
You may also like: Toyota Fortuner GR Sport vs Fortuner Legender Comparison – What's Different?
You may also like: India's ONLY Toyota Fortuner Facelift and Legender with 28-inch Alloys
Bullet Proof Toyota Fortuner Legender
The walkaround tour of this Fortuner has been arranged by a famous YouTuber. He reviews a plethora of modifications to various cars on his channel. But even he is excited to get into the cabin of this Toyota Fortuner Legender which belongs to a special personality that he is not allowed to name. However, the title of the video does mention 'Chief Minister' but we don't know which CM this armoured SUV belongs to. From the outside, there are no prominent aesthetic changes that tell it apart from the stock model. But once you open the door, you will begin to be amazed.
You may also like: WATCH Toyota Fortuner Legender & Mercedes E Class Go Drag Racing!
The glass on the windows has been made thicker to sustain bullet shots. For this, there is additional rubber to keep it in place. There are metal sheets inside the door panels. The glass and metal sheets made up of fibre make the door so heavy to operate. A similar procedure has been followed for all the windows including the windshield and all the doors. At the rear, the boot lid opens up to reveal a black box of metal wrapped in black material. The metal sheets and fibre prevent the bullet from penetrating the cabin. The luggage area is left short with the addition of this heavy box.
You may also like: Now Toyota Fortuner Owner Tests Safety by Hitting and Banging Doors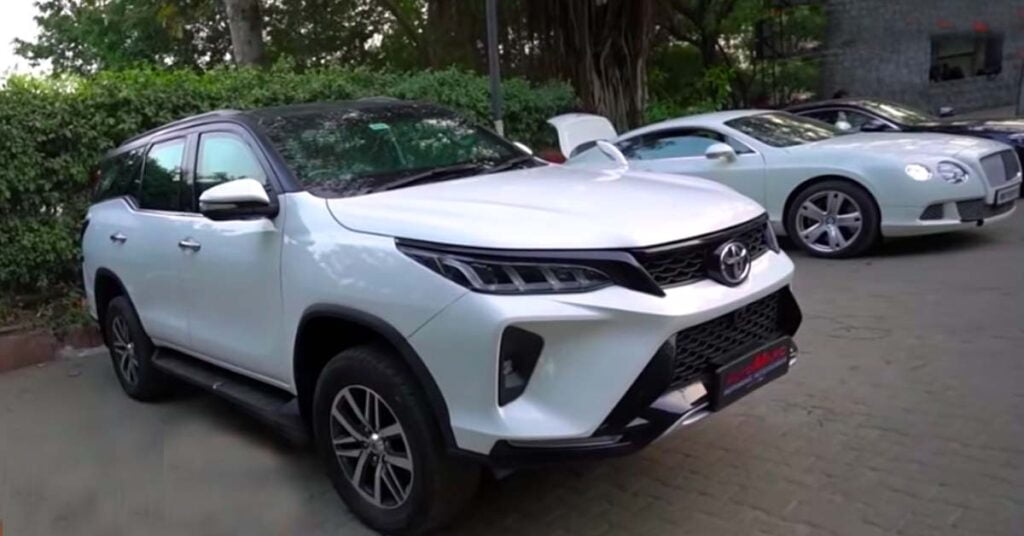 The underbelly of the SUV is also finished in a thick protective layer that could sustain small explosions. Once you enter the cabin, the noises from outside are gone because the car is completely sealed off. The entire weight added to the car due to these installations is a whopping 1,500 kg. In stock configuration, the SUV tips the scales at around 2,200 kg. An additional weight affects the driving and handling capabilities of the SUV a lot. The YouTuber demonstrates this by braking the car inside the parking lot which makes it go back and forth. Let us know your feelings about India's first bullet proof Toyota Fortuner Legender.
Join our official telegram channel for free latest updates and follow us on Google News here.