Tata Nexon EV can withstand a certain level of water when exposed and thanks to its ground clearance, you can see it here going through floods easily.
Tata Nexon EV is the most popular and best-selling EV in India right now. Priced very competitively, it offers a decent riding range, many premium features and ofcourse, the safety standards of Tata Motors. One of the most feared things about an EV is its water exposure, but Nexon seems to have taken care of. While we had a personal experience of the water wading capability of Nexon EV, here's another example of it.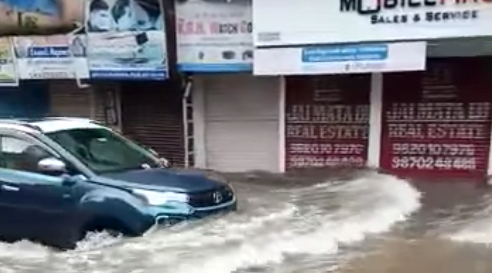 As we all know, for the past 2 days, Mumbai has been experiencing heavy rainfall. Most of the parts of the city have been flooded and even the Government has issued a notice to stay inside the house. The daily life of the citizens have come to a halt and will continue like this for the next 1 or 2 days. We have seen many cars and bikes submerged under water or just flowing away with the water.
Also Read: Tata Nexon EV Variants Wise Price And Features List
However, here's something that caught our eye. A resident of Chembur decided to take out his Tata Nexon EV in the flood-type situations. You can see how it can easily go through knee-level water. Following it is a bike which can also go easily but as you can hear the noise, you will understand something is about to go wrong. It gets a water wading capacity of 300mm, which is not that great but enough to keep it safe.
Nexon EV gets an IP67 rating lithium-ion battery pack that has been extensively tested underwater, fire and shock conditions. The electric motor produces 129 PS and up to 245 Nm of peak torque. You can either put it in Normal mode or Sport mode, which will give you a torque boost of 60%. Tata claims that it will offer a driving range of about 312 kilometres, which could come down to 250 kilometres in the real-world driving test.
Check out the video here: https://www.facebook.com/rohit.pandav.152/videos/3158568614180927
To fully charge the Nexon EV, it will take about 6-8 hours on a home AC charger. If you use a fast charger or a public charging station, it will take just 50 minutes to charge the EV up to 80%. Further, it gets features like electric sunroof, six airbags, Hill Hold And Descent Control, rear parking camera, rear parking sensors, braking regeneration, drive modes, automatic headlamps, digital speedometer and much more. Its prices start at Rs 13.99 Lakhs up to Rs 15.99 Lakhs (ex-showroom).