The recently updated new Chevrolet Spark 2012 is being noticed for the changes brought by General Motors and it is all set to go head to head with the Alto 800. But there are a couple of more cars in the entry level small car space and one of most complete contender, of them, is the Hyundai Eon. Though slowly, the Eon has started picking up sales but will it beat the Spark? Let us find the same in the comparison of Chevrolet Spark Vs Hyundai Eon.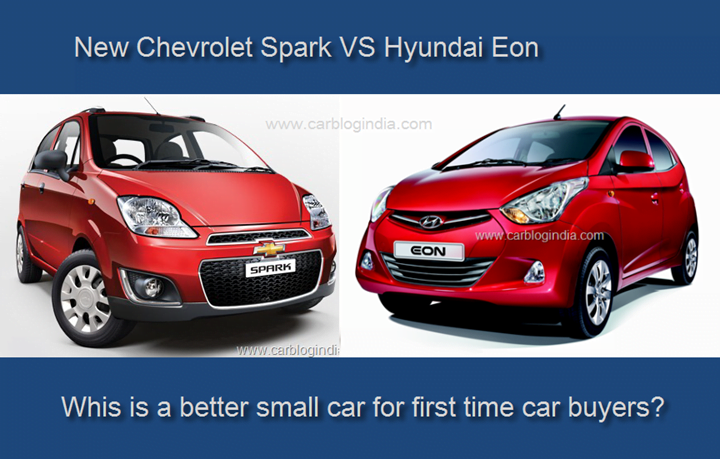 Exteriors
The updated Chevrolet Spark looks a better car now but its design isn't something that will appeal to everybody. The profile of the car is tall and one gets a nice view of the road ahead.  Talking about the most important part of the new Spark, the Updates. The updated 2012 Spark features a new grille with chrome treatment on front bumpers and around fog lamps, dual tone rear bumpers with integrated reflectors.
The Eon is a gorgeous looking car and, I would say, miles better than Eon in terms of design. The Fluidic design language has done wonders for the recent Hyundai models and trick works here too. However, we are not convinced by the rear of the Eon, but overall it is a good looking car with
Chevrolet Spark Dimensions
Overall Length (mm) : 3,495
Overall Width (mm) : 1,495
Overall Height (mm) : 1,518
Wheelbase (mm) : 2345
Hyundai Eon Dimensions
Overall Length : 3495 mm
Overall Height : 1500 mm
Overall Width : 1550 mm
Overall Wheelbase :2380 mm
Evidently the Spark and Eon have the same length and width. The only difference lies in the wheelbase and height where Eon takes the lead.
Interiors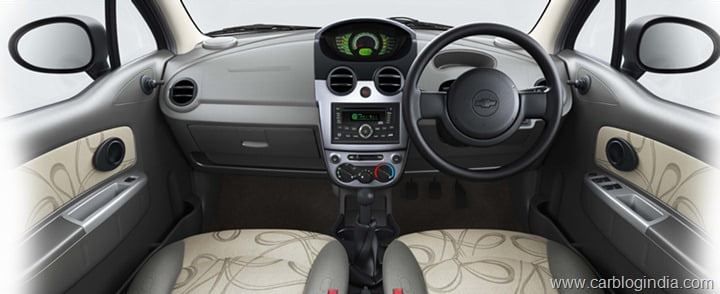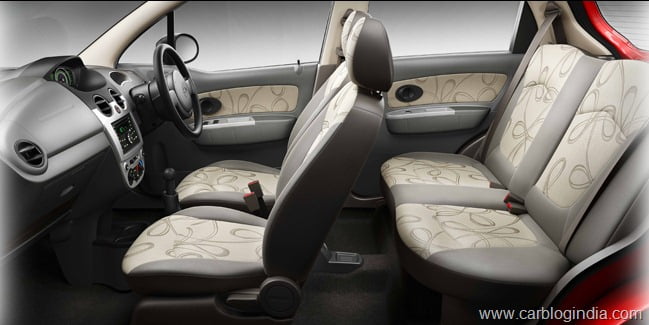 Talking about the interiors now, the Spark which gets a updated exterior does feature a retouched passenger cabin too. First and most noticeable change made is the light coloured interior trim with improved door trims for a more premium feel. Along with the new trims also comes a new instrument cluster design with digital analogue combination meters. Rest of it remains unchanged. List of features includes rear defogger, front and rear power windows, power steering, AC, audio system with USB and AUX-in connectivity, silver finish on instrument panel, child safety locks for rear doors, central locking, tubeless tyres and more.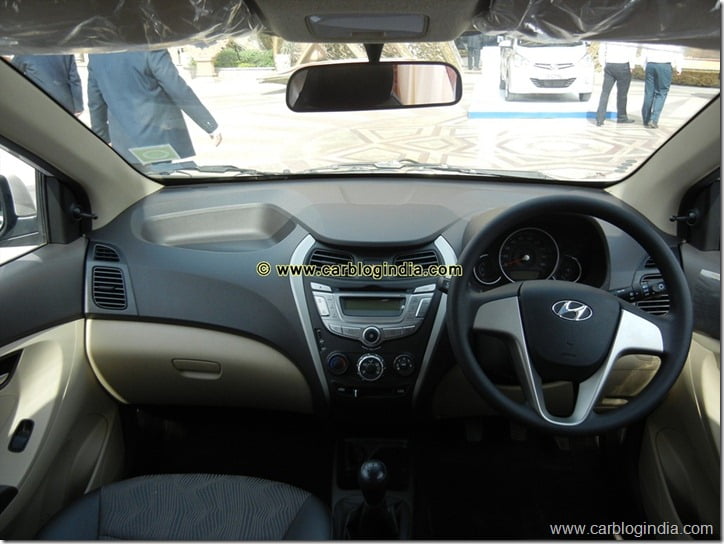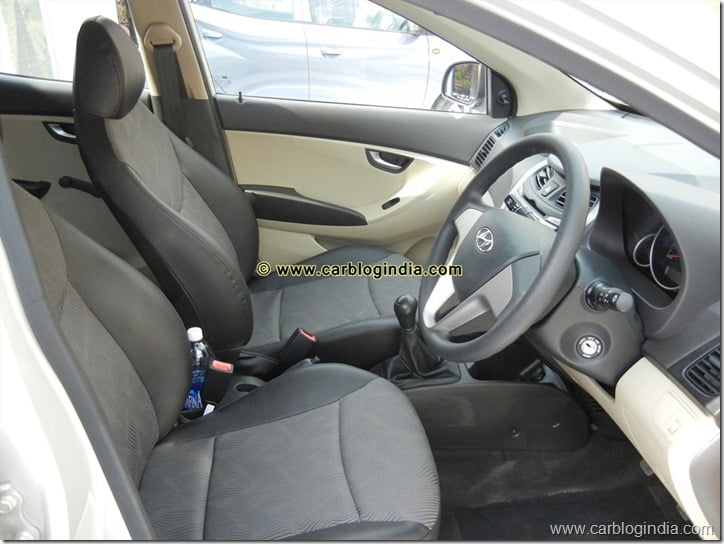 Hyundai Eon interiors don't seem to belong to an entry level car as they look much better than that, for the price segment, the quality, visual appeal and aesthetics on the inside of Eon are much better compare to simple and subtle interior styling of the Spark. The features list includes tilt steering, audio system with USB, AUX connectivity, power windows, rear parcel tray, driver airbag, keyless entry,  aluminium finish steering wheel, and much more.
Engine– Chevrolet Spark 2012 Vs Hyundai Eon
Chevrolet Spark Engine Specifications
995 CC, 4 cylinder MPFI petrol engine
Max Power of 62 BHP at 5400 RPM
Max Torque of 90.3 Nm at 4200 RPM
ARAI certified mileage of 18 KMPL
5 speed manual transmission
DDLI system for more fuel efficient performance
Kerb weight of 840 kg
Power to weight ratio of 73.8 BHP per 1000 kg
Hyundai Eon Engine Specifications
3 Cylinder MPFI Petrol Engine
Engine displacement 814 CC
Max power of 55.2 BHP @ 5500 RPM
Max Torque of 75 Nm @ 4000 RPM
5 speed manual transmission
ARAI Certified Mileage of 21.1 KMPL
Kerb weight of 725 kg
Power to weight ratio of 76 BHP per 1000 kg
The Spark has a 1 litre engine engine with improved DDLI (Dual distributor less ignition) system which ensures smooth and fuel efficient performance. It puts out 63 BHP of max power and 90.3 Nm of peak torque, and comes mated to a 5 speed manual gearbox. The Spark returns 18 KMPL. The Eon equips a 814 CC engine that is slightly less powerful at 55.2 BHP of power and 75 Nm of torque. It also comes mated to a 5 speed manual gearbox. In terms of fuel efficiency the Eon returns 21.1 KMPL which is significantly better than Spark.
Performance & Handling– Chevrolet Spark 2012 Vs Hyundai Eon
The Spark handles well but is certainly not the type of car that will amaze you. The Eon is a little better on the ride & handling and comfort front.
Price– Chevrolet Spark 2012 Vs Hyundai Eon
The new Spark is priced between 3.26 lakh and Rs. 3.8 lakh. The LPG + petrol dual fuel variants of the Spark start at Rs. 3.81 lakh and end at 4.1 lakh. The Eon petrol is priced between Rs. 2.75 lakh and Rs. 3.81 lakh. The LPG + Petrol dual fuel variants are priced between Rs. 3.32 lakh and Rs. 3.8 lakh.
Conclusion– Chevrolet Spark 2012 Vs Hyundai Eon
The new Spark is more powerful, looks good, returns decent mileage, and handles well. The Eon is more feature rich, is cheaper (some variants), returns better mileage, has better looks, and is more comfortable. So according to us, the Eon is no doubt a better car over the Spark.
Also read – New Chevrolet Beat 2012 Vs Maruti Alto 800